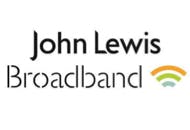 John Lewis Broadband offers simple packages with line rental included. Here's everything you need to know…
Our rating: Three out of five
Decent range of speeds for everyday users
Good call packages
No full fibre offers
A bit more expensive than other providers
No extras
Is John Lewis Broadband any good?
Well, if you like simplicity, John Lewis might be the best option for you. There's three packages to choose from:
Unlimited - standard ADSL broadband, with average download speeds of 10Mb
Fibre - superfast fibre optic broadband, average speeds of 36Mb
Fibre Extra - even faster fibre optic broadband, with average speed of 66Mb
Each package comes with unlimited usage, plus free line and an Evening and Weekend call plan.
Moreover, each John Lewis package costs the same, even if you live in a large town or rural area.
Average John Lewis broadband speeds
Unlimited broadband - 10Mbps
Basic ADSL package that's fine for very light users, looking to access social media and browse the web
Fibre broadband
36Mbps fibre that's ideal for anyone looking to try faster speeds. Fine for a small amount of streaming TV.
Fibre extra broadband
At 66Mbps, this is the fastest John Lewis broadband package. It uses Openreach copper wires to complete the final stretch into the home.
John Lewis ADSL and fibre packages review
John Lewis's ADSL and fibre packages are broadly in line with those of its rivals' entry level products.
Its unlimited 10Mbps is basic and, if we're honest, expensive. The same can be said for its faster fibre and fibre extra deals, which may offer snappier download speeds, but cost a significant amount more than deals from the likes of Now Broadband.
This cost is offset by the fact that all of John Lewis's deals feature call packages. That means if you love your landline, it could be a good option. The anytime call deals are particularly handy for those who prefer to make calls from home rather than using their mobile.
Our latest John Lewis deals
John Lewis calls review
John Lewis offers three different call packages. They are:
Evening and Weekend – comes free with all John Lewis broadband packages. Includes calls to UK landlines during weekday evening and all day on weekends.
Anytime – includes inclusive calls to UK landlines all day, every day of the week. Costs £6.86 per month.
Anytime and International – comes with inclusive calls to UK landlines all day. You'll also get 300 inclusive minutes to 35 countries. Costs £9.15 per month.
John Lewis extras
John Lewis is a no frills broadband service. However, one helpful extra is its mobile bolt on deal.
Only available with Anytime or Anytime International, Mobile Bolt-on includes inclusive calls to UK mobiles all day, every day and costs £5 per month.
Data limits, fair usage and traffic management
John Lewis broadband is truly unlimited, meaning no data caps or limits on how much internet you can use each month.
Router
John Lewis broadband offers two routers, a basic model for those on its ADSL unlimited broadband, with just one band and support for older n standard WiFi.
This is not up to the high standards expected from other providers.
Its Hub 5 for those on either of its fibre deals, however, is slightly better.
It has seven antennae, supports ac standard WiFi, has four gigabit Ethernet ports, has dual band tech and smart channel support and even a USB port for connecting a hard drive or other device.
John Lewis broadband pricing
John Lewis broadband is fairly expensive for what it is. Its unlimited broadband costs £20.50 with evening and weekend calls, £2 a month more than Now Broadband's similar deal.
Its 36Mbps Fibre broadband starts at £25, rising to £28 for fibre extra. This compares well with BT and Plusnet, although it's worth remembering the extras available from competitors can make it worth paying more.
John Lewis broadband customer service
John Lewis broadband is not widespread enough to be found in the latest Ofcom broadband report.
However, online reviews suggest its customer service is average at best, with reports of speeds not reaching their advertised heights and customers not getting the service they expect.
What are the pros and cons of John Lewis broadband?
Still not sure if John Lewis is right for you? Here is a list of the pros and cons of John Lewis Broadband.
Pros
Easy to understand broadband options
Widely available across most of the country
Good value for money line rental
Packages aren't more expensive in rural areas
Evening and Weekend calls included as standard
Cons
Less choice than some other providers
Providers such as Virgin Media offer faster speeds
Only available as a broadband and phone combo
No WiFi hotspots or cloud storage
How does John Lewis compare with other providers?
So that's our take on John Lewis. But is it the right choice for you? To help you decide, we've compared John Lewis to other major broadband providers.
John Lewis broadband vs TalkTalk
When it comes to price, TalkTalk is your best option. Moreover, TalkTalk also offers the most choice, too.
John Lewis broadband vs Sky
To be honest, Sky has the most choice. If it's a comprehensive TV package and loads of extras you're after, Sky is definitely your best bet.
That said, if you're not too bothered about bells and whistles and loads of extras, John Lewis might just be the best choice for you.