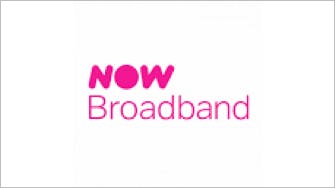 NOW Broadband is one of the most wallet-friendly providers. And one of the most flexible too. But can its stripped down packages really compete with the likes of Virgin Media and Sky? We take a look…
NOW Broadband review: is NOW Broadband any good?
Owned by Sky but with a broadband and TV service that comes in much cheaper, NOW Broadband is now a household name in its own right.
For prices that are broadly in line with 'value broadband' specialists TalkTalk and Plusnet, NOW Broadband packages get you decent speeds, with a choice of a standard ADSL service or faster fibre.
One of NOW Broadband's big unique selling points is that unlike most providers you can sign up on a one-month rolling contract basis.
So if you're looking for a broadband for a short-term let, or you're unsure how long you'll be at your current address, it's a good bet.
You can also add flexible NOW TV passes and get the pick of Sky cinema, sports and entertainment content on demand. And better still, cancel at any time with 30 days' notice.
Just as notable is that NOW Broadband doesn't run credit checks, making it ideal for anyone with an impaired credit rating.
The less good things about NOW Broadband? Well, unlike BT, Sky, TalkTalk, EE and more, it doesn't often sweeten its deals with promotional giveaways and vouchers as an incentive to sign up.
But perhaps that's to be expected given that NOW Broadband is positioned as a no-frills service.
Average NOW Broadband speeds
NOW Broadband's speeds are in line with the most popular and most widely available broadband packages from the likes of BT, TalkTalk and Sky.
Much faster speeds are available elsewhere, but be prepared to spend considerably more.
Sign up for NOW Broadband's cheapest Brilliant Broadband and you can expect average speeds of 11Mbps.
For less than £5 per month extra, though, you can sign up for Fab Fibre with average speeds of 36Mbps. And its top-end service offers average speeds of 63Mbps.
NOW Broadband packages review
Like Plusnet, NOW Broadband's packages are easy to understand and consist of a choice of ADSL or fibre broadband, which are both paired with a landline.
At the time of writing, there's nothing to pay for installation, but a small £5 charge applies to deliver the router.
As indicated above, speeds are broadly comparable with most other household-name providers, although there's no premium ultrafast service.
But perhaps that's to be expected, given that NOW Broadband is very much positioned as a budget-friendly provider.
Standard contract lengths on all NOW Broadband packages are 12 months, which means the minimum commitment is much shorter than BT, TalkTalk and Virgin Media.
Unlike all but a smattering of providers, NOW Broadband also offers a no-contract broadband option too. This carries a £60 upfront charge for activation but allows you to cancel any time you like with 30 days' notice.
That's pretty handy if you require broadband for a short-term let and don't want to have to rely on mobile broadband, which isn't as reliable as a fixed-line service.
Of course, the TV add-ons are similarly flexible and you can add and subtract them from your package with the same notice period.
All packages come with anytime calls for the first 12 months. So you're free to use your landline as much as you like without worrying about racking up excess charges.
NOW Broadband fibre review
NOW Broadband offers a choice of two fibre packages: Fab Fibre, with speeds of 36Mbps, and Super Fibre, with average speeds of 63Mbps.
As you may have noticed, though, Super Fibre is much, much faster and is only a few pounds per month extra. So unless you're on a really tight budget, it's worth considering the faster service.
How do the fibre speeds compare with the competition? Well, you can get much faster from the likes of Virgin Media, or if you pay the premium price for an ultrafast broadband package from BT or Sky.
But Fab Fibre and Super Fibre get you a service that's in line with comparably priced packages from rival household-name providers. And they're very widely available too.
NOW Broadband TV review
NOW Broadband's TV offering is based on NOW TV Passes, which are flexible add-ons that you can add and subtract simply and easily.
More importantly, though, they're a cost-effective and flexible way of getting the best Sky sports, movies, entertainment and kids content without any sort of major commitment.
NOW Broadband also allows you to sign up for multiple passes that are bundled together as a single add-on. These work out cheaper than if you signed up for the passes separately.
NOW Sports Pass – Gets you access to 11 Sky Sports channels to watch live, plus on-demand. Available as a month or day pass.
NOW Entertainment Pass & Boost – Includes access to a wide range of Sky entertainment channels, such as Sky Atlantic, Sky Comedy and Sky One as well Comedy Central, National Geographic and Gold. Boost add-on lets you watch in full HD on three devices.
NOW Cinema Pass & Boost – Offers full range of Sky Cinema channels to watch live, as well as extensive trove of movies on demand. Boost allows you to watch in full HD on three devices.
NOW Kids – Features six live children's channels, including Boomerang, Cartoon Network, Cartoonito and Nickelodeon, as well as thousands of episodes on demand.
NOW Hayu – Specialises in reality TV shows, with 8,000 episodes available to watch online.
What NOW Broadband's TV offering lacks is a set top box that matches those from Sky and Virgin Media. So that means you won't be able to record your favourite shows, or fast forward and rewind live TV.
You also won't get the pause-and-pick-up function that's a key selling point of Sky's Q and Virgin Media's TV 360 boxes.
NOW Broadband calls review
All NOW Broadband packages come with anytime calls as standard for 12 months.
That's a notable difference from most providers, which tend to dispense with calls packages in favour of a pay as you go plan.
Landline customers also get these features free of charge:
141 number withhold: Allows you to hide your number
1471 last number recall: Shows you the number of most recent caller
1475 last caller deletion: Lets you delete the last caller from your 1471 list
Caller display: Lets you see the number or name of whoever's calling you
Optional extras available for an additional monthly charge include: Anonymous caller reject, voicemail and last caller barring.
NOW Broadband cost
NOW Broadband is one of the most keenly priced providers on the market, with packages that come in at least few pounds less per month than if you were to opt for a comparably fast service from a rival provider.
That means it's well worth a look if you're on a tight budget. Or don't want to pay any more than you need to.
NOW Broadband extras
Unlike some of the bigger-name providers, such as BT, Virgin Media and Sky, NOW Broadband does not usually offer incentives to sign up. So don't expect to get free gifts or vouchers.
However, on the plus side NOW Broadband's monthly prices are generally significantly lower than those providers.
NOW Broadband customer service
NOW Broadband's customer reviews are broadly in line with the rest of the industry. But there's definitely room for improvement.
You can get in touch with its customer support on 03303 323 050.
What are the pros and cons of NOW Broadband?
Still not sure if NOW Broadband is right for you? Read our at-a-glance list of pros and cons to help make up your mind…
Pros
Very keenly priced with decent speeds
TV passes offer the best of Sky TV content and are very flexible
No need to pass a credit check
12 month contracts means it's a shorter-term commitment than most rival providers
Cons
Unlikely to get any free gifts or vouchers
Faster broadband is available from other providers
TV service has excellent content, but can't compete with the likes of Sky Q and Virgin Media's TV 360
Our latest NOW Broadband deals
NOW Broadband vs Sky
Sky TV is substantially pricier than NOW Broadband. But for that extra outlay, you get a genuinely state-of-the-art set top box, with all the latest features.
For the most widely available broadband packages, there's little to choose between Sky and NOW Broadband for speeds. However, Sky does offer much, much faster full fibre service if you're prepared to pay more.
NOW Broadband vs Virgin Media
Thanks to the TV 360 box, Virgin Media's TV service is one the best around. But in NOW Broadband's favour, it's much, much cheaper and very flexible.
Virgin Media wins out for broadband speeds too. But it's less widely available than NOW Broadband and is more expensive too.
NOW Broadband vs BT
BT's and NOW Broadband's most widely available packages offer very similar speeds. But NOW Broadband is quite a bit cheaper.
You can, of course, get much faster broadband from BT with its top-end service, but expect to pay a premium price.
BT's TV offering is more full featured than NOW Broadband, too. Although they're both very flexible and allow you to and remove channels on a rolling-contract basis.
Not sold on NOW Broadband? Read more reviews at our broadband provider reviews hub