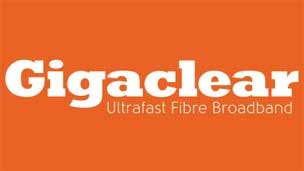 Gigaclear has one clear mission: to deliver lightning fast, full fibre broadband to rural communities. We take a look at prices, speeds, and what else it has to offer.
Is Gigaclear any good in 2023?
Super speedy and stable internet is usually hard to come by in rural regions, so that's where Gigaclear steps up to the challenge.
Being a rural broadband specialist, it's focused on providing fast connections in those typically hard-to-reach areas – and all for a very competitive price.
Although its network continues to expand, whether you can get it varies region by region. At the time of writing, it mainly covers villages and rural areas down south.
If you do happen to live rurally but it's not available to you just yet, your local community needs to show enough interest and demand for Gigaclear to consider serving your area. This is because it'll need to work with local stakeholders to plan, develop and build a new network.
And of course, if you're an urban dweller, you'll need to look elsewhere for full fibre broadband.
All contracts are 18 months long – nothing more, nothing less. This might suit you fine, although some might wish for the flexibility to choose between shorter-term and longer-term contracts.
There aren't any fancy extras or rewards for customers, like you'd get with some of the big providers. But that's to be expected with the more budget-friendly options.
Gigaclear broadband review: Packages and cost
Gigaclear offers five broadband packages:
Superfast 100 – download speeds of 100Mbps
Superfast 200 – download speeds of 200Mbps
Ultrafast 500 – download speeds of 500Mbps
Ultrafast 600 – download speeds of 600Mbps
Hyperfast 900 – download speeds of 830Mbps
For ultrafast broadband at these speeds, it's pretty good value for money. It's miles faster than similarly priced packages from other providers, as well as being in line with or cheaper than other budget-friendly options like TalkTalk.
What's more, there aren't any one-off upfront or setup costs.
Be aware though, the prices don't stay the same after your 18-month contract is up. While it's normal for providers to increase prices once a contract runs out, Gigaclear's prices pretty much double – a significant jump in cost.
On the plus side, Gigaclear is committed to fixed price contracts, meaning you won't face any unexpected mid-contract price hikes.
Still, it's definitely worth shopping around for cheaper deals with different providers once your 18-month contract has finished. Although, if you're living in a rural area, it might be difficult to find one that's as fast.
Gigaclear broadband review: Speed
This is perhaps the highlight of the review, as Gigaclear's main draw is its amazingly fast speeds. If you're living rurally, you'd be hard pressed to find a faster provider in your area.
It uses a full fibre connection – also called fibre to the premises, or FTTP – to deliver lightning-fast speeds to households.
Ranging from 100Mbps to 830Mbps, Gigaclear's packages are aimed at those with a need for speed. Whether you're in a large household, use multiple devices, work from home, or regularly download or stream content, these speeds have got you covered.
Even better, Gigaclear's broadband speeds are symmetrical – meaning that upload and download speeds are the same, so you can multitask seamlessly.
On the flip side, if you're in a smaller household, or you're a light user (only using the internet for tasks such as sending emails or casually surfing the web), you may be better off looking for smaller, cheaper packages from other providers.
Gigaclear broadband review: Data limits, fair usage and traffic management
All three packages come with unlimited usage as standard. Rest assured that you can upload and download as much as you want, without having your internet slowed down or restricted.
Gigaclear broadband review: Router
With every package, you'll get a state-of-the-art Linksys router. Without getting too technical, the router has some pretty impressive specs, such as tri-band performance and Intelligent Mesh technology. What's more, you can download the Linksys app to manage your home Wi-Fi network from your phone or tablet.
For an extra charge, you can choose to add additional Wi-Fi nodes to cover a larger home (some of the faster plans include an extra node for free). With these, you can set up Smart Wi-Fi and increase coverage in your home, which is great for areas where your signal is patchy.
Gigaclear broadband review: Installation and setup
However, setting up your home Wi-Fi isn't just a simple case of being able to plug in your router and go. Unlike most providers, who use your phone landline to deliver broadband, Gigaclear needs to physically install a cable to your house first.
It'll initially send a surveyor to your house, who will look at your property and the potential route to connect your house to the nearest point of termination.
Next, to install the necessary cable and equipment, it needs to dig a trench to your house, as well as drill a hole in the wall to connect the cable to the equipment.
While it sounds like a major renovation, you shouldn't have to worry too much – it's most likely that your home will look exactly the same as it did before. Also, you'll be relieved to hear that there are no one-off setup costs, despite all the effort that goes into installation.
Still, it's definitely more work and time than most other providers, and you might decide that you don't want to deal with the hassle.
Gigaclear broadband review: Home phone
As Gigaclear doesn't use a phone line to deliver broadband to your home, it doesn't offer a phone line service or any call packages.
So, if you do need a landline, you'll need to buy it from another provider.
Gigaclear broadband review: Extras
Unlike the major providers, Gigaclear doesn't offer any extras or rewards to sweeten the deal. Its main appeal to customers is its ultrafast speeds at affordable prices.
Gigaclear broadband review: Reliability and customer service
If you need help or support, you can get in touch with them through their helpline. It's open from 9am-7:30pm Monday to Friday, and 10am-4pm on Saturday.
There's also an email address, should you prefer asking in writing.
Gigaclear is still a relatively small provider, so its customer service record hasn't been rated by Ofcom yet.
Pros and Cons of choosing Gigaclear broadband
Pros
One of the fastest and most reliable broadband connections available if you live rurally
Competitive prices for the speeds you'll get (at least for the initial 18-month contract, anyway)
No one-off setup costs
High-tech router and WiFi node
Cons
Very limited availability – it's focused on rural regions, and even then, you'll need to check if you can get it in your area
Complicated to install and set up in your home
Big price hike after your 18-month contract is up
No phone or TV bundles
No extras or rewards for customers
How does Gigaclear compare against other providers?
Gigaclear vs Shell Energy
Both providers focus on competitively priced, 18-month contracts with no frills or fuss. However, while Gigaclear offers three lightning-fast, full fibre options, there's more choice with Shell Energy, which has a much greater range of broadband speeds to suit different needs.
Gigaclear vs TalkTalk
Both are decent choices if you're on a budget, although the latter does provide some add-ons, such as TV subscriptions and call packages. And while Gigaclear's full fibre network is limited to those living in certain rural areas, TalkTalk's network is expansive – its ADSL and standard broadband packages are widely available across the UK.
Gigaclear vs EE
EE broadband is fibre optic – and while certainly respectable, it doesn't quite match up to the ultrafast speeds of Gigaclear's full fibre packages. But EE has all the extras to choose from that you can't find with Gigaclear: a TV bundle, landline call packages, and data boosts to your existing EE mobile phone plan.