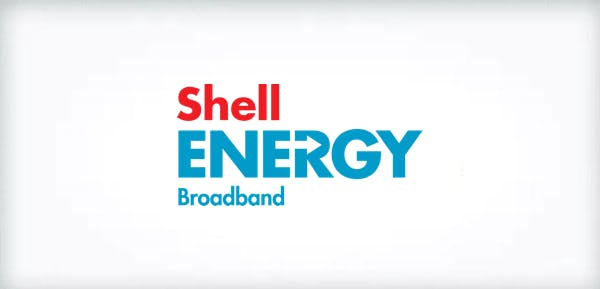 Not just gas and electricity – these days, Shell Energy also offers reliable and competitively priced broadband packages.
Is Shell Energy any good in 2023?
If you've heard of First Utility, Shell Energy broadband won't be a complete stranger – Shell took over the company and gave it a rebrand in 2019.
Its focus is on fast, stable internet for decent prices. There's a wide range of options to suit different budgets and needs.
Packages are cheaper than the big-name providers, where you'd be paying for extra bells and whistles.
They're priced broadly in line with budget-friendly broadband providers like TalkTalk and Plusnet – so it's best to shop around and compare prices. But Shell Energy has a greater range of broadband speeds to choose from, with a selection that includes everything from a standard ADSL package at 11Mbps to lightning fast Full Fibre options that go up to 900Mbps.
When it comes to contract length, there's not much flexibility. With only 18-month contracts available, there aren't any shorter-term options.
Customer service is excellent, and customer satisfaction is paces ahead of some of the big names.
Overall, Shell Energy broadband is pretty good value for money. If you're not looking for add-ons, like bundled TV subscriptions, its straightforward broadband packages are worth considering.
Shell Energy broadband review: Cost
Competitive prices are the main draw, with costs generally coming in cheaper than the likes of BT, Sky and Virgin Media for comparable packages.
At the time of writing (December 2021), its packages range from £15.99 a month for standard ADSL broadband, all the way up to £49.99 a month for a fast and futuristic Full Fibre 900 broadband service.
What's more, there are no upfront costs – what you see is what you get.
The only setup charge you might face is if you don't have a phone line at all, in which case you'll need to pay £60 to have one installed. All Shell Energy broadband packages come with line rental, so you won't be able to do without a phone line.
Also, as with many other providers, you may face a sudden price hike at the end of your 18-month contract. For example, the cheapest £15.99 package will cost you £25.99 a month after 18 months.
So when your Shell Energy broadband minimum term ends it's a good idea to consider switching to another provider, who may offer the same speeds and a comparable package for cheaper.
Shell Energy broadband review: Speed
Shell Energy's ADSL Fast Broadband package is its most basic and budget-friendly option. With an average download speed of 11Mbps, it's not the fastest (despite the name). But it could be a good choice if you're a small household and don't use the internet too much, or if fibre optic isn't available in your area yet.
Faster speeds can be found in its two Superfast Fibre packages, which are fibre optic and come in at average speeds of 38Mbps and 67Mbps.
If you're looking for an even speedier connection, Shell Energy offers two Ultrafast Fibre broadband options, clocking in at an average speed of 140Mbps and 290Mbps respectively. These use 'G.Fast' tech – you'll need to check if your home qualifies for it.
For large households and power users, there are also five Full Fibre options, ranging from average speeds of 100Mbps to a whopping 900Mbps.
These use Fibre to the Premises (FTTP) to deliver a stronger, faster and more reliable connection – ideal if you're going to be streaming on multiple devices, gaming online or working remotely.
But you'll have to check if Full Fibre is available in your area, as it's not as widespread as the other options.
Overall, its speeds are in line with the likes of BT, Vodafone and EE.
Shell Energy broadband review: Data limits, fair usage and traffic management
A plus point is that all Shell Energy broadband packages come with unlimited usage as standard. So you can upload and download as much as you want, without being slowed down or restricted.
There's also no data usage restrictions, so you needn't worry about paying extra fees for going over a limit.
Shell Energy broadband review: Router
Every package comes with a free Technicolor router. It'll do the job, but it's fairly basic and not as high-tech as other routers out there.
On the plus side, there's no delivery or setup charge. The only exception is if you don't already have a phone line, in which case you'll need to pay a one-off charge of £60 to have one installed.
Shell Energy broadband review: Home phone
All broadband packages include line rental at no extra cost.
You'll get pay-as-you-go calls as standard. But you may want to buy a call plan if you're going to be using your landline phone regularly.
For an additional monthly fee, you can choose from a variety of call packages – whatever best suits you:
Evenings and Weekends – inclusive weekend calls to UK landlines and mobiles
Anytime – inclusive anytime calls to UK landlines beginning with 01, 02 and 03, as well as UK mobile numbers
Anytime Plus – as well as all the numbers in the Anytime package, you can also call landlines in the EU
International Calls Package – you can only add this on to one of the paid packages, but you'll get anytime calls to landlines in 54 countries, as well as a 50% discount on calls to other countries
Shell Energy broadband review: TV
Unlike the major providers, you won't be able to bundle your broadband with additional TV subscriptions or mobile contracts to save money – you'll need to look elsewhere for these services.
Shell Energy broadband review: Extras
There's not much in terms of fancy extras or add-ons – the main draw is its reasonable pricing.
Still, if you're a dedicated Shell customer, you can take advantage of the Shell Go+ rewards programme through a dedicated app. For example, you can enjoy exclusive fuel savings at Shell service stations.
Also, if you're already using Shell as your energy supplier, you can get your broadband package at a discounted price.
Shell Energy broadband review: Reliability and customer service
Shell Energy's UK-based call centre is open 8am to 8pm on weekdays, and 9am to 4pm on Saturdays.
You can also get in touch via email, online web form or post. There's also live chat option, which operates by bot and real people.
Most notably, Shell Energy was recognised by Resolver in 2020 for its excellent customer service in telecoms, with customer satisfaction placed ahead of the likes of Sky, BT and Virgin.
Pros and Cons of choosing Shell broadband
Pros
Competitive pricing
No upfront costs
Free – although basic – router
Unlimited usage
Many packages to choose from, with broadband speeds ranging from 11Mbps to 900Mbps
Award-winning customer service
Cons
18-month contracts only – no short-term options
No options for TV bundles or mobile contracts
Price hike after your contract ends
Ultrafast Fibre and Faster Fibre options may not be available in your area
Few extras compared to other providers
How does Shell Energy compare against other providers?
Shell Energy vs Vodafone
Both offer a range of call packages, but Vodafone's come with some fancier features, like three-way calling. Vodafone's router is also much more high-tech, with an app that allows you control the router via your smartphone.
Shell Energy vs BT
BT is one of the more expensive providers out there, so Shell Energy undercuts its prices. But, as with the big names, BT comes with some sweet extras, such as TV and mobile bundles and free unlimited internet access to any BT Wi-Fi hotspot in the UK.
Shell Energy vs TalkTalk
Prices for comparable packages are pretty similar between Shell Energy and TalkTalk, but the latter also offers TV bundles for a small extra cost. However, Shell Energy's customer service shines, whereas TalkTalk has scored consistently below average by Ofcom in this area.
Shell Energy vs Plusnet
Shell Energy and Plusnet both focus on good-value broadband packages without any fancy add-ons. Plusnet does throw in vouchers and incentives for new customers, which might sway you towards them. But Shell Energy has a much greater range of broadband speeds to choose from.
Shell Energy vs NOW Broadband
While both providers have similar pricing, NOW Broadband has a unique one-month rolling contract system – great if you're looking for a short-term solution. However, if it's speed you need, you might be better off choosing from Shell Energy's extensive range, as NOW Broadband's speeds top out at 63Mbps.