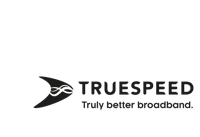 Truespeed specialises in bringing fast broadband to rural areas. We take a look at its prices, speeds and more to see how it measures up to the competition.
Is Truespeed broadband any good in 2023?
Truespeed is a very different proposition to other broadband providers. Its aim is to deliver fast internet access to rural locations in the South West of England, after its founders tired of the poor access afforded to more isolated communities.
With fibre to the premises (FTTP) tech, it can offer a dedicated connection right into the home, rather than having to share one with other properties.
With a free landline as standard, there's the option to add call packages and a variety of speeds available depending on your needs and budget.
Read our complete Truespeed broadband review 2021 to get the complete picture.
Truespeed broadband review: Cost
Truespeed offers five different broadband packages, each rising in price depending on their speed.
Truespeed 80 starts at £29.99 a month, Truespeed 150 at £39.99, Truespeed 350 at £49.99, Truespeed 500 at £59.99 and Truespeed 900 at £69.99.
There are no upfront or installation fees and all contracts are 12 months, rare in a world where the cost is usually spread over 18 months or two years.
That does mean prices are on the higher side, but with Truespeed guaranteeing speeds, if you can get its service it's definitely worth exploring.
Truespeed broadband review: Speed
With FTTP service, Truespeed is able to offer fast speeds for all its packages. There are 80Mbps, 150Mbps, 350Mbps, 500Mbps and 900Mbps options.
While major broadband providers are all now offering similar speeds, Truespeed stands out for offering guaranteed 'up and down' speeds. Usually upload speeds are slower.
Even the basic 80Mbps service is good for streaming, but if you've got a large household, one of the snappier packages might be best.
Either way, you're getting broadband that's a cut above the rest when it comes to speed.
Truespeed broadband review: Data limits, fair usage and traffic management
Truespeed does not limit data, impose a fair usage policy or manage traffic. However, it does say that it may contact you if it feels your usage is impacting other users.
In reality, that's highly unlikely to happen, unless you're downloading thousands of hours of video and spending every waking hour gaming.
Truespeed broadband review: Router
As with all broadband providers, Truespeed sends out a free router to all customers.
While its basic capabilities are sound, there have been a number of concerns raised in 2021 about the fact it is wholly locked down, with no way of managing its interface via a web page or app.
That's something Vodafone and Zen Internet do well and is increasingly common.
What's more, if you want to change the router's password, you either have to call Truespeed or send a password change request via email.
This has major security implications. Truespeed says it's 'working on making router configuration more open in the future' but that's scant consolation if you want control now.
Truespeed broadband review: Home phone
Truespeed offers free landline access as standard with all its packages. It's then up to you to choose if you want to make calls using its service.
It has a variety of options: unlimited UK evening and weekend calls to landlines cost £2.99 a month, rising to £6.99 for an anytime deal. There are also packages for making calls to mobiles and international numbers, from £4.99 per month.
Truespeed broadband review: TV
Truespeed does not offer TV packages. However, its fast speeds are great for streaming, so if you have the likes of Netflix and Prime Video, you can be sure if fast loading times and no nasty buffering.
Truespeed broadband review: Extras
Truespeed does not offer extras like Sky, BT or EE. However, you can sometimes score an Amazon voucher when you compare Truespeed prices and buy via Moneysupermarket.
Call time extras are good value, but you won't find cheap access to Apple Music, Spotify or Disney+ here. Just the internet at lightning speeds.
Truespeed broadband review: Reliability and customer service
Truespeed makes a big play about its guaranteed upload and download speeds.
While its small size means it doesn't show up in Ofcom reports, online reviews are broadly favourable, with an average TrustPilot score of 4.5 based on over 300 reviews.
Its customer service team is based in Bath, with a direct line to help with queries. However, it's worth bearing in mind that its technical team has more limited hours.
Pros and Cons of choosing Truespeed broadband
Pros
Perfect if you live in a rural area in South West England
Rapid fibre speeds
No data limits or fair usage policy
Cons
Router cannot be managed by users
Expensive
Compare Truespeed broadband against other providers
Truespeed vs Vodafone
Truespeed easily matches Vodafone when it comes to speed. However, we love Vodafone's router and the fact it can be easily managed via a great app and web interface, something Truespeed doesn't offer.
Truespeed vs Sky
Truespeed's ace guaranteed speeds are as good, if not better, than Sky's. And this does at least mean you can watch Sky's shows via Now TV. However, if you want an all-in-one TV package, Sky is a better bet.
Truespeed vs BT
Truespeed matches BT for speed and its call service is good too, especially as the landline comes free when you sign up.
BT has a wider range of landline options, so may be better for those who make lots of calls from home.
Truespeed vs Virgin Media
Virgin Media's speeds just about outdo Truespeed. But as they're limited to more urban locations, Truespeed is a great alternative if you live in the right area.