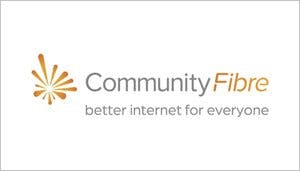 Select areas of London are lucky enough to get blisteringly fast broadband from Community Fibre. With download speeds up to 3Gbps, it's some of the fastest in the country – but is it any good? Here's our full review of Community Fibre broadband.
Community Fibre broadband review: Speed
Community Fibre broadband is fast, with packages up to a stunning 3Gbps – that's 3,000Mbps.
Compare that to the fastest widely available broadband from BT, which is 67Mbps, or Virgin Media, which is 630Mbps and you get an idea of just fast that is. The fastest you can get full stop from either is 1Gbps (1,000Mbps).
Needless to say, if you can get Community Fibre in your home, it's probably the fastest choice available by a long mile.
Not only that, those speeds are symmetrical, meaning download and upload speeds are identical. That's quite rare on residential broadband packages – upload speeds are usually much, much lower.
Symmetrical speeds are great for playing games, making video calls, sending large files, and holding virtual meetings – and invaluable if you work a techy job from home or host video streams.
For speed alone, Community Fibre gets two symmetrical thumbs-ups from us.
Community Fibre broadband review: Packages and cost
There are five broadband packages from Community Fibre, ranging from 75Mbps up to 3Gbps.
All are FTTP (fibre-to-the-premises) broadband-only packages, with no landline – though you can add this on for an extra monthly cost. You have the option of either a 12 or 24 month contract, with the top 3Gbps package only available on a 24-month basis.
It's a good range of options that are all delightfully fast. That's great if you have a need for speed – but less so if you just need a basic connection. With the slowest clocking in at 75Mbps, it's not the best option for light-use households who just want to browse social media and send emails. You'd be better off saving money (and hassle) with a smaller, budget-friendly package from another provider.
In terms of cost, Community Fibre's packages are all reasonably priced, compared to similar packages from other providers. At the slower end of the scale, they're very competitive indeed – though the 1Gbps package is priced similarly to rival providers' gigabit broadband.
The top package can get very expensive, but that's expected for broadband this fast.
And that outlay is mitigated by the fact that unlike almost all rival providers, Community Fibre packages get you upload speeds that match download speeds.
That means more responsive gaming and smoother video calls.
Community Fibre broadband review: Setup and router
One downside of choosing a broadband provider outside of the usual Openreach network (unlike BT or Sky) – particularly one like Community Fibre that has an FTTP network – is that setup is a little more complex.
In this case, it involves an engineer visit, who will drill a hole in your wall to run the cable into your home and install the fibre socket.
Community Fibre aims to make this as easy and unintrusive as possible, with most installations taking less than two hours – so it's not too bad. Though bear in mind it could be a little more difficult if you have a challenging home to connect to, such as a flat several floors up an apartment building.
So, depending on your property, it may not be the easiest setup. But if it only takes an hour or so, that's still not half bad for a few years of ultrafast broadband.
As for the free router, you'll get an Intelligent Mesh router from Linksys – the exact model will vary depending on which package you choose. In a word, they're excellent. With mesh technology and high specs, they're notably more advanced then the routers you get free with most other providers' broadband. And certainly good enough to deliver those high speeds to your devices.
Community Fibre broadband review: Home phone and calls
A landline is entirely optional with Community Fibre, and it works a little differently from most providers. Calls are VoIP (voice over IP), routed through your broadband – so it relies on a solid connection.
That means that, for a very reasonable cost, Community Fibre can offer you a home phone service that many other providers will charge much more for.
You get unlimited calls to UK numbers (including mobiles), and calling features such as voicemail and call waiting, all included as standard.
Some caveats, though: calls to international and premium rate numbers aren't available, full stop. If you frequently phone abroad, or want to know you can ring premium numbers if you need to, you'll need to look into other options.
You also won't be able to call emergency services if your broadband is down. We'd keep a mobile handy.
Community Fibre broadband review: TV
To your Community Fibre broadband, you can also add a TV box from Netgem.
It's not the most comprehensive TV package – it hardly even compares to the breadth of telly you can get from big TV providers like Sky and Virgin Media. For a few extra channels and an easy way to stream shows though, it's not bad.
You get Freeview (including HD channels) along with Premier Sports, and the ability to pause live TV – and record it, if you attach a USB storage device to the box.
It's 4K-ready too, and includes catch-up apps like iPlayer, plus streaming apps like BT Sport, Amazon Prime, and Britbox. You'll need to sign up and subscribe to those separately, though. And note that a few are missing, such as Netflix, NOW, and Disney+.
Overall, it's fine. For a bit of extra oomph to your TV set, it's an option, and low-priced at that. Just don't expect anything mind-blowing.
Verdict
Community Fibre broadband excels in two key areas, and they're areas that are important: speed and customer service. Its network is reportedly reliable, its customer relations department is highly praised, and let's not forget it's one of the fastest broadband providers in the country. All that counts for a lot – it's safe to say you're in good hands if you can get it in your postcode.
There are some downsides, of course. If you need anything from your broadband provider other than straightforward, fast broadband (think a comprehensive landline service, big TV package, in-built net security, access to Wi-Fi hotspots, and so on), you may be better served elsewhere.
But for fast broadband you can count on? Community Fibre more than does the job.
Pros and cons of choosing Community Fibre
Pros
It's extremely fast – some of fastest broadband in the UK
The whole network is 'full fibre' FTTP (fibre-to-the-premises) broadband, making it very reliable with consistent fast speeds
Reasonably priced for the speeds on offer
Symmetrical upload and download speeds
12-month contracts available
Free router is excellent
Broadband-only contracts, with no landline necessary…
…or, you can add a home phone package with unlimited calls, and even add a TV box
Excellent customer service track record – it's currently the top rated UK internet provider on Trustpilot
Cons
Very limited availability – it's only in London, in select areas
Fastest 3Gbps broadband is only available on a two-year contract
Setup may be a bit of a pain, as cables need installing into your home
Not the most comprehensive options for home phone and TV – you can't call international numbers, for instance
Not much in the way of extras