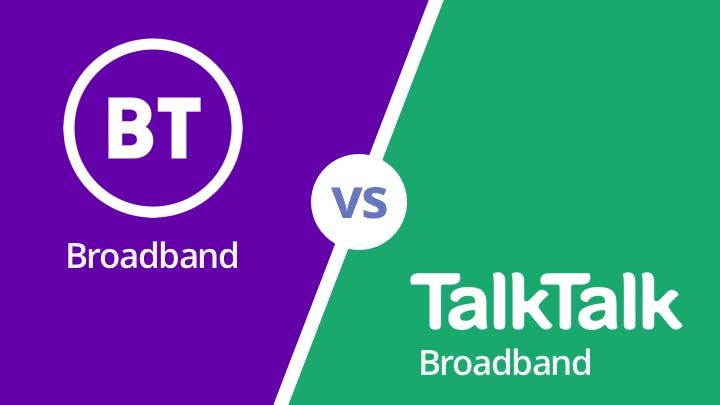 Can't decide between two of the biggest providers in the UK? Here's how they compare, including what perks each has to offer, and how much they cost…
Can't decide between two of the biggest providers in the UK? Here's how they compare, including what perks each has to offer, and how much they cost…
On the face of it, BT and TalkTalk are pretty similar. They both offer fibre optic packages and unlimited downloads.
Each has its own TV service and they both use the Openreach network to deliver broadband to the home.
But which one is right for you? Here's everything you need to know…
BT vs TalkTalk at a glance
| | | |
| --- | --- | --- |
| | BT | TalkTalk |
| Can I get ADSL? | Yes | Yes |
| Can I get superfast fibre? | Yes. Average speed 36Mbps and 67Mbps | Yes. Fibre 35 (38Mbps) and Fibre 65 (67Mbps) |
| Can I get ultrafast fibre? | Yes. Average speeds of up to 910Mbps | Yes. Average speeds of up to 300Mbps |
| Download limit | No download limits | No download limits |
| TV | Yes. YouView-based BT service | YouView based TV service |
| Do I have to take a home phone? | No. Landline is optional with BT | Yes |
Cost
In terms of price, TalkTalk comes in a little cheaper than BT. Its standard fibre broadband package costs £22 per month at the time of writing compared with BT Fibre Essential, which costs £25.99 per month.
Elsewhere, TalkTalk's Fibre 65 package, with 67Mbps average download speeds, costs £25 on an 18-month contract at the time of writing. BT's equivalent, on the other hand, costs £30.99.
All that said, you will get more broadband packages to pick from with BT. And perks such as the low-priced TNT Sports access via the discovery+ app somewhat justify the higher price-tag.
Average broadband speeds
When it comes to speed, TalkTalk offers: Fibre 35 (38Mbps) and Fibre 65 (67Mbps). Conversely, BT's Fibre Essential and Fibre 2 come with average speeds 36Mbps and 67Mbps, respectively.
For even faster internet, though, TalkTalk's Fibre Ultrafast boasts 145Mbps. And if you're lucky enough to be able to get them in your area, BT Full Fibre 300 offers 300Mbps average speeds, and Full Fibre 900 gets you average speeds of 910Mbps.
As we say, though, these speeds are limited to only a few areas in the UK. And will cost you considerably more than standard fibre packages.
Broadband packages review
All of TalkTalk's ADSL and fibre broadband packages are fairly priced, and come with an 18-month contract.
BT, on the other hand, stipulates a minimum-term 24-month contract, and its packages are quite a bit more expensive.
That said, BT offers more choice than TalkTalk – especially when it comes to superfast fibre packages.
Phone
At one time you'd need to pay for line rental to have a BT broadband package. Now, though, BT's standard and full-fibre package come without line rental. This means you won't have to pay for a phone line.
However, TalkTalk broadband packages still come with a telephone line, so you will need to fork out for line rental too.
Each provider offers add-ons that get you unlimited calls to UK landlines and mobiles, plus comprehensive international call packages.
TalkTalk offers calls to 50 destinations at £10 per month. While BT includes 36 destinations for £36 per month.
TV
At the time of writing, TalkTalk broadband customers can get TalkTalk TV for £4 per month. This gets you over 80 freeview channels, and the option to add TV subscriptions to whenever you want.
With BT, you'll get loads of premium channels, plus access to TNT Sports and access to the excellent BT TV app, which lets you watch your favourite shows on the move.
Fibre offering
If you want seriously fast internet, and you're lucky enough to live in an area where full fibre broadband is available, BT's Full Fibre packages are a great option. Bear in mind, though, it's unlikely you'll need such fast speeds.
As we say, both TalkTalk and BT standard fibre optic speeds are pretty similar. The difference is, BT's full fibre option is head and shoulders TalkTalk's when it comes to speed.
Download limits
All of BT's broadband packages come with unlimited download limits – so you can browse the web and download as much content as you like without worrying about being charged extra.
Similarly, all of TalkTalk's fibre broadband plans come with totally unlimited usage. So the same thing goes – you can browse as much as you want, whenever you want, without the stress of extra charges.
Extras
Go with BT and you'll get access to a network of five million WiFi hotspots. This is a great perk for when you're on the move and need to access the internet. Moreover, BT customers will also get £5 off when they add a mobile phone plan to their bundle.
TalkTalk extras include online security to add-on and a speed boost if you're having problems with your internet.
Customer service
To date, TalkTalk's customer service reputation hasn't been the best. In fact, the provider routinely scores the lowest on Ofcom customer service reports. And it hasn't improved much over the years, either.
BT generally does better. According to a recent Ofcom customer service report, its customers are generally satisfied with the way its complaints are handled.
To that end, if good customer service is particularly important to you, BT is the better option.