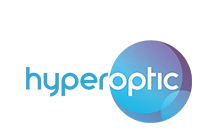 From speeds to prices, customer ratings and packages - here's all you need to know about Hyperoptic.
"What's really nice about Hyperoptic, is it promises to never hike the cost of your contract during commitment periods, and with some providers putting up their customers' bills by 14.4% a year, it could save you getting a nasty surprise in the post. Hyperoptic also offers to (potentially!) give you up to nine months' free service while you're still in your old contract if you want to switch. You just need to enter your postcode and let them know how long you have left on your contact." - Charlotte Burns
Our rating: Four and a half out of five
Hyperoptic broadband isn't widely available, but it has much to recommend it. Here's what you need to know:
Great speeds, up to 1GB
Really affordable and competitive against major rivals
Not widely available
Is Hyperoptic broadband any good?
In short, yes. Hyperoptic offers full fibre to the premises (FTTP) meaning you don't need to rely on Openreach's ageing copper network to get broadband.
It has a great range of speeds on offer, from a more than decent 50Mbps to a lightning fast 900Mbps (though it's advertised at 1GB).
And its prices are very impressive, far lower than all the major providers.
Hyperoptic broadband speeds
Hyperoptic is available in four different speeds, with 50Mbps, 150Mbps 500Mbps and what it calls 1Gbps (in reality it's 900Mbps).
These are in line with BT, TalkTalk and Sky's FTTP services, although the slowest 50Mbps package uses FTTP too, unlike the slower fibre offerings from its major name rivals.
These speeds are more than enough for everyday use and the fastest ones promise to keep even the most gadget-laden home connected without any blips.
Hyperoptic broadband packages review
Hyperoptic has four packages currently available:
50Mbps. This basic deal still uses FTTP and is great for those who like to stream or work from home
150Mbps. Ideal for anyone who wants a more internet connected home or has a growing family that need to use devices simultaneously.
500Mbps. Perfect for gamers and hardcore streamers, this is a service fit for all but the most demanding internet users
1Gbps. In truth, this is a 900Mbps service, but still offers lightning fast connections for homes that have lots of residents and tons of internet connected products.
Hyperoptic Fibre review
All of Hypertoptic's broadband deals use full fibre, based on its own FTTP network.
That means you'll get super fast speeds right into the home if you're lucky enough to have Hyperoptic available where you live.
Remember that the fastest speeds only come from wired connections, so be sure to connect any home computers and smart TVs straight to the router if you can.
Hyperoptic Router
Hyperoptic offers its Hyperhub (it's 'all mighty' router) to all users. In reality, there are two versions. One is made by Nokia and available to 50Mbps and 150Mbps customers.
The other is a ZTE device for 500Mbps and 900Mbps users. Each has four Ethernet ports and the latest WiFi tech for ensuring fast and stable connections.
Hyperoptic calls review
Hyperoptic has a calls package which costs an extra £2 per month on all deals.
As it doesn't need a phone line to be connected, calls are made over the internet, so be aware that if your broadband drops, you won't be able to make calls.
Hyperoptic pricing
Hyperoptic is very competitively priced, with 24 month, 18 month and one month rolling deals. At the time of writing (May 2023), 24 month packages cost as follows:
50Mbps - £25 per month
150Mbps - £32 per month
500Mbps - £38 per month
1Gbps - £45 per month
That said, the above isn't taking into account potential offers. Currently Hyperoptic is offering up to three months' free on its biggest package for example, which knocks a whopping £135 of the cost of a 24 month package. You also have to pay an activation fee of £19.
Hyperoptic Extras
Hyperoptic has teamed up with Sky, so you can get its cutting edge Sky Glass TV as part of one package.
No dish is required and you can access all the best streaming TV around in one place.
Customer service
Hyperoptic rates well on TrustPilot, with an impressive 4.5 out of 5 average from nearly 19,500 reviews.
As it covers fewer than one million homes, it does not feature in the latest Ofcom customer satisfaction report.
What are the pros and cons of Hyperoptic broadband?
Pros:
Great value
Really good
Full fibre
Cons:
Our latest Hyperoptic broadband deals








*Average speeds are based on the download speeds of at least 50% of customers at peak time(8pm to 10pm). Speed can be affected by a range of technical and environmental factors. The speed you receive where you live may be lower than that listed above. You can check the estimated speed to your property prior to purchasing.
How does Hyperoptic compare against other providers?
Hyperoptic v BT
BT has the advantage of being widespread and offering slower speeds for those not keen on full fibre. However, Hyperoptic is much cheaper, meaning if you can get it, you should.
Hyperoptic v Sky
Hyperoptic comes with a Sky deal if you want TV. However, you may find you can get a better overall package from Sky, especially handy if Hyperoptic hasn't arrived in your area yet.
Hyperoptic v Virgin Media
Hyperoptic goes toe to toe with Virgin on speed, although the latter does have one slightly faster package and is available in more places, albeit at a higher price.
Hyperoptic v TalkTalk
TalkTalk can match Hyperoptic's FTTP speeds, but its poor customer services means you're better off with Hyperoptic if you can get it.