Travel insurance for snowboarding holidays
Planning a winter sports holiday? Find out all you need to know and more about snowboarding insurance right here!
Are you planning a trip on the slopes? Snowboarding is great fun but comes with an array of unpredictable risks.
Make sure you are covered for any unexpected mishaps with tailored snowboarding insurance. This will allow you to truly enjoy your holiday, safe in the knowledge that you are protected against any problems that may arise.
What is snowboarding insurance?
Snowboarding insurance is a type of travel insurance that provides cover specifically designed for snowboarders. Whether it's in the UK, Europe, or anywhere else around the world, insurance can give you peace of mind while enjoying the slopes.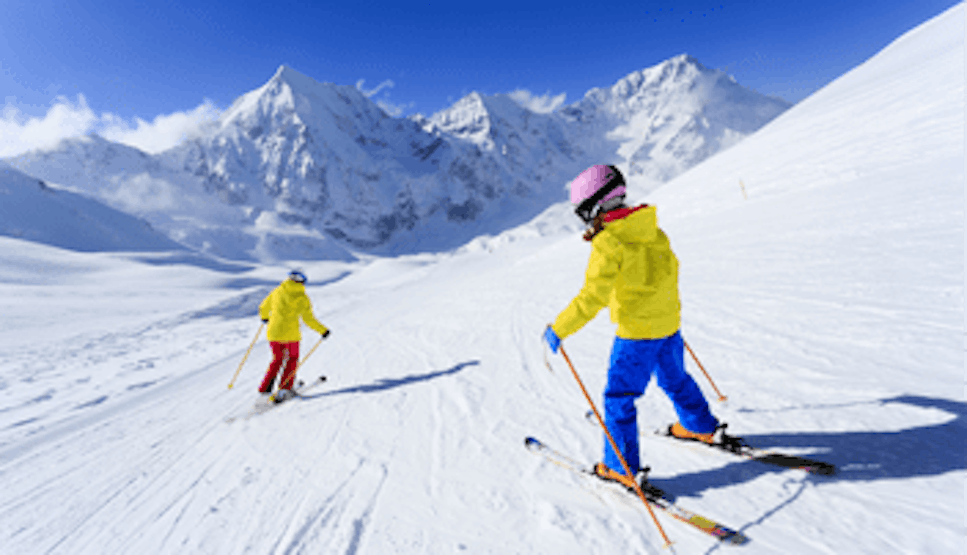 What does snowboarding travel insurance cover?
Travel insurance for a snowboarding trip will generally still include cover for delays and cancellations, your possessions, and basic medical treatment, as well as any other additions you have purchased.
However, it will also provide a special level of cover that can include some, if not all of:
Equipment and hire: If your snowboarding equipment is damaged, lost, or stolen, you'll be able to claim for replacements of hire costs. This depends on what's stated in your policy.

Piste closure: If the piste is closed for a certain length of time, you may be able to get compensation for the time lost. However, soe insurers might have minimum closure times, which could be anywhere between 12 and 24 hours.

Off-piste snowboarding: Many insurers will also offer cover for off-piste snowboarding. However, this will usually have some conditions. For example, the cover may only apply if you're accompanied by a qualified instructor or guide.

Ski pass: If your ski pass is lost or stolen, you'll be able to claim for the cost of a new one to access the slopes.

Medical costs: If you injure yourself while snowboarding, medical costs are generally covered up to a certain amount. In places like Canada and the USA, bills can often reach tens of thousands.

Pre-existing medical conditions: If you have any pre-existing medical conditions, and should they flare up while you're abroad, you'll be covered for any medical costs.

Cancellations due to injury or illness: Likewise, if you have to cancel any activities due to illness or injury, the cost of any equipment you've hired will also be covered.

Personal liability: If someone else is injured as a result of your activity while snowboarding, this will cover your personal liability costs.

Avalanche delays: If you're unable to access the slopes or the piste opening is delayed due to an avalanche, this will cover the cost of any alternative arrangements you may have had to make.
Do I need snowboarding insurance?
Snowboarding insurance policies come with the cover you'd expect from holiday insurance. This includes baggage cover, cancellation cover, medical expenses, and emergency repatriation cover.
They also provide cover that standard travel insurance does not. For example, you won't be able to claim for medical treatment costs if you injure yourself. Indeed, snowboarding is often excluded in standard policies as it's considered a risky activity.
Likewise, if any damage was done to your snowboarding equipment, this may not be covered under a standard policy.
Snowboarding is a risky sport. Without insurance, a bad crash could leave you with tens of thousands in medical bills.
How often will you need snowboarding insurance?
You may want to consider how often and how long you travel for. A single-trip policy should be enough if you're only going on a one-off holiday. However, if you're a regular snowboarder, you may want to consider multi-trip or annual cover.
It may end up cheaper in the long run, compared to purchasing a single policy for each trip.
Where do I need snowboarding insurance for?
Cover for European destinations is normally cheaper than worldwide cover. So, if you're only going to France or Switzerland, you'll save money by avoiding over-insuring yourself.
You can generally get policies that cover you for:
Worldwide travel (excluding the USA, Canada, and the Caribbean)
What's excluded from snowboarding insurance?
However, like any other insurance policy, there are usually exclusions in place for what you can put in a claim for. These can include any of the following:
Extreme snowboarding: Some forms of snowboarding, or some routes and slopes, may be excluded from certain policies. In this respect, they may even require further cover. It's best to check with your resort before taking out a policy.

Competitive snowboarding: Likewise, if you snowboard competitively, you will require an extra level of cover if you have to pay for medical costs or equipment.

Snowboarding under the influence: If you hit the slopes while under the influence of alcohol or drugs, any claims for equipment or medical treatment costs may be voided.

Injury without protection: If you injure yourself or become ill as a result of not wearing the right protective equipment or clothing, your medical costs may not be covered under your policy. This might include helmets, goggles, or even wearing a close-fitted underlayer to keep you warm.

Unattended possessions: If your equipment or gear becomes stolen, lost, or damaged when you've left it unattended, it's unlikely you'll be able to claim for the costs.
How much does snowboarding travel insurance cost?
The price you'll pay for snowboarding travel insurance depends on a number of factors:
Your age: The older you are, the more you're likely to pay for cover. This is mostly due to the higher chance of you having pre-existing medical conditions, which therefore increases the chance of you making a claim.
Destination: The high medical and repatriation costs for places such as the USA and Canada mean insurance generally costs more if you're travelling there.
Travel frequency: The more often you travel, the more you'll have to pay for cover. That is whether you're insuring each trip separately or taking out an annual multi-trip policy. If you're planning on taking more than three trips in a year, even if only one involves any winter sports, you could save money by taking out a multi-trip policy.
Holiday duration: The longer your holiday, the more likely you are to have to make a claim. This is generally due to other factors such as your destination or how many other people take out similar policies.
When should I buy travel snowboarding insurance?
Ideally, you want to buy travel insurance as soon as you've finalised and booked your holiday.
This way, if you have to cancel your holiday between booking and setting off, you'll be covered for the cost of the flights and accommodation you've bought.
It may even cover the cost of any equipment you've hired. That said, you should check to make sure in your provider's policy documents before buying.
You'll be covered for cancellation for the following reasons:
Illness or injury

Redundancy

Bereavement
European Health Insurance Card – EHIC/GHIC
If you're planning on snowboarding in the Alps or somewhere else in Europe, you could either benefit from a European Health Insurance Card (EHIC) or the new UK Global Health Insurance Card (GHIC). Both the EHIC and the GHIC will cover you for emergency medical treatment to the same standard as a local citizen in any EU country.
The EHIC/GHIC scheme is a good safety net, but not all State healthcare in the EU will be completely free. Indeed, you may still have to pay something towards your treatment. The scheme also doesn't cover things like repatriation if you need to come home after a snowboarding injury. For this reason, good quality travel insurance is important.
The EHIC is being phased out for UK residents and is being replaced by the GHIC. If you have a valid EHIC, it can still be used in Europe for the time being. If your EHIC has expired, you can apply for a free GHIC through the NHS.
Snowboarding travel tips
Snowboarding is a lot of fun, even if you spend half of the time lying in the snow. However, there is danger involved. Keep safe, and make sure you have a great holiday while bearing these tips in mind:
Bring all the right gear and equipment, such as helmets, goggles, and warm but not too heavy clothing. Bear in mind that you'll work up a sweat on the slopes! This also includes sunblock, as the sun's rays can be more intense at higher altitudes.

Check the weather conditions to make sure there isn't too little or too much snow, or even an avalanche, that could interrupt your snowboarding session.

Know your limits. The more difficult slopes will be signposted for snowboarders. Don't try these if you're a beginner or amateur. Keeping yourself safe should be the highest priority.

Behave sensibly, so you can avoid injuring yourself and others while you're snowboarding. Remember that the slopes are for everyone to share. This also means not snowboarding if you're under the influence of any substances.

Tell someone where you are in case you get lost somewhere. This way, they'll be able to flag it to someone at the resort who can send for help.
Compare snowboarding insurance and find the best deal for your plans
Finding a better deal for snowboarding travel insurance is easier when you compare your options on MoneySuperMarket.
All you need to do is tell us a little about your holiday plans so we can find quotes tailored perfectly to your needs. Then, you can sort through them to find the right policy for you. This will depend on the level and type of cover you've chosen, as well as the price you'll pay and any excess fees.
However, you should remember that a cheaper policy isn't necessarily the best one. You should find one that gives you the exact level of cover you need. In fact, you don't want to be under-insured just to save extra money, or over-insured with policies you'll never need.
Once you've found the one that suits you, just click through to the provider and finalise your deal.