Compare travel insurance for New Zealand
Stunning scenery, remarkable wildlife and action-packed activities – plus excellent wine and vibrant Kiwi culture to boot – New Zealand has it all. Here's a few ideas for that dream trip – just remember to take out travel insurance as soon as you book
Do I need travel insurance for New Zealand?
Whether you're planning a laid-back break touring New Zealand's incredible landscapes, or are looking for a more adrenaline-filled holiday, travel insurance is essential.
Travel insurance protects you – and your wallet – in case you fall ill, have an accident or suffer from the loss or theft of your belongings whilst you're on holiday. It can also offer a financial protection in case you have to cancel or cut short your trip early due to an emergency.
Think of it as a financial safety net, giving you peace of mind so that you can relax and enjoy everything New Zealand has to offer.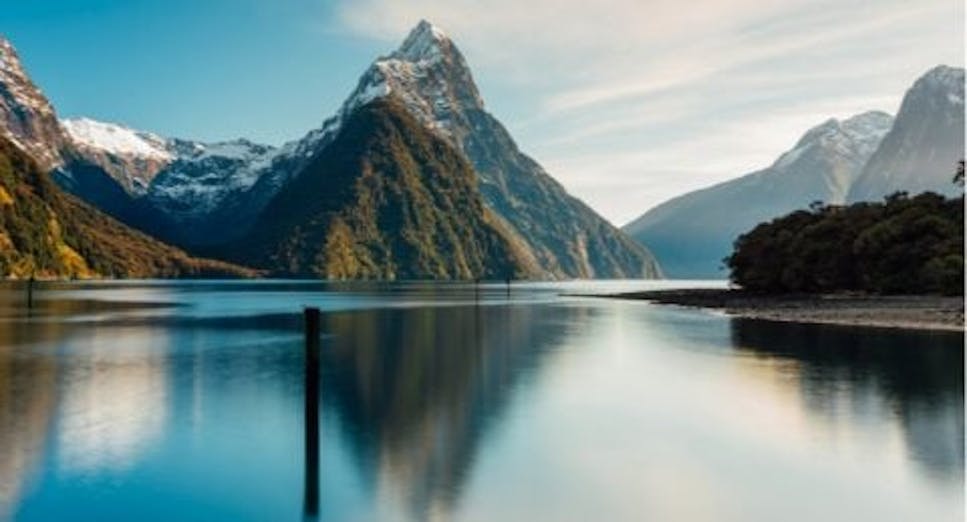 What type of travel insurance do you need for New Zealand?
A trip to New Zealand is included under most worldwide travel insurance policies. Depending on your travel plans, you'll need to select one of the following policy categories:
What should my travel insurance policy for New Zealand include?
When choosing your travel insurance policy for New Zealand, make sure it covers the following:
Cover for medical expenses, usually up to a limit of £5m

Cover for the cost of bringing you back to the UK, commonly called 'repatriation'

Cover if your holiday is cancelled or curtailed, in case you have to head home earlier than planned or an emergency prevents you from going in the first place

Delay and missed departure cover, in case events beyond your control (such as a car breakdown) cause you to miss your flight

Travel abandonment cover, for unusual circumstances where the journey to your destination becomes a no-go

Baggage cover, in case your belongings are lost or stolen during your trip. Make sure you include cover for any expensive items you'll have with you, such as jewellery

Passport cover, because getting a replacement for a lost or stolen passport while abroad can be both complicated and costly

Personal liability cover, protects you in case something you do causes injury to someone else, or the loss or damage of their possessions
New Zealand travel insurance: exclusions and things to watch out for
Many standard travel insurance policies won't include the following:
If you have a pre-existing medical condition, or you've had one in the past for which you've received advice or treatment, you may find you're charged a higher premium. You might even have to take out a special policy for pre-existing conditions

Cover for unexpected incidents that may affect your holiday, like civil unrest, war, terrorism and natural disasters

Cover for accidents or injuries that can be linked to you drinking too much

Cover for travel to locations that the Foreign, Commonwealth & Development Office (FCDO) has said British holidaymakers should avoid

Cover for accidents or injuries that happen during sporting activities such as skiing and snowboarding. If you know you'll be trying something adventurous, like one of New Zealand's world-famous bungee jumps, make sure you have adventure cover in place first
Health and medical treatment in New Zealand
Similar to Australia, the UK and New Zealand have a reciprocal health agreement. This means you can access health services on the same terms as locals if you need urgent treatment during your holiday.
You have to be a UK national to qualify, and you'll need to show your UK passport when asked.
Unlike the UK's agreement with Australia, this agreement also covers pre-hospital care – such as transport in an air or road ambulance. If you need emergency treatment during your visit, call 111 and ask for an ambulance.
The agreement may provide some welcome reassurance, but it's no substitute for a good travel insurance policy – here's some of the potential costs it won't cover:
Non-emergency medical treatment

Treatment for existing medical conditions (unless they seriously deteriorate after you arrive)

Repatriation to the UK
Do I need vaccinations to visit New Zealand?
You should make sure you are up to date with the routine vaccinations and boosters currently recommended in the UK. This includes your measles-mumps-rubella (MMR) vaccine and tetanus booster.
How much should my travel insurance excess be?
Your excess is the amount you have to pay before your insurer will settle your claim. The amount you pay acts as a contribution to the total cost – if the policy excess is £100 and your claim is for £500, the insurer would pay £400.
A higher excess could help to lower the cost of your policy, but it's important to set your excess at a level you could afford if you had to make a claim.
When should my travel insurance policy start from?
You should get suitable cover as soon as you book your holiday to New Zealand. Make sure you start your policy from the day you book, not from your date of departure, to protect you in case you have to delay or cancel.
Top travel tips for New Zealand
New Zealand is a truly year-round destination, with something for every type of traveller. Thrill-seekers are well catered for, with world-class skiing and snowboarding throughout winter – while the rest of the year serves up surfing, rafting and much more besides. There are plenty of gentler pursuits on offer too: hiking, cycling and kayaking all offer a more leisurely means of exploring the magnificent landscapes on offer.
You don't have to get active to enjoy your trip though – Kiwis are a famously laid-back bunch – they'll sooner raise a glass than an eyebrow if you choose to spend your time touring the country's many vineyards instead.
With so much on offer, we've narrowed it down to some essential tips to set you on your way – plus some inspiration for things to see and do.
Practical points to remember:
Get your NZeTA sorted before you travel: UK nationals can visit New Zealand for up to six months without a visa, but you'll need to get a New Zealand Electronic Travel Authority (NZeTA) before you travel, which you can apply for online

Tourist i-Sites: It might seem obvious, but this official network of information sites is a failsafe tool for any tourist. There are over 80 sites across the country, including every town or city. Whether it's free maps, accommodation advice, help booking activities, or just free Wi-Fi you're after – the i-Sites have you covered

Money manners: You're not expected to tip your waiter when eating out in New Zealand – but if you feel you've received really special service, 5-10% is a safe bet. At the same time, haggling is not a part of Kiwi shopping culture – the price is the price

Getting around: New Zealand is a nation of hundreds of islands, but the two biggest and most populated are the North and South Islands. If you're travelling between the two, you'll need to hop on a flight or ferry. Beyond this,your choice of transport will depend on your itinerary. If you're looking to explore off the beaten track, or just love the idea of a Kiwi road trip, car rental is a popular and affordable option. You can use your UK licence for up to a year – and the main difference to UK driving norms are the speed limits, which are in km/h. Road conditions are largely good, but even main highways can be similar to rural roads in the UK – so take care. If you can't or don't want to drive, intercity buses are widespread and efficient

Plan your trip based on the seasons: New Zealand lies in the Southern Hemisphere so the seasons are opposites of those in the UK. During spring (September – November) the weather can be unsettled, but as long as you pack a suitable coat the lack of crowds and spring blooms more than make up for it. Summer (December – February) is the ideal time to make the most of the sun, sea and sand across the country's beaches and lakes. Throughout autumn (March – May), pleasant temperatures and fantastic foliage create great conditions for hiking, cycling or kayaking. Winter (June – August) is the time to check out New Zealand's excellent, but under-the-radar, ski resorts
The fun stuff:
The great outdoors: From the South Island's mammoth mountain ranges and serene forests, to the epic coastlines and geothermal areas of the North Island – jaw-dropping scenery dominates in New Zealand. Perhaps the best way to experience this up close is by hiking (Kiwis call it 'tramping') one of the country's nine 'Great Walks'

Unique wildlife: Other than the country's national icon, the kiwi, New Zealand is home to countless other incredible species – including a few that you can only find locally. Nature lovers can tour the Otago Peninsula wildlife sanctuary – home to the world's rarest penguin, the yellow-eyed penguin – or head to Akaroa for a chance to swim in the wild with the world's smallest dolphins: Hector's dolphins

Visit a vineyard (or two): Despite being a relative newcomer to the scene, New Zealand's mild climate and fertile land have gained it an enviable reputation for great wine. Crisp whites, particularly Sauvignons, are the flagship – but Pinot Noir and other varieties of rich reds are on the rise. There are wineries across the country – and most offer tours and tastings for thirsty travellers. There's even a growing trend for 'wine trails' – both guided and self-guided

Māori culture: Māori traditions, language and history are a vital part of contemporary Kiwi culture – so visitors will have plenty of opportunities to get involved. Probably the best way to experience Māori culture first-hand is by visiting a marae – or tribal meeting ground – as part of an organised tour. Lucky visitors are welcomed in a traditional pōwhiri ceremony, before catching a Māori cultural performance and sharing a feast cooked in a traditional hāngī (earth oven). It's worth brushing up on the accepted etiquette before a visit

Tolkien tours: New Zealand's otherworldly landscapes famously became Middle Earth in the big screen adaptations of JRR Tolkien's The Lord of the Rings and The Hobbit books. The franchise may have ended, but you can still grab a slice of the action at the Hobbiton film set, where the Shire lives on – you can even grab a drink at The Green Dragon after exploring the Hobbit holes. Of course, the natural scenery isn't going anywhere – with over 150 stunning locations waiting for keen fans, and those who just want to admire the view
Compare travel insurance policies before you buy
Travel insurance for New Zealand is essential, but the price of a travel insurance policy varies. Different companies will sell the same level of cover at completely different prices, so it's important to compare before you buy.
MoneySuperMarket's comparison tool asks you a few simple questions about you and your holiday: where you are going, how long for and what you want your policy to cover, and in just a couple of minutes you can compare prices from a range of leading travel insurers.