Compare travel insurance for Germany
Here's what you need to know about having the best holiday in Germany – but remember to sort out your travel insurance
Do I need travel insurance for Germany?
Travel insurance is essential if you're planning a holiday in Germany. If you fall ill, have an accident, lose your baggage or something is stolen while you're on holiday, your travel insurance policy will cover you for the inevitable expense.
Travel cover also provides financial protection if you need to cut short or cancel your trip in an emergency – knowing you're covered means you can relax and enjoy your holiday.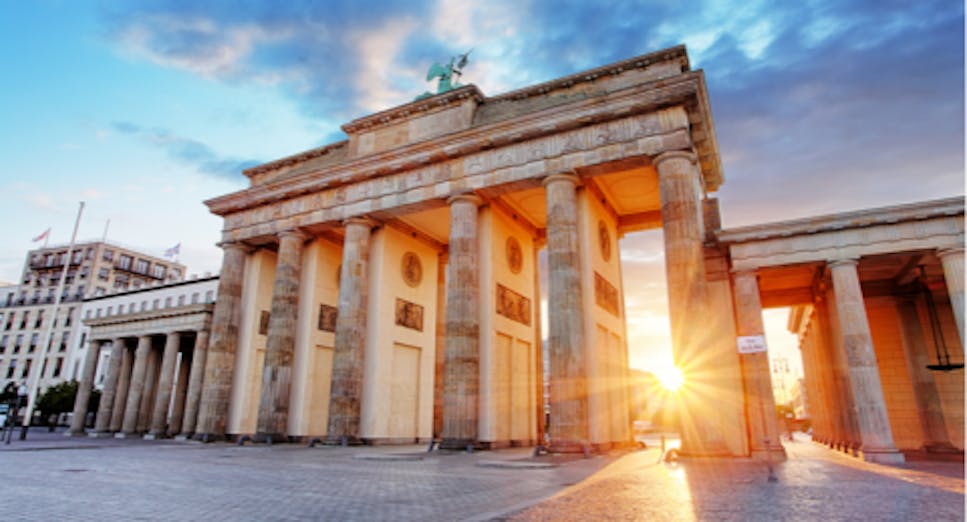 What type of travel insurance do you need for Germany?
Germany will be covered by any European travel insurance policy. When you're comparing travel insurance policies with MoneySuperMarket, your trip will fall into one of the following categories:
One holiday to Germany only: If you are only taking one trip, select single-trip travel insurance and put Germany as your destination

One trip to Germany and other countries: If you are visiting other countries during the same trip, select multi-trip insurance and then pick each country you plan to visit as multiple destinations. If you are backpacking, select backpackers' insurance

Several holidays throughout the year that include the USA, Canada or the Caribbean: You might be able to save money by selecting an annual multi-trip travel insurance policy. If you plan to visit the USA, Canada or somewhere the Caribbean, you need to select a worldwide policy that covers these countries

Several holidays throughout the year that do not include the USA, Canada or the Caribbean: Again, you could save by selecting an annual multi-trip travel insurance policy. If you don't plan to visit the USA, Canada or the Caribbean, you can select a worldwide policy that excludes those countries
According to Rock Insurance data collected between 2018 and 2019
What should your German travel insurance include?
A good travel insurance policy for Germany should include the following:
Cover for medical expenses, usually up to a limit of £5m. The European Health Insurance Card (EHIC) - and its new replacement the Global Health Insurance Card (GHIC) will continue to be accepted in German hospitals for Brits needing treatment even though Britain is no longer in the EU. But it only covers emergency healthcare and should not be a substitute for good travel cover
Cover for the cost of bringing you back to the UK, otherwise known as 'repatriation'

Cover for the cancellation or curtailment of your holiday, in case you have to head home earlier than planned or an emergency prevents you from going in the first place

Delay and missed departure cover, in case events beyond your control (such as a car breakdown) cause you to miss your flight

Travel abandonment cover, for unusual circumstances where the journey to your destination becomes unfeasible

Baggage cover, in case your belongings are lost or stolen during your trip. Make sure you include cover for any particularly costly items you'll have with you, such as jewellery

Passport cover, because getting a replacement for a lost or stolen passport while abroad can be both complicated and costly

Personal liability cover, protects you in case something you do causes injury to someone else, or the loss or damage of their possessions
German travel insurance: Exclusions and what to watch out for
Many standard travel insurance policies won't include the following:
If you have a pre-existing medical condition, or you've had one in the past for which you've received advice or treatment, you may find you're charged a higher premium for your policy if you want your condition to be covered. You might even have to take out a special policy for pre-existing conditions

Cover for unexpected incidents that may affect your holiday, like civil unrest, war, terrorism and natural disasters

Cover for accidents or injuries that can be linked to you drinking too much

Cover for travel to locations that the Foreign, Commonwealth & Development Office (FCDO) has said British holidaymakers should avoid

Cover for accidents or injuries that happen during sporting activities such as skiing and snowboarding. If you know you'll be doing something adventurous while in Germany, check to make sure you have adventure or winter sports cover in place first
How much should my travel insurance excess be?
The excess on your travel insurance is the amount you will have to pay before your travel insurance company will pay out on a claim. While a higher excess might reduce the cost of your cover, you shouldn't increase it to the point that you wouldn't be able to afford to pay it if you made a claim.
When should my travel insurance policy start from?
Start your travel insurance policy from the day you book your trip, not from the date when you are planning to travel. If you delay the start of your policy, you will not be covered if you unexpectedly need to cancel.
Top travel tips for Germany
While the UK and Germany have a shared history going back thousands of years, and while they might be our near neighbours, there are still many cultural differences. These are our tips on making the most of a trip to Germany:
Cash is king: While cards are accepted in many places, cash is still king in Germany – so don't forget to stock up on Euros before you leave. The smaller the denomination, the better

Recycle: Germans are very into recycling – in a way that'll save you money. You get a refund for recycling glass and plastic bottles in a system called 'Pfand'. Just find the machine at your nearest supermarket, and you can make up to 25 cents each time

Validate your ticket: Public transport in Germany is excellent, being both cheap and efficient. However, one way tourists can often come a-cropper is by forgetting to validate train tickets in machines on the platform. Ticket inspectors will fine you if you don't, even if you've paid

First the Wurst: Germany is famous for its sausages for a reason – they're delicious. You can get them at an 'Imbiss', a kind of snack bar found nearly everywhere. Try the curry sauce…

English (mostly) spoken: Most Germans speak decent English, so don't worry too much about making yourself misunderstood. Of course, the locals will love you if you make an attempt

Tipping tips: Tipping is encouraged in bars and restaurants, and your staff will expect something in the region of 10%

Sleepy Sundays: Most shops – including supermarkets – close on Sundays, so make sure you buy your groceries in good time. It's a cultural thing designed to encourage people to relax, so many bars and restaurants will be open, but check first to be on the safe side

Have a beer: The Germans sure love their beer, which is served by the litre and often drunk in large halls called beer cellars, usually with a pretzel or a sausage. Bavarian beer is rightly famous, but you'll find good brews all over the country

Drinking water: Free water is rare in German restaurants, so if you're thirsty you'll have to be prepared to pay

Neuschwanstein Castle: Germany is a huge country with many historical treasures, but perhaps one of the most majestic is this 19th century castle on a hill near the town of Fuessen, which was used as the model for the Disney castle
Compare travel insurance policies before you buy
While travel insurance for Germany is a necessity, the price of a policy varies. Different companies will sell the same level of cover at completely different prices, so it's important to compare before you buy.
MoneySuperMarket's comparison tool asks you a few simple questions about you and your holiday: where you are going, how long for and what you want your policy to cover, and in just a couple of minutes you can compare prices from a range of leading travel insurers.