Caring for your pets through the move
Where moving home is concerned, it's important to look after your pets, specifically cats and dogs
Moving house can be stressful for your pet, as well as you.
When you move, everything your pet has known and become familiar with changes. The smells, the sights, the sounds. Their territory, their hunting ground, their patch.
So how do you help them cope? Let's start with the move itself…
The day of the move
One way to minimise disruption (for you and the animal) is to place your pet with friends or family or in kennels or a cattery while the move takes place. If you do, make sure vaccinations and worming are up to date.
If not, keep your animal safe in one secure room while the 'moving out' takes place – you don't want to be tripping over it as you're shifting the TV.
Then do the same at your new home – put familiar items (toys, beds, things that smell of the old house) in a room and keep them safe and secure until the rest of the move is complete. Remember to exercise your dog and give the cat its litter tray.
You can even 'scent' the new house by rubbing your cat or dog with a cloth or towel before wiping this scent – at their height – in rooms where they are allowed to go.
When it's time for your pet to explore, make sure you keep gates closed, fix any broken fences, and stay with your pet at first, keeping your dog on a lead for the first few days whenever you venture out.
Return to your usual routine around feeding time, bedtime and exercise as soon as you can. Pets love familiarity and routine.
And don't forget the legal requirements – a collar and tag for your dog with correct name, updated address and contact phone number should be worn at all times, and it's best to have that ready for the day of the move.
It's also a good idea to get your dog microchipped ahead of the move if you haven't already, and inform the company that holds your dog's data of any change of address and/or phone number immediately.
On that note, update your veterinary practice and your pet insurance if you have it – and if not maybe it's a good time to look around for the best deals?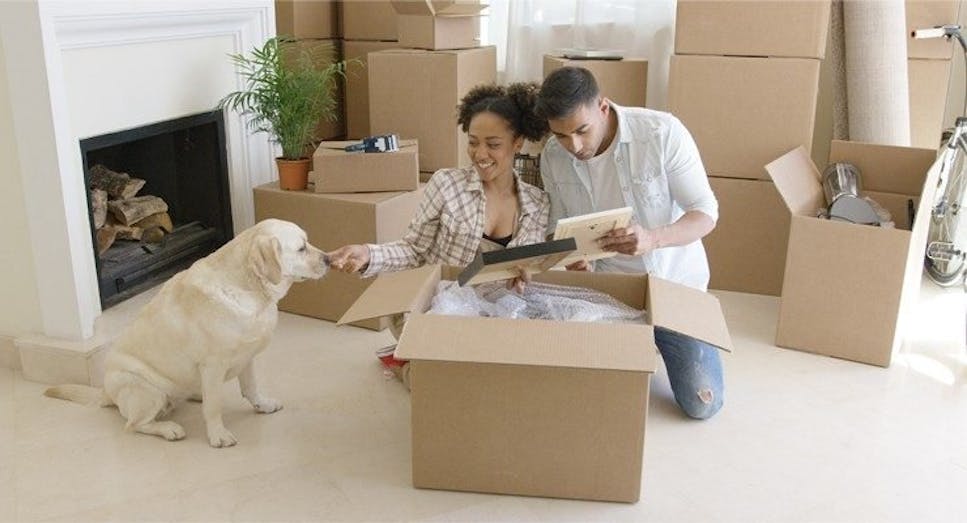 After you've moved
If you're not moving far and you know the new owners of your old home it might be worth having a chat with them to let them know your pet could turn up unannounced, and work out what to do if that happens. It's always best to collect them yourself if this happens.
Cats are more likely to roam than dogs, so keep them indoors for at least the first 24 hours, feed them before you let them out for the first time and use pheromone sprays to keep them calm if needed.
If you have any particular concerns or specialist needs it's worth talking to your vet or an animal charity like Blue Cross for reassurance, tips and advice.