A guide to taking your pet on holiday
Instead of taking your pet to the kennels while you're off for a stay in the sun, there are ways you can bring them along with you. Our guide breaks down what you need to know about travelling with your pet…
Taking your pet on holiday with you can bring a new level of adventure to your next getaway, so it is worth planning ahead. Hotels and transport can vary in how they accommodate pets. This guide explains what you need to know about travelling with pets, both in the EU and worldwide…
What do I need to know before I travel with my pet?
Before you book that hotel and plan for your pet holiday, it's worth weighing up if travelling with your pet is a good idea for them. While it may feel convenient to take them on your trip (after all, kennels can be pricey), it may cause your pet to feel stressed and overwhelmed.
To travel successfully with your pet requires preparation. Make sure you're confident in their capacity to cope with new surroundings and work out how suitable the destination is for them. Some animals struggle with intense heat or humidity, while others aren't suited to colder temperatures.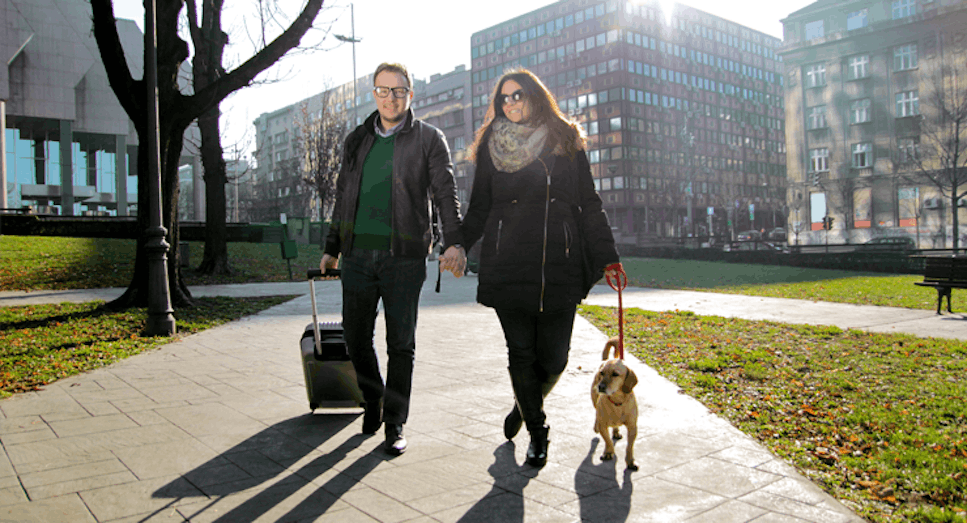 What are the risks of travelling with a pet?
While taking your pet on holiday can bring fun to those sandy beaches, it can also come with risks. Before you go, it may be a good idea to make sure they can cope with:
Loud and unpredictable noises

Confined spaces

Unfamiliar smells and people
These issues are particularly troublesome if your pet is older or very young. Likewise if it's not used to being away from you for long periods, has had no regular travel experience, or is of a nervous disposition.
A flight or sea crossing may only take a couple of hours, but you'll have to account for the length of the door-to-door journey. Work out if there any points where you could break up the journey, to offer your pet some reassurance.
It's also worth thinking about how you would manage with any delays. Travelling with a pet means getting to the airport in good time, so looking into routes around the airport, as well as the easiest ways to find your way outside if travelling with a dog, may be worthwhile.
If you do decide to bring your pet, contact the relevant operators before booking, for their policies on pet travel.
Do I need a pet passport?
As of 2021, following the UK's exit from the European Union, pet passports that were issued in Great Britain can no longer be used for travel to an EU country or Northern Ireland. But if your pet passport was issued in an EU country or Northern Ireland, they can still be used for travel.
If your current pet passport was issued in Great Britain, you'll need to get an animal healthcare certificate instead.
How can I travel to Europe with my pet post Brexit?
For travel to Europe with your pet post-Brexit, your pet will need the following:
An animal healthcare certificate: If you have a pet passport that was issued in an EU country or Northern Ireland, you'll need to get an animal healthcare certificate. You'll need to get this (from a licensed veterinarian) no more than 10 days before you travel

A valid rabies vaccine: Be sure to check with the vet if a booster vaccination is due. You must wait 21 days after the vaccination before taking your pet on holiday with you

A microchip: Your pet must be microchipped before or at the same time as their rabies vaccine. Make sure the microchip number is listed on your pet's animal healthcare certificate

Tapeworm treatment: For dogs, if you're going to Finland, Ireland, Northern Ireland, Norway or Malta. The treatment must be given no less than 24 hours and no more than 5 days before you arrive at your holiday destination
Can I take my pet on a plane?
When it comes to taking your pet on a plane, different airlines will have their own rules as to how to do this.
Some airlines allow your pet to travel with you in the cabin, while others insist on putting them in the hold. Where your pet travels may be determined by size and weight, with only smaller animals being allowed in the cabin with you. To avoid disappointment, it's best to check with your airline how their policy works before you set off.
Can I take my pet on Eurostar?
Only guide and assistance dogs are allowed on board the Eurostar. If you're taking your car via Eurotunnel Le Shuttle, you can take your pet with you as long as they have the right documentation, like an animal healthcare certificate.
Can I take my pet on a ferry?
Depending on the company, pets should be able to travel by ferry if they have an up-to-date animal healthcare certificate (or valid pet passport if it was issued in an EU country or Northern Ireland.)
The costs and requirements vary not only from company to company, but also from route to route, with some ferry operators having different rules or rates according to the crossing.
For the most part, options for foot passengers are more limited. Not all ferry companies have kennels or pet lodgings, and these will only allow guide, hearing and autism assistance dogs in indoor spaces.
How should I travel with my pet by car?
To make sure your pet is secure when travelling by car, it's important that you follow the right safety measures. When travelling with your pet by car, make sure you follow these steps:
Make sure your pet is secured with either a harness, crate or carrier

Have plenty of water with you to keep your pet hydrated

If you have the air conditioning on, make sure it's not blowing directly in your pet's face

If you're on a long trip, take regular breaks so your pet can go to the toilet and stretch their legs!

To keep them relaxed on long journeys, it may be a good idea to bring their favourite toy or blanket along so they have something familiar with them

Don't let your pet (dogs especially) travel with their head out of an open window

It's best not to feed your pet before car travel – leave at least two hours before you're driving

Don't ever leave your dog in a hot car alone – this can be fatal and it doesn't take long for your vehicle to get too warm and your pet overheat!
Can I take my pet to a hotel?
Different hotel chains have different rules when it comes to pets, and what's on offer may vary greatly by location and star rating. It may be worth calling the hotel before you make a booking to understand their policy around pets, as it may vary across their properties.
Some hotels may include an additional charge for allowing your pet to stay with you, while others may have limits on the size of pets that it allows guests to bring indoors. A hotel may market itself as "pet-friendly" but geared towards certain types of domestic pet, so check if you're looking to bring something more unexpected with you!
If you're booking your hotel online, most websites and travel comparison sites will cover whether or not they're pet friendly and if they have any restrictions.
Are guide dogs and assistance animals treated as pets?
Guide dogs and assistance animals are often treated differently and will usually be able to travel in the aircraft cabin. Airline policies recognize assistance dogs are working dogs, needed to ensure the safety and independence of their humans throughout the flight.
But there are some restrictions, even with service dogs. Ryanair, for example, does not allow guide or other assistance dogs on flights to/from either Morocco or Israel.
Emotional support animals are not legally recognized as assistance animals in the UK so it is unlikely yours will be able to stay in the cabin with you on a UK airline.
Will my pet insurance be valid abroad?
When it comes to pet insurance, some policies will include holiday cover as standard. But make sure you check the small print to make sure your pet is covered on your holiday abroad.
If your policy does include overseas travel for your pet, see if holiday cancellation is included and what the limits and associated excesses for it are.
Holiday cover isn't always comprehensive, so make sure accidents, illnesses, injuries and other emergencies are included. In some policies, these are excluded and you'll need to contact your provider to get these added to your policy before you travel.
You can compare pet insurance policies ahead of your trip with MoneySuperMarket. While you're there, why not compare travel insurance policies for yourself too?
Ready to save on your pet insurance? Or need to know more before you get a quote? We're here to help.