Find cover for older felines
Cats are part of the family and as they age have medical needs like all of us. Taking out pet insurance for your older cat can give you the peace of mind that you're covered and avoid the financial sting of a pricy vet's bill
Whether you choose to go for it or not, pet insurance for older cats is worth seriously considering. Even if your moggy is currently in fine fettle, unexpected health complications can arise as they age, and unfortunately accidents still happen. Taking out a policy could save you a fortune in vets' bills and provide the peace of mind that you're covered should anything happen.
How old is a senior cat?
Most pet insurance providers agree that a senior cat is aged eight years and above. If your cat is younger than eight years old, then check out our standard cat insurance.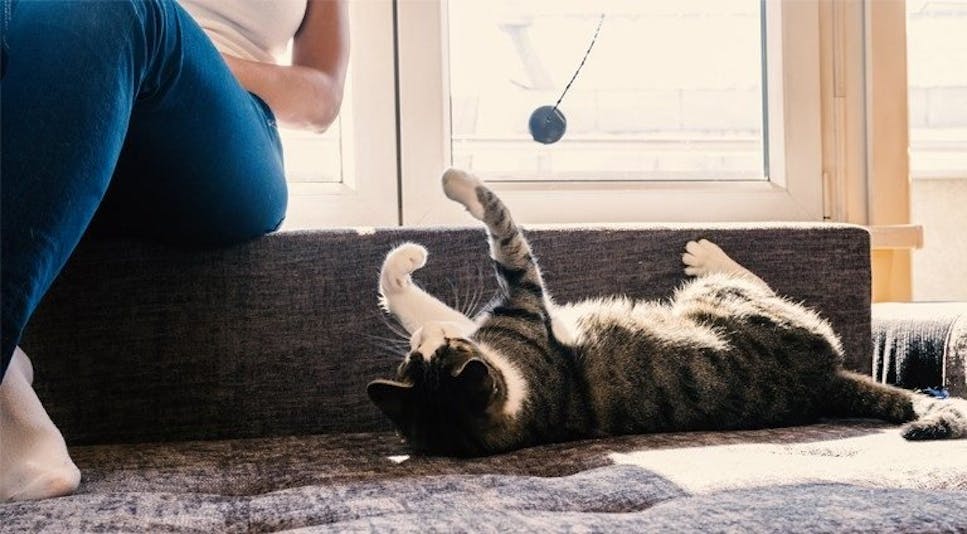 Is there an age limit for pet insurance?
There isn't an official age limit for insuring your pet. Some insurers will be happy to insure an older cat, whereas others may be more wary.
To make sure you choose the right insurer, check the policy details closely to see if there are any age restrictions. If you're still unsure about age limits, it's worth calling to check.
It's also worth noting that if you insure your cat from a young age, as long as you continue to pay your annual premiums they will continue to be covered – even when they pass the maximum age for the policy.
Data collected by Stickee, accurate as of September 2020
What types of insurance are available for older cats?
There are four types of insurance for older cats: accident only, time limited, per condition and lifetime insurance.
Accident only: This is the most cost-effective form of senior cat insurance. This policy will cover your cat if they have an accident, but not if they have a pre-existing condition such as asthma, for example. As such, it may not be the best option for a senior cat.
Time limited: This policy will cover your pet for a set period, which is usually 12 months. It's a good option if you're looking to cover your pet for a short-term illness or if they are involved in an accident. But bear in mind that this policy won't cover any pre-existing conditions.
Per condition/ maximum benefit: This policy depends on any pre-existing conditions your pet may have. The policy offers a set fee to treat individual illnesses or injury.
Lifetime: The policy will be renewed every year (as long you keep paying the premiums) and will have an annual limit per condition. For example, if the cover limit is £2,000 and your cat develops and is treated for asthma, costing you £1,500 in vet bills, this amount would be reset every year and your pet would continue to be covered for asthma.
What else should I consider when buying pet insurance for an older cat?
Make sure your cat's policy doesn't lapse. The most efficient way to protect your cat, especially if they're a senior moggy, is to continue to renew their policy. That way, you won't struggle to find them new cover, should you have to

What's the excess? If something unfortunate happens to your senior cat, the excess is the amount you pay before you can claim on insurance. A higher excess can keep premiums down, but be confident you can afford it before taking out cover

Pre-existing health conditions. If your older cat already has a heath condition, it's unlikely that you'll be able to get them insured under a new policy with most insurers. However, some will take a specialist approach and still offer cover

Know the breed. It's worth knowing what kind of health conditions your breed of cat is prone to in later life, so you can make sure they are covered. If in doubt, speak to your local vet who should be able to advise

Policy extras. If your pet dies, some insurance policies will pay out or may even cover bereavement counselling
Data collected by Stickee, accurate as of September 2020
How much is pet insurance for older cats?
Taking out pet insurance for your older cat can be a little pricier than for a kitten, so it's worth shopping around for the best quotes.
If you have a pedigree cat such as a Bengal or Siamese, they are more expensive to insure because they tend to suffer from inherited diseases. If you have a moggy, they tend to be slightly cheaper.
If possible, it can also be cost-effective to start a lifetime policy when your cat is younger and continue the annual renewal.
Why is pet insurance more expensive for older cats?
It's the same as with humans. The older your cat gets the more likely they are to develop health and dental conditions, so the more medical care they need.
In fact, average annual premiums for a 12-year-old cat were almost £750 a year, over double the cost of cover for 8-year-old cats (£311).
Data collected by Stickee, accurate as of September 2020
How can I get cheaper cover for an older cat?
The best way to get cheaper pet insurance for your senior cat is to do your research and shop around.
When you're comparing policies make sure they cover an older cat, so check any age restrictions.
When you compare with MoneySuperMarket you can see the cost of each policy, the excess, and what's included in the cover.
Ready to save on your pet insurance? Or need to know more before you get a quote? We're here to help.