What Does Pet Insurance Cover?
Knowing what your insurance doesn't cover is just as important as understanding what it does. What are the things that are part and package of your policy and what are the things you need to add on?
Keeping your pet healthy is a top priority however, visits to the vet can easily add up to a quite a hefty number. Pet insurance is what helps you manage your veterinary costs. It works very similar to other forms of insurance such as car and home. Your insurance policy is either able to pay your veterinary costs directly to your vet or reimburse you for covered incidents.

What is pet insurance?
Pet insurance helps you cover the costs of veterinary treatment if your pet contracts a disease, falls ill or gets injured. Pet insurance can also pay out if your pet dies, gets lost or stolen or harms someone or their property.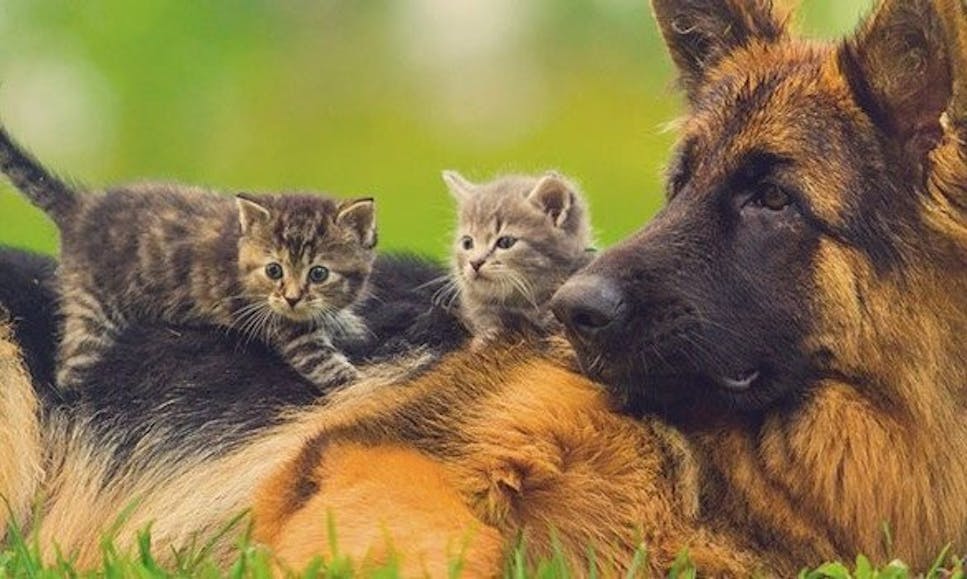 What is covered by pet insurance?
Your pet insurance is there to make sure that when accidents and illnesses eventually happen, your vet fees are the least of your worries. Having a pet insurance policy in place that is tailored to you and your pet will mean that you will never have to choose between your pet's health and your finances.  
Although your pet insurance will cover your pets unexpected accidents, illnesses and emergencies (depending on your policy), it usually won't cover you for any routine or preventative treatments including pet vaccinations, pet neutering and dental cover.  
In addition to vet fee cover, most pet insurance policies cover the following: 
Missing pet cover
Most pet insurance policies will contribute to the costs of trying to find a missing pet, including offering a reward and putting up posters.
Third-party liability
This is especially important to include in your pet insurance cover if you have a dog that has behavioural issues or violent tendencies. This covers legal costs and all expenses if your pet injures someone or damages their property.  
Optional dental cover
A lot of providers offering dental cover for your furry friends as an optional add on. This means you will be covered for any dental related costs under that policy however, most policies will only cover dental issues that have been a result of an accident or injury.
What do different pet policy types cover?
What your pet insurance policy will cover depends on the type of policy you take out. Some are more comprehensive than others, often making your policy slightly more expensive.  

Accident only
This one is quite self-explanatory… this policy is usually the cheapest one as it is less comprehensive. The only thing an accident only pet insurance policy will cover you for is when your pet is involved in an accident and any health issues that arise from that accident.  
Lifetime
Another one that explains itself; a lifetime pet insurance policy will cover your pet for its entire life as long you renew your policy every year.
This is normally the most comprehensive policy type so it will likely cover you for the largest range of conditions that could arise in your pet's lifetime which is also why it is often the most expensive. 
Time limited
A time limited pet insurance policy allows you to make a claim for a medical condition up to a specified amount (agreed on your policy) for a limited period of time. This policy is best suited for when pets have short term illnesses that can rack up quite the vet bills.
This might be a suitable cover option for owners of older dogs that develop a condition in later life.  

Maximum benefit
If you need a more affordable cover to help support your pet's condition, a maximum benefit policy will might be an great option for you to consider.
A maximum benefit policy covers your pet for each injury or illness up to a certain amount for the length of your policy. That amount will reset each time you renew your policy. A maximum benefit policy does not cover any pre-existing conditions.
What pet insurance does not cover
There are a few things that are not included with most pet insurance. These are also known as exclusions and almost all policies have them. These often include:  
Pregnancy and giving birth
If your pet becomes pregnant most pet insurance providers don't cover any care for your pet relating to the pregnancy or birth including hospital visits, illnesses or injuries.  
If you get your pets neutered or spayed, you will be entitled to cheaper premiums.
Preventative treatments
If you chose to get preventative treatments for your pet such as worming, flea treatment or getting them neutered, you may be able to get cheaper premiums.  
Vaccinations
Your pet insurance does not cover vaccinations. However, keeping your pets' vaccinations and boosters up to date is very important. If your pet contracts a disease that could have been prevented by a vaccine, it's unlikely that your insurer will cover the costs. Having all your pet's vaccinations up to date can also mean lower insurance premiums.  
Excess
The amount of excess you choose to add to your policy is the amount you will need to contribute to the cost of your claim. If you choose a higher amount of excess, this may help bring down the cost of your policy. However, it is important to note that you will have to pay that amount in the event of a claim.  
Banned breeds
In the UK there are some dog breeds that are banned and are seen as dangerous. This is why any dogs registered under the Dangerous Dogs Act or pets that are used for security or guarding are quite hard to find appropriate cover for.   

Pre-existing conditions
Pre-existing conditions are not covered by all policies. Pets that have any existing health conditions are usually covered by more specialist providers. However, these policies tend to be more expensive as they need to account for the cost of your pet's condition.  

Are senior pets covered in pet insurance?
Having a pet insurance policy in place for your senior pet is important because they are more likely to have health issues and are less likely to be able to successfully fight of infections like they could when they were younger. 
Once your pet is passed a certain age (dogs – over eight years) they are then classified as senior dogs or senior cats. Some providers do have maximum age limits while others will allow you to start a new policy for your pet at any age.  
If you are looking for the best senior dog insurance, MoneySuperMarket can ensure you get our most competitive rates from leading UK pet insurance providers.  
Is it worth claiming on pet insurance?
Your pet insurance policy is there for you to claim on it when you need it. The whole point of your policy is to ensure that you are paying a feasible amount per month or annually so when bad things do happen, you don't have to empty the savings account to pay for your vet bills.
However, just like any other insurance policy, if you do make a claim, it is likely that it will affect your premiums in the future, and they are likely to rise.
While this does mean that by making a claim you are inevitably going to have to pay more for your insurance policy, it most likely is still going to be much less than having to pay any vet bills that will come your way.
Sometimes it hard to tell whether getting pet insurance is worth it. But when an accident happens, your pet insurance will help you incur the costs.
Save money on pet insurance with MoneySuperMarket  
If you're looking for the right amount of cover while saving money on your pet insurance, MoneySuperMarket is here to help. Simply give us a few details about your pet and we'll provide our best quotes from the UK's leading insurance providers.
Filter through different levels of cover and order by the lowest cost to help you find a policy tailored to your pets needs and your budget.