Find cover for your older dog
The love for your pets as they age doesn't change and neither does the need to take care of your pets – however, what does increase are your vet bills. This guide explains which types of policies are best suited for your older dog and why getting insurance will be helpful.
Can I get insurance for an older dog?  
Yes, as your dog ages they tend to need more care and having the right pet insurance in place can ensure that you aren't paying for all the necessary care your dog needs.  
Naturally, finding the right policy for an older dog can be a little harder than insuring young pups as there are more things you need to consider including choosing the right type of cover you will need. This guide will help you make the right decision for your dog.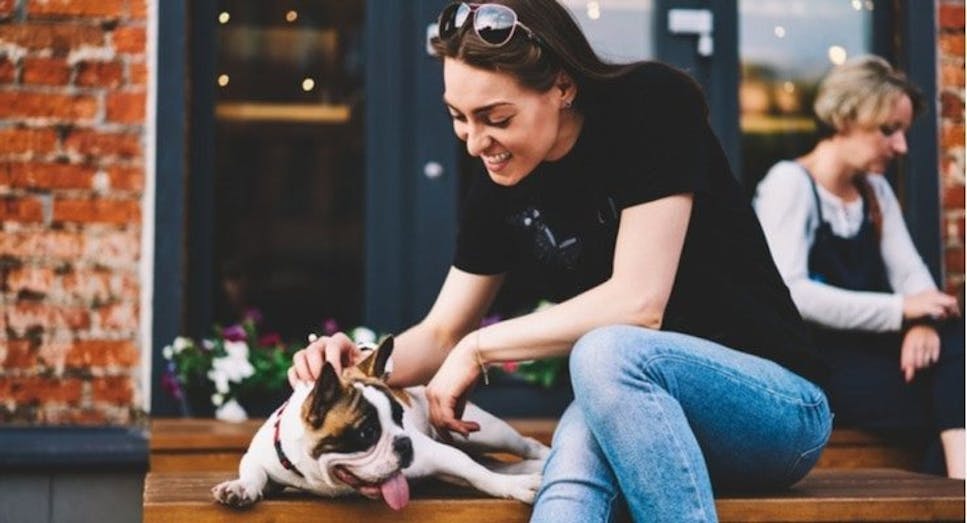 Do I need to get insurance for my old dog?  
As our four-legged friends get older, vet bills tend to add up quicker than you ever realise. As your dog ages and becomes more susceptible to health issues and diseases, it can be a good and cost-effective idea to have a pet insurance policy in place. The right policy will make sure both you and your pawfect pet are covered if anything should happen. 
What age is my dog considered old / senior?  
Once your dog is eight years old, that's when they will qualify for older dog pet insurance. It often depends on the insurer but usually if your dog is younger than eight, you can compare quotes on standard dog insurance.  
What do I need to consider when insuring an older dog?
Just like humans, as dogs age, their health is likely to change and it is very hard to predict how much care they will need. When they age, they are prone to certain health conditions that can make your insurance policy for expensive such as:  
Gum disease  

Deafness 

Cancer  

Blindness 

Dementia  

Kidney disease  

Arthritis  
As these conditions are quite common amongst older dogs, they often lead to people claiming on their pet insurance to get the best possible care for their pets. Unfortunately, this means higher premiums for senior dog owners.  
What types of insurance are available for older dogs?  
Lifetime 
This policy will be renewed every year (as long as the premiums are paid) and will have an annual limit per condition. So, if the cover limit was £3,000 and your dog developed and was treated for asthma, costing you £2,000 in vet bills, this amount would be reset every year and your pet would continue to be covered for asthma 
Maximum benefit 
A lifetime allowance is given for this policy. So, you could be given a £50,000 limit for a certain condition your pet may have, for life. Once that limit is reached, the policy will no longer cover your dog for the condition. 
Time-limited pet insurance 
This insurance will provide cover for only for a limited time for each injury or illness, which is usually a maximum of 12 months from their diagnosis. Once they've reached that time limit, you can no longer claim cover for that condition. 
Accident only cover 
This is the least expensive option – it covers your pet for any recent accidents only. If your dog is diagnosed with an illness they won't be covered, so this may not be the best option for an older dog. 
Pre-existing health conditions 

If your older dog already has a health condition, it's unlikely that you'll be able to get them insured under a new policy. But don't worry, some pet insurance providers will take a specialist approach and still insure your dog 
Does my current pet insurance have an age limit?  
This is heavily dependent on the insurer and the type of policy you buy. Some providers will insure your pet from any age, whereas others may be less inclined to insure an older pet as they are seen as a higher risk.  
Be sure to check the terms of the policy when you're comparing quotes to make sure that the insurer will cover your dog if they are aged eight and over.  
Some larger breeds are considered senior dogs at a younger age, compared to their smaller counterparts. If you are unsure, call your insurance provider to check.  
The good news is that if you continue to pay your premiums once you've got your policy, the insurer will continue to cover your dog, even after the age limit has been reached.  

What should I pay attention to when buying pet insurance for an older dog? 
There are a few important things to look out for when you're looking into pet insurance for older dogs. 
How to choose the best pet insurance for an older dog  
Here are a few important things to look out for when you're looking into pet insurance for older dogs: 
Avoid letting your dog's policy lapse 
If you have an existing policy, you should avoid letting it lapse as it's harder to get a new policy for an older dog, so the easiest and sometimes most cost-effective method is to make sure your policy is renewed  
Consider the excess 
If something happens to your senior dog, the excess is the amount you'll have to pay before you can claim on insurance. Keep an eye on your excess because opting for a higher excess can reduce the cost of your policy. 
Do not to let your dog's policy lapse. It's harder to get a new policy for an older dog, so the easiest and sometimes most cost-effective method is to make sure your policy is renewed each year. 
Look out for policy extras  
Some insurance providers offer additional extras to your policy such as dental cover. If your pet passes away, some insurance policies will pay out or may even offer to cover bereavement counselling.  
Pre-existing health conditions 

Be sure to disclose any existing health conditions your dog may have as it can affect whether your provider will insure your dog or cover any health-related issues.  
How much is pet insurance for older dogs?  
Pet insurance for your old dog is likely to be more expensive than standard dog insurance. However, the price of your policy will be dependent on the age, breed, medical history, size and overall general health of your precious pooch. 
While insurance for an older dog may be pricier than a younger pet, it may be cheaper than any unexpected vet bills, prescription or ongoing treatment.  
It is always a good idea to be prepared, so ask your vet what type of conditions your breed tends to get when they reach an older age. Then, you can assess which type of pet insurance policy is right for both you and your dog. 
How can I get cheaper cover for an older dog?  
Search for policies aimed at older pets  
Researching and comparing different providers through a price comparison website like MoneySupermarket. We help you compare a range of policies ordered by price. Just specify the age of the dog you're enquiring about and we can match to policies helping you find our cheapest deal suited your dog's needs.  
Check contribution and excess levels  
Whenever you make a claim, you have to pay an excess based on your policy. Your excess is the initial amount you must pay on a claim before your insurer pays the remaining amount. A higher excess can keep premiums down, but make sure it's affordable for you when you need to make a claim.  
Be sure to also check out the policy exclusions – you want to know the cover you're getting provides the right protection for your pet.  

Compare quotes for older dog insurance
Finding a better deal for dog insurance is straightforward with MoneySuperMarket. Just provide a few details about you, the dog you want to cover and the type of policy you're looking for we'll match that to great deals from our providers, ordered by the lowest price first.
You can compare quotes from our leading panel of providers and insure all your pets on one policy to get a multi-pet discount.