Find cheaper car insurance and cut the cost of driving
Use our money-saving tips to find the right car insurance policy at the right price and cut the cost of your premium.
Cost of living: How to reduce your car insurance premium 
Amidst the cost-of-living crisis, we are seeing rising costs everywhere and unfortunately, it's no different for car insurance. The easiest way to save money on car insurance is to shop around for the best deal via a comparison website such as MoneySuperMarket, which lets you compare quotes from more than 110* insurers.   
Comparing car insurance quotes can save you up to £319** a year. But there are many other ways you could save money on your premium. Read our guide to find out more.
*Accurate as of January 2022 
**151% of consumers could save up to £319.82 on their annual car insurance premiums. Consumer Intelligence, May 2022. UK only.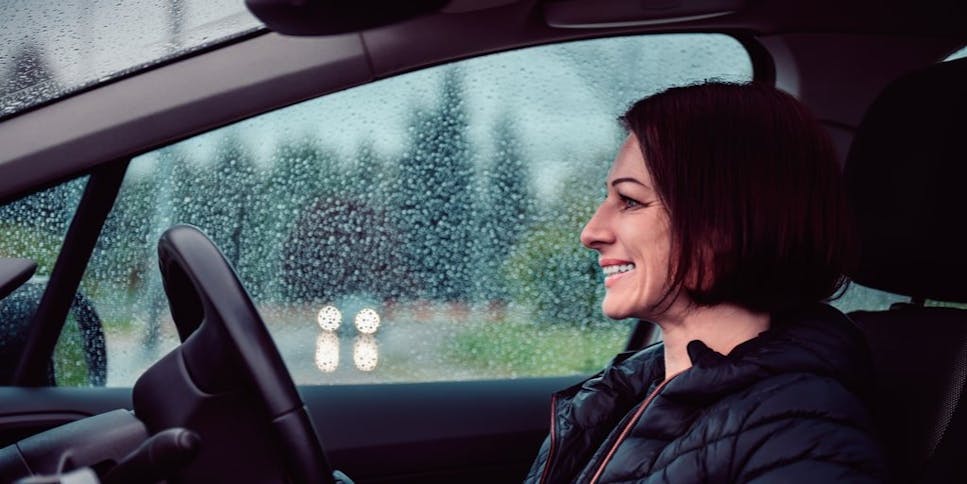 How has the cost-of-living crisis impacted car insurance prices? 
In the second quarter of 2022, the average motor policy increased by £5 - this quarterly £5 rise means the average policy is up 1.3% to £419, according to ABI's Motor Insurance Premium Tracker.
Insurers say the higher value of second-hand cars, increasing material costs and parts supply chain issues delaying vehicle repairs are what's causing the hike in price.
However, there are still some things you can do to ensure you get the best deal on your car insurance. We've listed our top tips below!
How to get cheaper car insurance
Here are our top tips for finding cheaper car insurance:
1. Pick fully comprehensive
Fully comprehensive car insurance offers a higher level of cover than the other two options:
But it's often the cheapest option. This is because insurers have noticed that people who take out less cover tend to make more claims. So by taking out comprehensive car insurance, you can pay lower premiums – and save money on repair bills if you are in an accident. 
2. Pay annually
Spreading the cost of your car insurance might feel cheaper than paying your premium in one go, but it will probably cost you more in the long run. Many insurance companies charge interest when customers opt to pay for their insurance monthly. If you can't afford to pay in one go, it's worth considering other options such as paying on a 0% purchase credit card. Just be sure to clear your balance in full before the 0% period ends. It's important to keep up to date with when your car insurance is due, so you can look to renew or get a policy with a new provider.
3. Pay more excess
As a general rule, the higher the voluntary excess you agree to pay towards any claim, the lower your premium. So try experimenting with our car insurance comparison tool to see how much you could save by increasing the excess amount you are prepared to pay. 
Remember, though, that you'll need to be able to afford your voluntary excess to make an insurance claim.
4. Avoid unnecessary extras
Car insurance policies come with a range of extra features,  such as legal expenses cover, windscreen cover or use of a courtesy car. While they can be useful and bolster your protection, they will push up the cost of your car insurance package. 
5. Think about adding extra drivers
You can generally add up to three named drivers to your car insurance policy. How this affects your premiums will depend on the type of drivers concerned. 
Adding a more experienced named driver can reduce your premiums, especially if you are young and/or inexperienced behind the wheel. But beware: adding a younger, less experienced driver will have the opposite effect. 
It's also important to always be honest about who the main driver is, or you could end up invalidating your cover. 
6. Consider how you describe your occupation 
Being dishonest about what you do on an insurance application is fraudulent and could easily leave you unable to make a claim. But you can sometimes save money by changing the exact term you use. 
Examples include describing yourself as a "cook" rather than a "chef" or as a "writer" rather than a "journalist".
If you work from home or take public transport to and from work, you may also be able to find a cheaper policy by searching for insurance "for social use".
7. Drive fewer miles
If you think you can stick to a lower mileage, you may be able to save money on your car insurance. Fewer miles means you're a lower risk for insurers, so cheaper to insure.
Just remember to let your insurer know if you exceed the agreed mileage. Otherwise, any claims you make after that point could be turned down. 
8. Improve car security
Fitting an immobiliser or an alarm will earn you a discount with some insurers. However, not all companies offer this, so check how much you could save before taking the plunge. 
9. Consider what car you drive
Insurers sort different makes and models of cars into 50 insurance groups, with cheaper, less powerful models in the lower groups and expensive cars with large engines in the higher ones. They then use these groups, as well as multiple other factors, to help them set the premium you will pay.
You can save money on your car insurance by choosing a car that is in a lower insurance group. You can use our handy car insurance group checker to find out what insurance group your current vehicle is in, or to check up on a car you're considering buying.
10. Park with care
It's always best to park your car off the road, or ideally in a locked garage, overnight if you can. 
This reduces the chances of your vehicle being stolen or damaged while it is parked, and will often prompt insurers to quote you a lower price.
11. Think about whether small claims are worth it
Making a claim means you are likely to pay more for car insurance in the future. So it's worth doing the sums to see whether smaller claims are worth it – especially once you have taken the excess you have to pay towards the claim into account.
You also can get a big discount on your car insurance by building up a no-claims bonus, with which you are rewarded for every year you go without making a claim. 
12. Avoid modifications
Modifying your car, for example by adding alloy wheels or upgrading the engine performance, can make your car a lot more attractive to thieves. It will also make it more expensive to fix if you're in an accident. 
So for cheap car insurance, it's best to avoid modifications. If you do decide to modify your vehicle, however, it's important to notify your insurer to prevent any future claims being rejected.
13. Consider telematics
When you take out a telematics car insurance policy, you agree to let your insurer monitor your driving via a black box installed in your car, a plug-and-drive device or a mobile phone app. 
As the insurer then uses the data collected to set your premiums, telematics can be a good way for drivers to cut the cost of car cover – as long as they drive safely. 
14. Take a driving course
You may also be able to cut your car insurance costs by taking an advanced driving course such as Pass Plus. However, not all insurers offer discounts for this. 
15. Shop around
When your insurance is up for renewal, make sure shop around to find the best deal for the cover you need.  
It's easy to see how much you could save by switching with MoneySuperMarket – just remember to make sure you're comparing like for like cover.