Does your car insurance policy include windscreen cover?
It's easy to get a crack or chip in your windscreen on the UK's busy roads, this can be dangerous, and lead to costly repairs. Find out how windscreen cover can be added to your car insurance policy
What is windscreen cover insurance?
Windscreen cover insurance allows you to replace damaged windscreen glass without having to pay a large excess should it become cracked, chipped, or broken.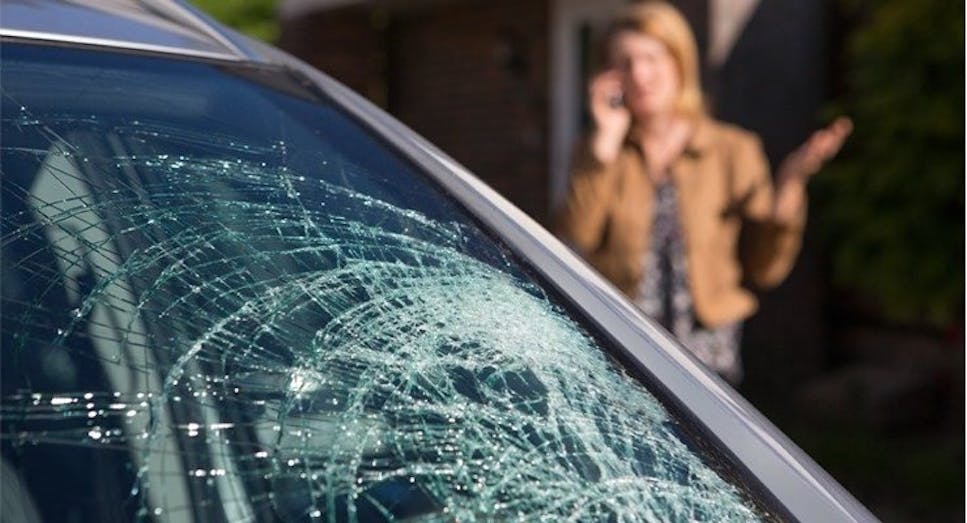 Is windscreen cover included in my car insurance as standard?
When you have comprehensive cover, many policies include windscreen cover; but check with your insurer to make sure your windscreen is definitely protected. If you don't have specific windscreen cover insurance, then you will likely need to pay the full excess and risk losing your no-claims bonus.
Depending on your policy, windscreen cover insurance could come as standard or as an optional extra, or you might not be covered at all.
Even those companies which offer full windscreen cover will have different terms, so it is always important to read the small print with care before purchasing any policies.
Why is windscreen cover insurance important?
If you notice a tiny chip in your windscreen, you might not think it's a big deal and isn't worth getting repaired. But, if left untreated, the chip could turn into a crack which could eventually shatter the windscreen.
Having windscreen cover means the cost of any repairs or replacements will likely be covered, although you will still have to pay the excess for each claim. However, this excess is usually much lower than the full amount you would need to pay for any standard car insurance claim.
How much does it cost to repair a windscreen?
Windscreen damage is a common problem, and while a crack may seem insignificant at first, it can quickly become more serious – not to mention expensive to fix. Small chips will cost around £50 to repair, but anything larger than the size of a £2 coin usually requires a full windscreen replacement, which could cost you between £200–£250.
Adding windscreen cover to your policy usually costs around £20 to £30 for the year, and factoring in the reduced excess means it could result in a substantial saving if you ever need it.
*According to AutoAdvisor, accurate as of January 2021
What are the most common causes of windscreen chips and cracks?
Windscreen damage is a common problem for drivers. Below are some of the most typical ways in which your windscreen could become damaged:
Debris from the road
Most people's windscreens get damaged from stones or other debris flying up from the road (or falling off the back of a lorry) and hitting their car. If you're on a road with a lot of loose stone or road works taking place, or you're driving past large vehicles, drive slowly and take extra care.
Bad weather
You can't predict the weather, and sometimes it can be extreme. This can cause damage to windscreens, as well as the rest of the vehicle. Tree branches and other debris blown by high winds can cause the same damage as stones from the road, as can heavy hailstones.
Sudden changes in temperature
A sudden rapid change in temperature can cause the glass to contract or expand. For example, during the winter months, you might be tempted to defrost your icy windscreen with boiling water. Or, you might leave your car sitting in direct sunlight on a very hot day.
Accidents and collisions
From traffic accidents to drivers accidentally hitting an animal on the road, to bird strikes or a golf ball flying astray, there are many ways your windscreen can incur damage.
If I make a claim, will I have to pay for excess?
If you make a claim for a damaged windscreen on your car insurance, the amount of excess will vary depending on your policy. In some cases, if you only need to repair a chip or small crack in the windscreen, the car insurance company may not even charge you an excess.
If you do need to get your windscreen fixed, make sure you do so through an approved repairer and check in with your car insurance company first.
Can I drive with a cracked windscreen?
Driving with a cracked windscreen could be considered a motoring offence, and you could be given points on your licence as well as a fine. Additionally, if you drove with a cracked windscreen and you had an accident, you could be charged with a more serious motoring offence.
Will my cracked windscreen be repaired or replaced?
Windscreen replacement companies will look at the size of the chip and its location on the glass to determine whether your windscreen needs to be repaired or replaced.
In most cases, you'll be able to avoid a total replacement if:
The windscreen chip or crack is shorter than 28mm, equivalent to a £2 coin

The chip or crack is shorter than 10mm if it's in the driver's field of view

The chip or crack is more than 7cm from the edge of the window
How can I protect my windscreen?
There are a few things you can do to prevent a chip in your windscreen:
Keep your distance: Don't get too close to vehicles in front of you, especially when on uneven, rocky roads

Watch your speed: Slow down on newly-laid and resurfaced roads

Check the weather: If overnight frost is forecast, you can use a cover to protect the windscreen and shouldn't use hot water or sharp objects to defrost it

Keep your car sheltered: 

Keeping your car sheltered when it's parked

will help prevent it from being struck by flying debris or affected by extreme weather
Compare cheap car insurance quotes
Comparing car insurance quotes with MoneySuperMarket is a quick and easy way to find affordable cover. All you need to do is tell us a little about yourself, the car you're insuring, and your driving history and we'll put together a list of quotes tailored to your needs