Should my car have an immobiliser?
When it comes to car security, there are a number of ways you can protect your vehicle, deter thieves and even lower your insurance premiums. This guide looks at the steps you should take.
Having insurance-approved car alarms and a robust security system for your vehicle can offer several benefits. Not only can it act as a deterrent to thieves and vandals, but it may also help you cut the cost of your car insurance.
also help you cut the cost of your car insurance.
What car security do I need?
The prime objective is to protect your car from being stolen or broken into. So as well as making your vehicle more secure, you should also consider having a deterrent to criminals.
Making sure you have security systems that are both effective and recognised by your insurer is paramount, so look for Thatcham-approved devices. If a device is approved by Thatcham, you can be sure it meets the right standards for car security.
The final area to consider is developing good habits around car security, such as:
and well-lit areas

Remembering to lock the vehicle

Keeping valuable items out of plain view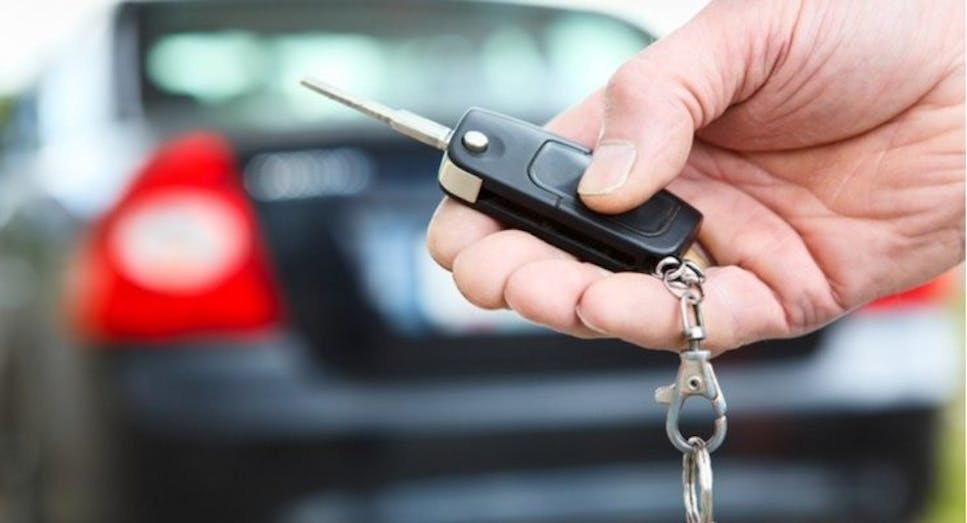 Can having an immobiliser and car alarm reduce my car insurance?
Immobilisers, insurance-approveed car alarms, and tracking devices all reduce the chance your car will be broken into or stolen.
However, you should consider how expensive the security system is to install or maintain, as this may outweigh the savings you make. Almost all new vehicles come with modern technology, such as high-tech immobilisers, already installed.
There also are some things to consider before buying a lock, alarm, immobiliser, or tracker for your car. It is important to always check that your insurer will recognise it as a valid security device. You can balance the cost of buying and fitting an immobiliser and car alarm with the amount your premiums will reduce. But it's not the only factor to take into consideration.
Your improved security should also be more of a deterrent for criminals, which will lessen the chance of theft or damage. In turn, this will allow you to keep a clean insurance record, build your no claims bonus, and further reduce premiums in the future.
What different types of car security are there?
Car immobilisers: An electronic device that prevents the car engine from being started without the correct key or fob. It stops thieves hot-wiring the vehicle.

Car alarms: Most new vehicles come with one already installed. You can get them fitted on older vehicles too. But even if you already have one in place, it may be worth looking to upgrade to help cut your insurance.

Steering wheel locks: Clearly visible to would-be thieves, they act as a deterrent and add an extra layer of security. Gear stick and handbrake locks are also available.

Tracking devices: Allow the police to find your car if it's stolen using GPS, with VHF systems even able to locate vehicles hidden underground. If you have a telematics insurance policy, it may also double as a tracking device.

Locking wheel nuts: Secure alloy wheels to prevent them from being stolen.

Security markings: Having your car's registration etched onto windows and windscreen makes it easier to identify if stolen.
What are Thatcham device classifications and why do they matter?
Thatcham is the research centre of motor insurers and approved security devices used in the UK. It has seven different classes, with Class 1 being the most secure.
Class 1. Electronic alarm and immobiliser: The most complex and secure system available.
Class 2. Electronic immobiliser: Similar to Class 1, but without the alarm. The immobiliser must be able to disable two of the three systems used to drive a car. These are ignition, fuel system, and starter motor.
Class 2.1. Electronic alarm upgrade: Adding a Class-1 alarm to the immobiliser is as close as you'll get to Class 1 without buying a new car.
Class 3. Mechanical immobiliser: Will disable only one of the three systems used to drive a car. For example, a steering wheel lock is a Class-3 device.
Class 4. Wheel locks: Often present on alloy wheels, they can only be removed using a special key.
Class 5. Post-theft tracking: A system that tracks your car's position so the police can recover it. The car can also be immobilised remotely.
Class 6. Tracker: Same as Class 5, but without the ability to remotely immobilise the car.
Class 7. Tracker: A simpler version of a Class 6 tracker.
A Q class covers security upgrades that don't fall into classes 1–7, including locks and alarms that aren't approved by Thatcham.
What types of car alarms are available?
To keep your vehicle extra safe, there are a number of insurance-approved car alarms that you may want to install on top of your immobiliser. Generally, you will find two main categories.
Audible alarm systems are the most common form of car alarms. These are the ones that make a loud noise when someone is trying to break into your vehicle. Audible alarm systems are useful as they might scare off any ill-intentioned thieves. If you buy a new vehicle, there is a good chance that this type of alarm will already be built inside the car.
Silent alarm systems don't make a loud sound when someone tries to steal a vehicle. Instead, they digitally alert the owner. This way, you can contact the police and inform them of what is happening. Make sure you do not intervene yourself as it may be dangerous.
How can I tell what security device my car has?
If your car was first sold in the UK after October 1998, it should have a factory-fitted immobiliser.
Check by looking at the handbook or, if it's a new purchase, ask the seller before you buy.
If you're still unsure, a mechanic will be able to tell you whether the vehicle has an immobiliser. If not, they can help fit one.
How else can I lower my insurance quotes?
Improving your car's security is just one way to help lower your premiums.
You could also look at:
Paying a higher excess: Although this can keep premiums down, you'll have to pay more in the event that you need to make a claim.

Building up your no-claims bonus: If you can show a good record as a driver, then insurers will reward you over time.

Paying annually: Paying your insurance upfront and not spreading the cost via direct debit is likely to be cheaper.

Compare insurers for a better deal: You might be able to save hundreds of pounds by shopping around.
Other tips to keep your car safe
Security systems and insurance-approved car alarms are essential to keep your car as safe as can be. But there are also other simple steps you can take to deter ill-intentioned thieves:
Lock your car: This may sound obvious, but it is important to remember that locking your car makes it more difficult for thieves to steal it. Lock your vehicle whenever you leave it, even if you're only popping into the shops for a couple of minutes. Failure to follow basic security measures may invalidate your insurance when making a claim.
Don't leave valuables in full view: If you have to leave valuable belongings in your car, make sure you keep them hidden. You can slide them under a seat or place in the boot or glove box. That said, it is always wise to take your valuables with you.
Park in a safe spot: Parking in safe areas is likely to reduce the likelihood of unwanted mishaps. When at home, if possible, park your car in your garage or on your driveway. Alternatively, make sure to opt for a well-lit zone.
Compare car insurance
Finding a cheaper quote for car insurance takes just minutes with MoneySuperMarket and will help you to find the cover you need at an affordable price.
Just tell us about yourself and the car you want to be insured on. We'll search the market for a list of quotes tailored to your needs.
You'll be able to compare policies by the overall cost, the cover you'll get, and the excess you'll need to pay to make a claim. Once you've found the deal you want, just click through to the provider to finalise your purchase.
As with any kind of insurance, keep in mind the cheapest option isn't always the most suitable. We recommend balancing the cost with the cover you'll get, so you know you have the protection you need at an affordable price.