Cost of living crisis: Why car insurance premiums are so expensive
Despite a decrease in the average premium, many of us still think our car insurance is too expensive. Find out how premiums are calculated and how you can get a cheaper deal
Car insurance can be a major expense, and for some, it can reach into the thousands to pay for annual cover. If this is the case, it's likely because insurers consider you a high-risk driver.
Your insurance provider determines this risk by considering certain factors, like your age, job title, postcode, and the car you drive. But other drivers have an effect on your premiums too; things like fraudulent claims and uninsured drivers hike up the cost of everyone's insurance.
Read on to find out exactly why car insurance is so expensive, and how you could save money when looking for a quote.
How has the cost of living crisis impacted car insurance prices?
The coronavirus had a major impact on car insurance; with many people being forced to stay at home, far fewer vehicles have been out on the road. Car insurance premiums fell during the pandemic as a consequence, hitting a nearly four year low, but are now back on the rise.
The average car insurance premium was £436 during third quarter of 2022 – an increase of 2%* since 2021. This is partly due to the rising cost of vehicle repairs. The average cost of repairing vehicle damage according to ABI's research is around £3,000, which is a 16% increase compared to 20211.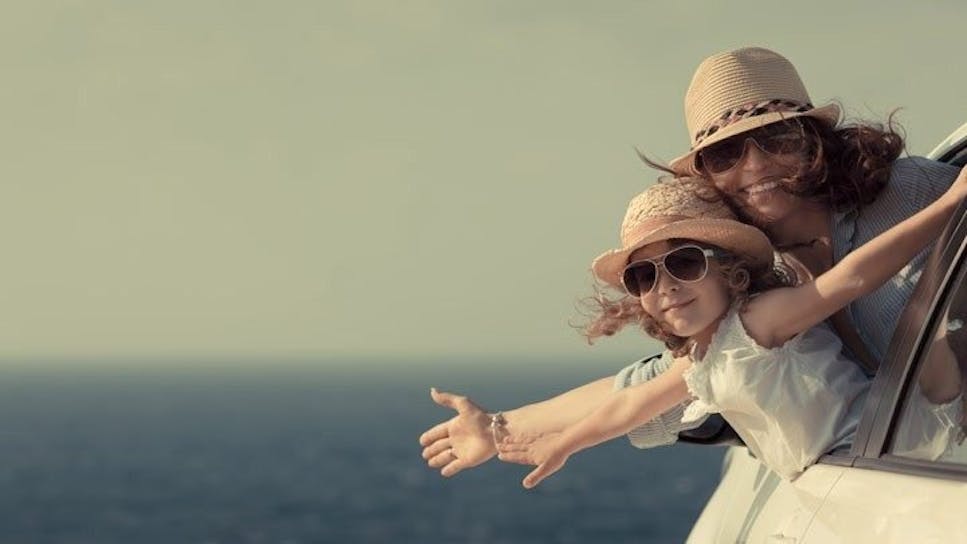 Why is car insurance so expensive for young drivers?
Young drivers in particular may be thinking, why is car expensive so expensive? Car insurance companies take age into account when deciding on your premiums because younger people are statistically more likely to claim on their car insurance.
In 2022, a fully comprehensive car insurance policy costed an average of £1,819 per year for young drivers aged 17 to 19. Meanwhile, a comprehensive policy for older drivers aged 50 to 64 costed on average £335 per year2.
In other words, young drivers carry higher claim risks, so they can often pay more than double the average car insurance premium.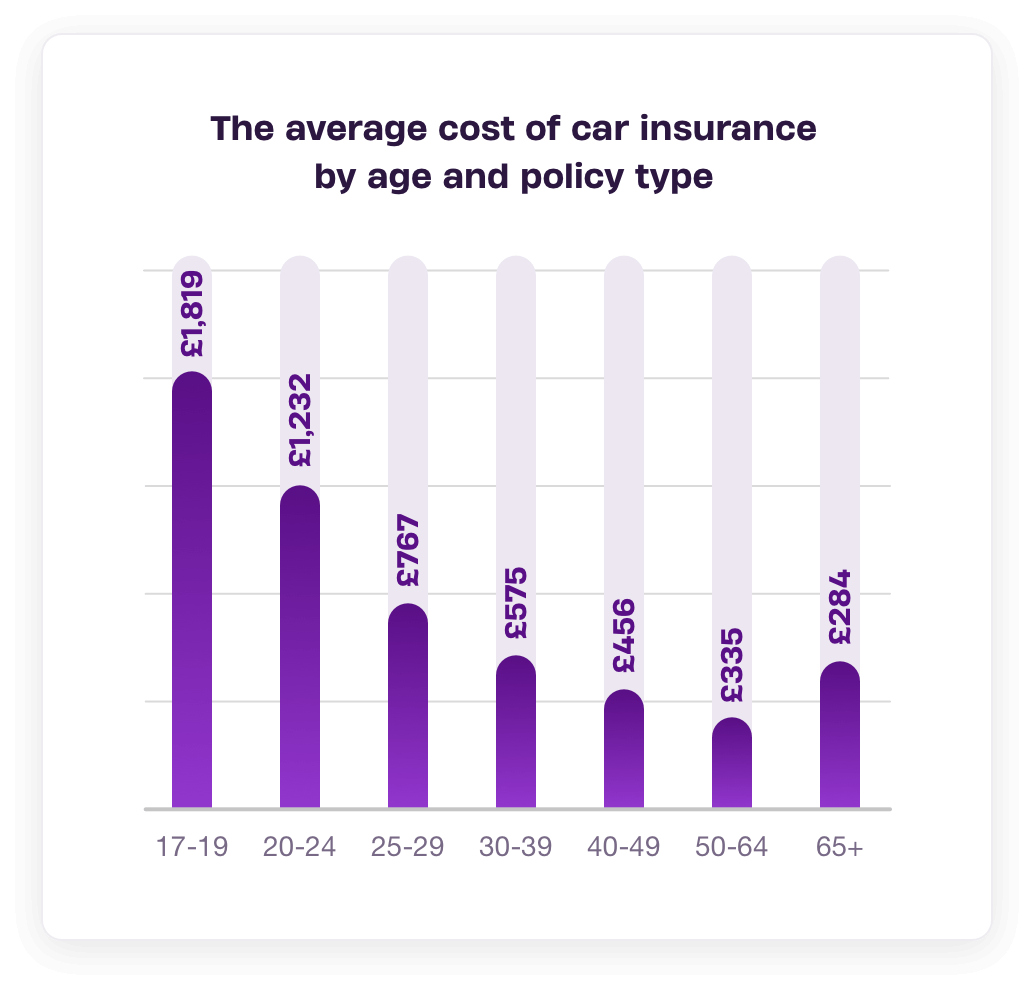 How does occupation affect car insurance?
Your occupation can also push up the cost of car insurance as some jobs are considered riskier than others. A tree surgeon, for example, will likely pay more for car insurance than an accountant.
This won't always be the case, however, as a range of other factors are also taken into account. If you drive your car as part of your job, you may need a specialist business car policy. Otherwise, the insurer could refuse to pay any claims you make.
| Occupation | Average Car Insurance Cost3 |
| --- | --- |
| Retired | £330 |
| Teacher | £479 |
| Social Worker | £519 |
| Doctor | £682 |
| Estate agent | £763 |
| School student | £1,218 |
Why is car insurance so expensive in my local area
When you're shopping around for car insurance quotes, the price may seem extreme. Location is one of the most important factors insurers consider when determining car insurance prices, with drivers in some regions paying more than twice the cost of others. For example, the average cost of car insurance in Greater London in 2022 was £780, whereas drivers in Scotland paid an average of £5014.
Underwriters will study statistics in your local area to work out how much of a risk your postcode is. They look at things like:
Traffic density

Population density

Crime rates

Number of claims in your area (including fraudulent claims)

Number of accidents in your area

High-risk road systems
| Region | Average Car Insurance Cost4 |
| --- | --- |
| Scotland | £501 |
| Northern Ireland | £537 |
| North East | £491 |
| North West | £639 |
| Yorkshire and the Humber | £627 |
| East Midlands | £546 |
| West Midlands | £659 |
| East Anglia | £489 |
| Wales | £472 |
| Greater London | £780 |
| South East | £464 |
| South West | £385 |
How does insurance fraud make car insurance more expensive?
Unfortunately, it's not just you and your driving that affects the price of your car insurance premium – other motorists and claimants will affect the cost too.
Insurance fraud is a big problem in the UK and dishonest 'crash-for-cash' whiplash claims are particularly challenging for insurers. Since 2018, the law was changed to help stop fraudulent whiplash claims, and whiplash reforms have been rolled out since.
Fraudulent insurance claims impact all drivers. All these false claims add up to big costs for insurance providers and that cost is passed onto policy holders who have their premiums increased.
How do uninsured drivers affect the price you pay for car insurance?
Many people get behind the wheel without car insurance, which makes insurance more expensive for everyone else. To cover the cost of pay-outs involving an uninsured party, honest motorists are paying more for their annual car insurance. When an insured driver is involved in a road incident with an uninsured driver, someone has to pay out – and that someone is usually the underwriter of the insured driver. Because of this, car insurance premiums are higher for everyone.
What other factors affect the cost of car insurance?
The increase in insurance premium tax (IPT)
IPT is added as a percentage to the total cost of an insurance premium. It's an indirect tax which is imposed on insurance providers, but most providers pass these costs on to customers in the form of higher prices. The standard rate of 12% IPT has doubled since October 2015 with £220 raised per household in 2021/225.
The Ogden discount rate
This calculation helps insurers work out how much compensation they have to pay for life-changing injuries. The lower the rate, the higher the settlement of a claim is likely to be to compensate claimants for loss of earnings during their lifetime. Usually, when the Ogden discount rate lowers, insurers raise insurance premiums – particular for motor and personal insurance holders – to account for larger pay-outs. So, it's important to keep an eye on this rate.
In 2017, the Ogden discount rate for England and Wales was cut from 2.5% to -0.75%, which meant larger lump-sum pay-outs for people claiming for lifechanging injuries and higher premiums for insurance holders. In 2019, this changed to -0.25%, so some insurers may have begun to lower their insurance prices again6.
Rising claim costs
A lot of different factors affect claim costs, particular the rising costs of repairing and replacing vehicles. From 2021 to 2022, the average cost of repairing vehicle damage under a motor insurance policy went up to 16%, averaging at around £3,000.77 - seven Cars are becoming more sophisticated, making repairing or replacing them more expensive. Replacement parts are also becoming more difficult to source due to global shortages. When claims become more expensive, insurance providers increase their insurance premiums to make back some of the money lost from expensive claims.
How to save money on your car insurance?
Don't auto-renew
Most motor insurance companies take the opportunity to raise your premium when you renew automatically and you miss out on cheaper deals you could find by shopping around.
Increase your excess
Insurers are likely to reduce the cost of cover if you're willing to increase your voluntary excess.
Take out telematics
Insurers can monitor your driving habits with telematics hardware, so responsible drivers earn lower premiums.
Drive fewer miles
The less time you spend on the road, the lower the chances of you being involved in a road accident.
Add a named driver
Adding an experienced driver to your policy tells insurers you won't be solely responsible for the car, so they'll reduce the price.
Buy a sensible car
Smaller, less powerful cars are cheaper, safer to drive, and less attractive to thieves, so the overall risk for the insurer is lower.
Pay annually
Paying an annual lump sum might mean a greater initial expense, but insurers charge interest when you spread the cost over monthly payments.
Keep your car secure
Factory-installed locks and immobilisers can reduce the risk of your car being stolen or vandalised, as well as keeping it stored in a locked garage.
No-claims discount
Most insurers will offer a no-claims discount to drivers that don't claim on their car insurance.
Although you can't control all the factors considered when insurers decide car insurance premiums, there are still steps you can take to help cut the cost. Check out our guide on how to find cheap car insurance for more information.
Compare car insurance with MoneySuperMarket
The easiest way to find cheaper car insurance is to compare quotes with MoneySuperMarket. All you need to do is tell us a little about yourself and your driving history, and we will show you our selection of the best deals.
You'll be able to compare policies by the overall monthly and annual cost, the cover you'll get, and the excess you'll need to pay to make a claim. Once you've found the deal you want, just click through to the provider's website to finalise your purchase.
As with any kind of insurance, the cheapest option isn't always the best. We recommend you try to balance the cover you'll get with the overall cost of your policy, so you don't end up over- or under-insuring yourself.
--
1Based on ABI Motor Insurance Premium Tracker data 2022. [ABI: Sustained cost pressures for motor insurers biting, but motor insurance remains competitive: 02/12/2022]
2Based on car insurance policies with one driver holding a full UK driving licence. MoneySuperMarket data, collected between July and September 2022, accurate as of November 2022
3Based on one Main Driver, holding a Full UK Driving License, with over 1,000 enquiries by occupation. MoneySuperMarket data collected between November 2022 to January 2023
4Based on car insurance policies with one driver holding a full UK driving licence. MoneySuperMarket data, collected between July and September 2022, accurate as of November 2022
5Based on research from Public First, commissioned by the ABI, 2022 [ABI: Don't penalise the prudent – freeze Insurance Premium Tax: 14/11/2022]
6Based on Government Actuary's Department data, accurate as of August 2022 [Ogden tables: actuarial compensation tables for injury and death]
7Based on ABI Motor Insurance Premium Tracker data 2022. [ABI: Sustained cost pressures for motor insurers biting, but motor insurance remains competitive: 02/12/2022]