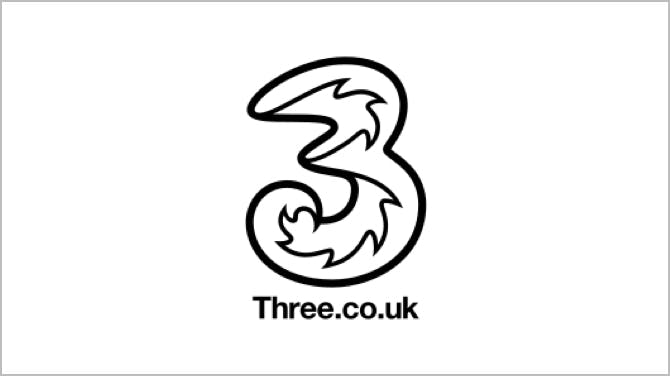 Three's aim is to change the mobile industry for the better. It's a big network that still manages to keep things simple: good value plans with lots of data, and the fastest 5G in the UK.
It keeps things straightforward while giving you exactly what you want from a mobile contract deal. Here's what you can get.
Compare Three phone deals
What to expect from a Three phone contract
Your Three phone contract starts with your choice of handset. There's a good selection of phones to choose from – more on that below – and you can pick between pay-as-you-go (which gives you the phone outright) or a mobile contract.
If you go the contract route, you can then select your data allowance. Choices range from a dinky 1GB per month for light use, all the way up to fully unlimited data. Calls and texts are unlimited on all plans.
You'll also get 5G included as standard, and coverage is good.
There's not a lot of flexibility – all contracts are 24 months, and plans are set with an upfront cost and monthly payment that you can fiddle around. Some networks, such as O2, give you much more choice in that regard.
But what you do get are reasonable prices, and a modest range of choice that isn't overwhelming.
What are the best handsets to get on Three?
Three offers pay monthly and pay-as-you-go plans on all of the latest smartphones. This includes the latest Apple iPhones and Samsung Galaxy models, and handset deals with no upfront cost.
Head to the top of this page to compare the latest deals.
iPhones
Right now, a number of iPhones are available on contract from Three – from the latest and greatest, to older, more budget-friendly options. They include:
Is Three a good network?
Well, this really depends on what you're looking for in a network. Generally speaking, Three is pretty good. In terms of price, it's fairly in line with other UK mobile networks, and it offers decent choice (of handset contracts, SIM-only deals, and pay-as-you-go plans) along with a couple of nice perks, too.
And there's even better news if you live in London: Three customers will get access to Virgin Media Wi-Fi hotspots on the London Underground for free.
Lastly, regardless of the make or model, or the price plan you choose Three sells all of its phones unlocked.
Three extras
Three is relatively scant when it comes to extras, but it does have the Three+ loyalty and rewards scheme for its customers.
Through this, you can access exclusive offers, discounts, and presale tickets for events like festivals and days out.
Is Three coverage good where I live?
Generally, Three boasts excellent coverage across the UK. So you shouldn't have any trouble accessing basic service or its network where you live - and may even find 5G is available too.
To check your network coverage with Three, head over to its website's availability checker now.
How does Three's 5G coverage compare to other networks?
Three's 5G coverage isn't the widest in the UK. That crown goes to EE's, which has a bigger 5G network than any other provider.
Vodafone and O2 are ahead in the coverage race too – putting Three on the back bench.
However, if you can connect to Three's 5G, you're in luck: the network consistently reports the fastest 5G speeds in the country.
Read more about 5G in our guide.
Our networks
With deals and services from the leading networks to the up and coming, you'll find something suited to you.