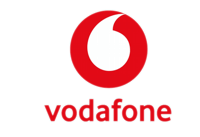 Has searching for the best mobile deal got you seeing Red? You may be in the right place. Here's what you can get from Vodafone mobile phone contracts, including the network's Red and Unlimited plans.
Everything you need to know about Vodafone
As one of the UK's biggest mobile networks, Vodafone does the lot. You can take out a SIM-only deal, pay-monthly phone contract, orpay-as-you-go SIM. As well as mobile phones, you can get deals for tablets, smartwatches and even laptops.
Both Vodafone's SIM-only and handset contracts fall into two categories:
Red – gives you a monthly data allowance, ranging from 2GB to 150GB a month (depending on the contract length)
Unlimited – as the name says, these plans give you unlimited data. There are three types: Unlimited Lite, Unlimited and Unlimited Max, which give you max speeds of 2Mbps, 10Mbps and the fastest speeds available, respectively
All plans come with unlimited minutes and texts, as well as 5G at no extra cost (provided you have a 5G-ready phone).
If you get a 12- or 24-month plan (whether that's pay monthly or SIM-only), you'll have the choice to sign up for Vodafone's Entertainment add-on. This gives you a subscription to an entertainment app of your choice – such as YouTube Premium, Spotify, and Amazon Prime Video – for the duration of your contract.
With a Vodafone monthly contract, you can customise your contract length to be anywhere between three and 36 months. As for its SIM-only plans, they're available on 12-month or 24-month contracts, as well as rolling 30-day ones.
What are the best handsets to get on Vodafone?
Vodafone has an excellent spread of smartphones on offer, from a wide range of brands.
The best phones around are usually the latest iPhone, Samsung Galaxy or Google Pixel – all of which are available on Vodafone.
You'll also find the top tech from the likes of Sony, Oppo, Nokia, Xiaomi and Honor, all the way down to budget-friendly handsets such as those from Alcatel and Doro. There's even Fairphone, a more niche, sustainable brand.
Are there any extras with Vodafone phone contracts?
All Vodafone mobile customers get access to VeryMe rewards, Vodafone's equivalent of O2 Priority. This customer loyalty programme gives you special offers and treats every single week – whether that's discounts and vouchers for family days out, high street shops and restaurants, cinema tickets, or just free gifts.
If you have a monthly phone contract or a SIM-only plan with Vodafone, you can opt for an Entertainment plan. This lets you add one of your favourite streaming apps, such as discovery+, Spotify Premium, Netflix and YouTube Premium, to your plan – it's included in your monthly bill from Vodafone. And by signing up to Vodafone Entertainment, you'll get several months' free access to certain subscriptions.
Plus, if you travel using the London Underground, you'll be able to use Vodafone Wi-Fi to connect to the internet on all London Underground platforms and stations.
Some plans also come with Xtra benefits, which include things like unlimited data boosters, device care, and unlimited picture messages. And the very top plans even come with inclusive EU or worldwide roaming.
Is Vodafone a good network?
Certainly – there's a lot to enjoy with Vodafone. Being one of the 'big four' mobile networks in the UK, it offers a great selection of phone plans and SIM deals to choose from – including all the flagship handsets with unlimited data.
Not to mention, you get some nice extras that you wouldn't get with smaller networks, such as its exclusive VeryMe rewards scheme and internet connectivity throughout the London Underground. You'll also have a chance to save money if you choose a Vodafone home broadband and SIM deal on the same account.
The downside of Vodafone is that it's not the cheapest. Ofcom data also reports that customers aren't the most satisfied with Vodafone's customer service. Having said that, the network itself reports high retention rates.
Is Vodafone coverage good where I live?
4G coverage on Vodafone is generally very good, as per all major mobile networks, reaching 99% of the population.
5G is being rolled out, too, though its coverage isn't quite as widespread as that of EE's.
Vodafone has always lagged a bit behind other networks in terms of coverage rollout, but there's actually a good reason for that: it focuses on guaranteeing a good quality, reliable connection. What that means for you is that coverage may not be 100%, particularly in rural or hard-to-reach areas. But if you do have signal, it's reliable. Calls are less likely to drop, and your internet connection will be stable.
Enter your postcode in Vodafone's network checker to see if your area has access to its 5G services.
Is Vodafone's 5G any good?
So far, so good. True, it's not as widely available as EE's 5G network, nor as fast as Three's 5G speeds. Nevertheless, Vodafone has made great strides at building its network.
In fact, Vodafone has stated that its 5G network is available in 364 places across the EU, including 124 UK locations. And it's fairly speedy, too. According to independent Opensignal tests, it averages around 105.2Mbps.
Our page on the best 5G networks goes into more detail.
Why choose Vodafone?
Lots of choice – take your pick of SIM-only deals, pay-as-you-go, phone contract plans, and data-only deals
Huge range of phones to choose from
Unlimited data available
Save money if you have Vodafone home broadband
Entertainment extras let you save money on app subscriptions
VeryMe rewards give you exclusive offers and discounts
How can I trade in my mobile phone for a new one with a Vodafone deal?
Luckily, with the My Vodafone App Trade-in Tool, it's easy to trade in your old handset for a new one with Vodafone. Plus, you can get an instant guarantee on the value of your old phone, which can save you some money.
You can opt in to Vodafone's trade-in programme when you sign up to a phone plan – simply choose to trade in before you buy on its website. You can receive the money for your old phone via bank transfer, money off your monthly plan, or as Vodafone account credit.
Once you've completed the purchase of your new phone, you'll need to send in your old one – either in store or by post.
Alternative networks
With deals and services from the leading networks to the up and coming, you'll find something suited to you.