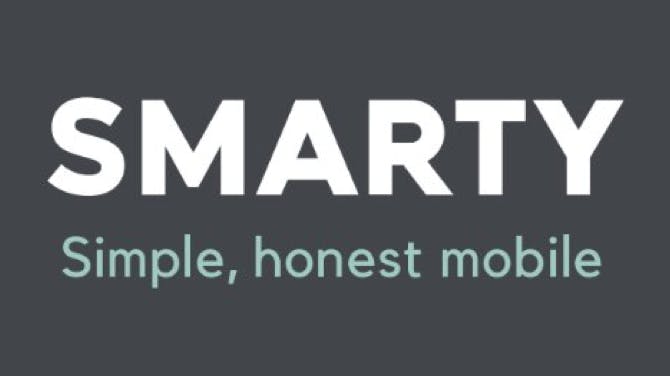 Smarty is a network focused on value. It doesn't sell phones. Nor does it tie customers into long contracts. There are three 30-day plans to choose from, all with unlimited calls and texts and keenly priced data allowances. It's great for those who want flexibility with their plans and offers some unique benefits too.
Our best Smarty SIMs this week
8GB of 5G data
Unlimited minutes
Unlimited texts
download speed limit
First 4 months half price

1 month contract

From SMARTY

8GB of 5G data
Unlimited minutes
Unlimited texts
download speed limit
First 4 months half price

1 month contract

From SMARTY

120GB of 5G data
Unlimited minutes
Unlimited texts
download speed limit
EU roaming included

1 month contract

From SMARTY
Why choose a Smarty SIM?
Good coverage: Smarty uses Three's network, which provides 3G and 4G coverage to over 99% of the UK population, as well as an ever-expanding 5G network
Speed: Three's network, which is the basis of Smarty's service, is one of the fastest in the UK
Roaming: You can use your UK allowances throughout the EU on all Smarty plans
No credit checks: Smarty is one of the very few providers to offer no credit checks for SIM-only deals
Flexibility with one-month contracts: Smarty's plans all operate on a month-to-month rolling contract basis. You're not locked in for a long time and can cancel whenever you like with 30 days' notice
Referral scheme: Smarty customers who get a friend to join them on the network will receive a free month for them and their friend
Save 10% on Group plan: Whether you choose a family plan or want an extra SIM for your tablet, you can save money
Simple data add-ons: If you run out of data during the month, an add-on will cost £1 per GB, which is the same amount you for pay for data in your original plan
Money back for unused data: If you've got any unused data at the end of the month, Smarty will take money off your next bill. You'll get £1 for each unused 1GB
Customer service: Smarty doesn't offer telephone-based customer support. However, customers can contact support by visiting the Smarty site and starting a web chat, available from 8am to 8pm every day, except Bank Holidays
Is Smarty a good network?
There are actually only four separate networks in the UK – Three, O2, EE and Vodafone. All other providers like Smarty use one of these networks. Smarty uses Three's network which offers good coverage and high speeds.
They offer some excellent value plans, on top of flexibility and unique rewards.
Read our full Smarty network review here.
What to look for in a Smarty SIM contract
If you'd like to compare Smarty SIM-only plans, take a look at the table on the top of this page.
When looking for a SIM-only deal, think about how much data you might need, as well as texts and calls, and your budget.
When you've found a deal you like the look of, click on it and we'll take you to SMARTY's website so you can sign up and get started.
Not sure Smarty is the right provider for you? Compare all SIM only deals here.
Cheap Smarty SIMs
Does Smarty offer SIM plans for bad credit?
Yes, Smarty is one of the very few networks who allow anyone to get a SIM-only deal for their phone without a credit check.
You pay for everything upfront, so there's no need for them to know your credit history.
12-month Smarty SIMs
All Smarty SIMs operate on a no-contract, no-commitment basis. They're one month plans that you can cancel or change at any time.
Smarty SIMs with unlimited data
Smarty offers one unlimited data SIM, with a price point that compares well with comparable SIMs from rival networks.
Should I get unlimited calls and texts?
All Smarty SIM-only deals come with unlimited calls and texts.
Which networks offer good SIM plan alternatives?
Talk Mobile
Sky Mobile
Plusnet
Lebara
Frequently asked questions
Can I use my Smarty SIM abroad?
Yes, if you're travelling in the EU you can use your phone in exactly the same way as you would at home. It works like normal up for 20GB of data, after that you have to purchase add-ons.
If you're travelling outside the EU or you need to call internationally, you will have to add an "Out of plan" add-on.
Can I get 5G enabled Smarty SIMs?
You can't currently get 5G ready SIMs from Smarty, however they are due to become available soon.
Can I keep my mobile number if I switch to an Smarty SIM-only deal?
Yes, you can keep your old mobile phone number. If you're moving from another network, you'll need to call them and request your PAC (porting authorisation code). You'll need to provide this to Smarty, which will move your number over.
Do I need an unlocked phone to use an Smarty SIM?
Yes, your phone needs to be unlocked - or locked to Three - in order to use a Smarty SIM card.
If you're using an old phone that you got on a contract, it may be locked to your former network. In that case, you'll need to get it unlocked.
To do this, you just need to contact the network it's locked to, and they'll organise this for you, often for a fee. They may give you a code to enter, or might be able to do it remotely.
Are Smarty SIM-only deals cheaper than contract?
Smarty don't offer any contract options. However, you will likely find its SIM-only deals are cheaper than contracts with other networks.
This is because you won't be paying back the cost of a new phone.
Buying a phone outright and getting a SIM-only deal to put in it almost always works out cheaper in the long run.