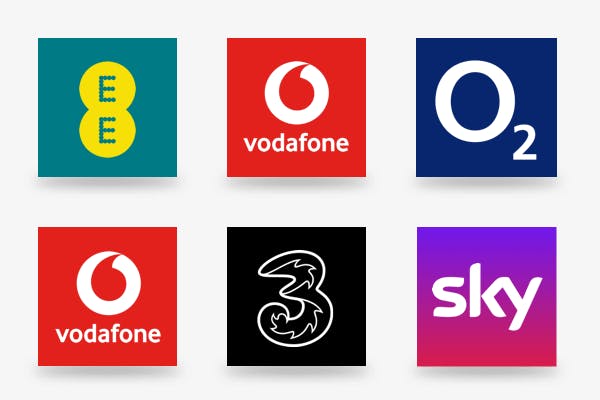 Three and Vodafone are both well established, big name networks. So, how do they compare?
Is one light years ahead of the other? Or do the pair match up evenly? We've run the rule over Three and Vodafone to help you decide.
Read our Three vs Vodafone review now to see which one wins out.
Overall Winner in snapshot: Three
For us, Three just takes the crown. That's because, while its phone contracts aren't quite as flexible as Vodafone's, it offers better value for money in terms of long term plans and SIM only deals.
It also has a superior 5G network, something which is vital at a time when futuristic networks are becoming more widespread.
It's by no means perfect, and there are areas where Vodafone wins out, but Three is the winner here on points.
50GB of 4G data
Unlimited minutes
Unlimited texts
download speed limit

12 month contract

From Vodafone

50GB of 4G data
Unlimited minutes
Unlimited texts
download speed limit

12 month contract

From Vodafone
Three vs Vodafone: plans and pricing
Three phone contracts are old school.
That means you'll spread the cost of a device and allowance out over 24 months, with no contracts that allow for early upgrades, the chance to pay off lump sums or deals that give the option to shorten the term of your phone plan.
The pay off is that Three's deals are cheaper than Vodafone's.
At the time of writing, the overall cost of an iPhone 13 with 100GB of 5G data is £861 over 24 months on Three, compared with £899 for the same allowance on Vodafone.
Both come with three months of free access to Apple TV+.
Vodafone's EVO deals are more flexible, letting you choose the length of your phone contract, between three and 36 months, as well as allowing you to pay off a lump sum towards it.
The cost of your calls, texts and data is separate, and you can also trade in your old phone and get a new one. Prices are, however, higher than with Three.
SIM only deals are broadly similar, although we like Three's one month rolling deals and the fact more of its plans come with 5G as standard.
Three vs Vodafone coverage
Vodafone is well known for its wide coverage of 3G and 4G, with 91% of the UK's geographical area getting signal.
It stands apart from Three in this regard, although if you live in a town and city, there's little difference. If you live in a rural area, then Vodafone is where it's at.
When it comes to 5G, Three wins out. Check each network's coverage before you take out a deal to see what you can get where you live.
Three vs Vodafone speeds
When it comes to speed, Three's 4G network is much faster than Vodafone.
That's according to independent analyst Opensignal, which says Three clocks in at an average of 25.2Mbps compared with 21.6Mbps for Vodafone.
When it comes to 5G, Three is even further out in front, with 103.9Mbps against 73.3Mbps for Vodafone.
Three vs Vodafone customer service
Three scores a disappointing 86% for overall customer satisfaction in the latest Ofcom analysis, compared with 92% for Vodafone.
Three also has the worst record for customers with a reason to complain out of all major providers, at 16% versus 12% for Vodafone.
It does, however, have average calling waiting times of just 16 seconds. Vodafone takes two minutes 30 seconds to pick up.
Three vs Vodafone Wi-Fi hotspots
Three and Vodafone don't come close to O2 or BT when it comes to WiFi hotspots.
You can access free WiFi via Three on the London Underground, but Vodafone doesn't even offer that.
Three vs Vodafone roaming
Both networks have severely restricted roaming in recent times, a stark change considering Three's Roam Like Home was once a pioneer in this space.
Anyone on Three who joined or upgraded after 1 October 2021 must now pay £2 a day to use their allowance in the EU and that is capped at 12GB.
It costs £5 per day to roam further afield.
Vodafone offers roaming to older customers dating back before August 2021 and those on Xtra AirTime contracts.
Others need to pay £2 a day to use their phone in Europe (except Ireland and the Isle of Man).
This goes up to £6 per day in other countries, which are listed on the Vodafone website.
Neither network covers themselves in glory here. If you travel a lot, you may wish to look elsewhere.
Three vs Vodafone bonuses and rewards
Three has its Three+ rewards app. But in truth this discount scheme is pretty basic and doesn't match up to the likes of O2 Priority.
Vodafone, meanwhile, has good options with its Entertainment Pass, which includes streaming bundles for Spotify, Sky Sports, Netflix and Amazon.
If it's extras you want, then Vodafone is the way to go.
Just remember that these extras cost more and you may be able to get them cheaper with a separate Three contract and a deal direct with the streaming platforms.
Three vs Vodafone 5G coverage
Three is hands down the best for 5G coverage. It has 5G in more than 300 locations across the UK. Vodafone is available in just over 120.
Throw in the fact Three's 5G is much faster and there's only one clear winner here. Remember you need a 5G compatible phone to use 5G services.
How do other networks compare against each other?