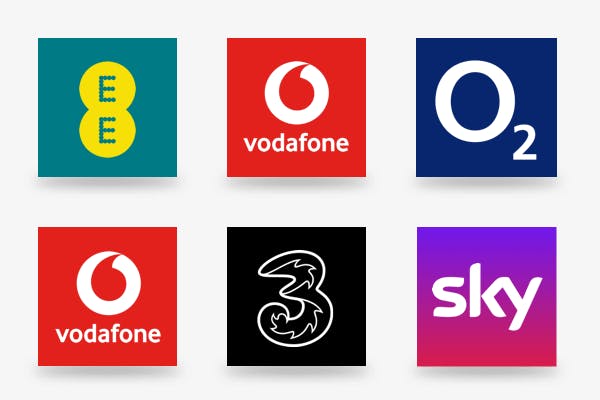 One is the upstart budget provider. The other is the long standing giant of the mobile scene. So, which is better, Voxi or Vodafone?
Whether you want a SIM only deal that doesn't break the bank or an all conquering plan alongside the very latest smartphone, we've pitted these two networks against each other to see which is best.
Read on and we'll tell you who wins out in our Voxi vs Vodafone review.
Overall Winner in snapshot: Voxi
Considering Voxi is actually owned by Vodafone and comes with many of the same perks and features, it's hard to pick a winner.
But on balance, we think Voxi is the better bet. Its deals are really affordable, it has the same widespread network access as Vodafone and although roaming is no longer inclusive, its perks and benefits are excellent.
Read on and we'll take you through our head to head review in detail, so you can make the right choice if you're considering switching.
Voxi vs Vodafone: plans and pricing
Voxi was started as a cheaper alternative to Vodafone. These days, you can get cheaper Vodafone SIM only deals, but only if you sign up for a longer 12 or 24 month plan.
By contrast, all Voxi deals are 30 day rolling contracts, which can be slightly more expensive, but offer far more flexibility and have the added benefit of not requiring a credit check.
There are also key differences in how each network offers phone contracts.
Voxi wholly splits its deals, with phones paid for on a monthly basis over 30 months (you can shorten this term if you wish) and calls, texts and data sold on a 30 day SIM only plan.
The benefit of this is that you can change to a different network's SIM only service while still using the phone from Voxi. It has a great range of phones at competitive prices.
Vodafone, however, offers phone contracts in a more traditional manner.
That means taking out an initial plan to cover the cost of the phone and your allowance, although these bills are now split on its EVO plans, meaning you can upgrade sooner and pay off the cost of the phone between 12 and 36 months.
You can also pay a lump sum whenever you wish.
However, we find that Vodafone contracts are on the expensive side, so it's worth looking for deals via third parties here at Moneysupermarket.
Voxi vs Vodafone coverage
Voxi is part of Vodafone, so coverage is identical.
That means 4G for more than 99% of the UK population, as well as a growing 5G platform, as well as the handy backup of older 2G and 5G networks.
If it's rock solid coverage you want, only EE can provide better.
At the time of writing, Vodafone's 5G coverage extends to 124 locations across the UK.
Voxi vs Vodafone speeds
As Voxi and Vodafone operate on the same network, the speeds of each network are identical too.
That means excellent 4G speeds and impressive 5G as well. If you live in a town or city, you shouldn't fall back onto 3G or 2G, but those networks are always there just in case.
Voxi vs Vodafone customer service
The latest Ofcom report on mobile customer satisfaction sees Vodafone chalk up a decent 92% overall rating, with only GiffGaff and Tesco Mobile coming in higher.
However, 12% of customers had a reason to complain - Three was highest with 16%, but Vodafone's score in this category is well above other rivals.
As Voxi is a smaller provider, it doesn't come under Ofcom's report. However, it has an overall TrustPilot score of 3.7 stars from over 18,000 reviews.
Anecdotally, these vary between 5 star and 1 star reviews, suggesting very different experiences between customers.
Voxi vs Vodafone Wi-Fi hotspots
Vodafone doesn't do WiFi hotspots and no longer supports WiFi on the London Underground.
That means Voxi doesn't offer it either. This isn't a major miss in the days of widespread free WiFi, but with so many exclusive BT and EE hotspots, it would be nice if Vodafone did have such a service.
Voxi vs Vodafone roaming
Vodafone still offers data roaming outside the UK, but only on select pay monthly and SIM only plans.
It has created a somewhat complicated set of rules, with some contracts taken out before August 2021 able to roam as before.
The new rules broadly mean that if you don't have an old deal or an Xtra AirTime contract, you'll need to pay £2 a day to use your phone in Europe (except Ireland and the Isle of Man).
This rises to £6 per day in other countries, which are listed on the Vodafone website.
Voxi also charges £2 per day for roaming in Europe, but a dedicated European Roaming Pass is cheaper for a longer trip.
Global Roaming Extra is available for long haul trips, but only comes with a very limited allowance of calls, texts and data.
If you travel a lot, neither Vodafone or Voxi are good options. Other networks still offer free roaming, including BT Mobile.
Voxi vs Vodafone bonuses and rewards
Both Voxi and Vodafone offer decent rewards and extras for customers.
Vodafone's more expensive Entertainment plans offer users the chance to access Sky Sports, Spotify, YouTube Premium or Amazon Prime as part of their monthly contract. It's a good way to bundle deals for services you may already use.
Voxi, meanwhile, offers Endless Social Media on all its plans. This means you can use WhatsApp, Messenger, Facebook, Twitter and Snapchat without eating into your data allowance.
It also offers Endless Video on its more expensive plans. That means non stop Netflix, Amazon Prime, TikTok and YouTube without using any of your data allowance.
Voxi vs Vodafone 5G coverage
Both networks have the same 5G coverage, with 124 locations across the UK offering access to the best speeds around.
How do other networks compare against each other?