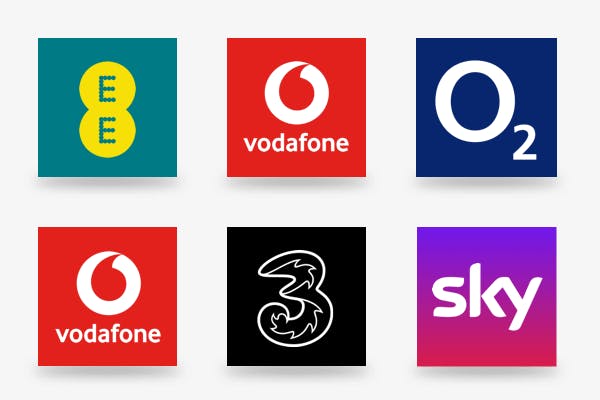 They're two of the biggest hitters in the mobile world, each offering the very latest smartphones on contract and SIM only deals to entice those happy with their handsets.
But which one wins out between O2 and Vodafone when put head to head? Read on and we'll reveal all in our comprehensive review.
Overall Winner in snapshot: O2
O2 wins out in our head to head, but only narrowly.
The phones available and perks that are on offer are broadly comparable, but O2 edges things when it comes to price and, crucially, roaming.
While O2 still offers inclusive roaming to 49 EU destinations, Vodafone only does so for those on premium plans. If you travel a lot, then this is something of a deal breaker in our book.
O2 vs Vodafone: plans and pricing
O2 and Vodafone offer broadly similar plans for those looking to buy a new smartphone rather than taking out a SIM only deal.
O2's Refresh plans are impressive, allowing you to split the cost of your phone and allowance.
This means that you can pay off the price of your phone early and get an upgrade to a newer handset.
It also offers flexible Custom Plans, which allow you to choose how much you want to pay up front and then how long you wish to spread the cost of your new device, anywhere between three and 36 months.
Vodafone's EVO deals are similar to O2 Custom Plans, in that you can choose the length of your contract for any new phone, while also being able to make one off lump sum payments.
You can also trade in your old phone to pay off the cost of it, although the prices Vodafone offer tend to be less than simply flogging your old phone privately.
In terms of pricing, both are comparable. You can expect to pay a premium for a new iPhone or Samsung Galaxy, with contracts around £50 per month depending on how much you pay up front.
When it comes to SIM only, Vodafone offers cheaper deals, but the slightly more expensive O2 deals tend to come with 5G as standard.
That's a major plus considering the 5G network is growing at a rapid rate and virtually all new smartphones support it.
O2 vs Vodafone coverage
When it comes to 4G coverage, there's not much to choose between O2 and Vodafone.
Each serves up around 91% geographical coverage of the UK and each has been lauded for delivering stronger connections indoors compared with big name rivals Three and EE.
Vodafone usually has better rural coverage, so it may be the best bet if you live in the countryside and struggle to get a decent signal.
O2 vs Vodafone speeds
When it comes to 4G speed, Vodafone sees off O2 hands down, delivering average speeds of 21.6Mbps compared with 17.1Mbps. That's according to independent analysts at Opensignal.
However, both are well behind EE's market leading 44Mbps.
In terms of 5G, the speeds from O2 and Vodafone are similar and will be hard to discern for everyday users.
Either way, you'll get a faster experience than on traditional 4G connections.
O2 vs Vodafone customer service
According to the latest Ofcom report, O2 and Vodafone score an identical 92% rating when it comes to overall customer service.
However, Vodafone was found to have 12% of customers with a reason to complain, against 9% for O2.
Anecdotally, we have found the call experience from both to be friendly and helpful, with decent chat services to answer questions quickly without having to speak with someone over the phone.
O2 vs Vodafone Wi-Fi hotspots
O2 has a whacking 15,000 WiFi spots around the country, 8,000 of which O2 users will automatically be able to join if speeds are faster than 4G in that area.
This is a major boost for those with smaller data allowances.
By contrast, Vodafone doesn't offer any hotspots and is no longer part of the London Underground WiFi service.
O2 vs Vodafone roaming
When it comes to roaming, O2 is way out ahead of Vodafone. Every O2 pay monthly SIM only and phone contract comes with European roaming as standard, with connections available in 49 destinations.
There's a fair usage cap of 25GB, which it will notify you if you're closing in on. It also has a wider Inclusive Zone, which includes Australia and the USA, which is available as part of pay monthly phone deals and 12 and 24 month SIM plans which include 30GB or more data.
You can also buy a bolt on to use in these destinations if you're on a lower data plan.
Vodafone does offer data roaming outside the UK, but only on select pay monthly and SIM only plans.
Some contracts taken out before August 2021 able to roam as before, but the new rules mean that if you don't have an old deal or an Xtra AirTime contract, you'll need to pay £2 a day to use your phone in Europe (except Ireland and the Isle of Man).
This goes up to £6 per day in other countries, which are listed on the Vodafone website.
For us, this is a major issue. Roaming was free in Europe for so long that for charges to come back seems unfair. O2 wins out in this category.
O2 vs Vodafone bonuses and rewards
O2 has always been great with extras, thanks to its O2 Priority offering. This gives customers money off at high street cafes and restaurants, as well as early access for gig tickets.
Vodafone, meanwhile, does a strong line in extras thanks to things like its Entertainment Plans.
The latter bundle the likes of Sky Sports, Spotify and Amazon Prime with your mobile deal, saving you cash in the process.
It all depends what extras you value. If you already have streaming services, then O2 Priority may be more enticing.
O2 vs Vodafone 5G coverage
O2's 5G is available in over 190 locations, compared with more than 120 from Vodafone. Speeds are largely the same.
If it's next gen networks you want, then O2 is the way to go, although be sure to check availability in your area before signing up.
How do other networks compare against each other?