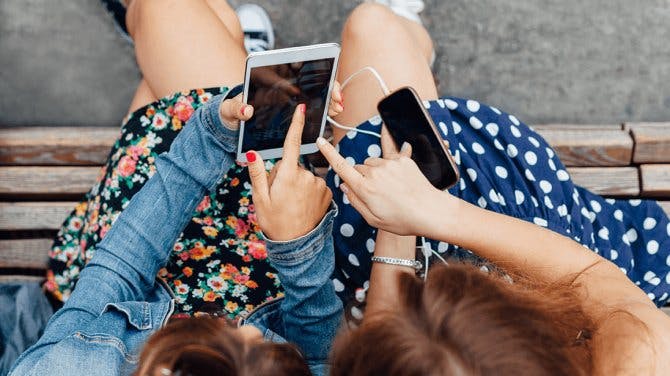 Can you unlock your phone yourself and is it even legal? We've been taking a look...
So you've finally reached the end of your mobile phone contract, you've finished paying for your expensive phone and you're ready to find a cheaper SIM-only deal.
There's just one snag. Your handset is locked to your current provider and unless you can fix that, you're not going to be able to search widely for a better deal across all networks.
So, how can you get your phone unlocked and get your pick of the SIM-only deals? Fortunately, it's quite simple.
How do I unlock my mobile phone?
You can make sure your phone actually needs unlocking by inserting a SIM card from another network into your mobile phone. If it's locked, a message will appear on your home screen.
The simplest way to unlock your device is to ring your provider and ask for a Network Unlock Code (NUC). Most will provide you with one and some even do it for free once your contract is up. Once you're provided with the code you should be able to enter it into your phone to remove the lock. This is the easiest and most common method of unlocking.
Your phone company may be able to unlock the handset remotely.
There are other unlocking options available. Here's a round-up of some of the alternatives:
Unlocking websites: There are websites that offer to source these codes for you, but it's a good idea to read reviews and take a view on how trustworthy they are before you hand over any money.
High Street unlocking services: You'll often see signs in shops, market stalls and even hairdressers offering phone unlocking services and it's common to pay around £15 or more the service.
Try it yourself: Some technically-minded people may be able to do this themselves but it's not very easy and you will need specialist software.
What are the benefits to an unlocked phone?
Apart from allowing the owner to browse a range of networks rather than just their current provider, there are a couple of other reasons why you might want to unlock your mobile phone even before the end of your contract.
If you're going abroad for example, you might want to use a local SIM card while you're there to avoid steep roaming charges. Or if you've decided to sell your handset then you'll probably get more money and more interest in a phone that's free to use with any network.
Can I unlock my phone myself?
It's possible to unlock your phone yourself, but this will require some technical knowhow, as well as specialist software which you will need to download to a Mac or PC. Once you've done so, you can connect your handset via USB and follow the on screen instructions.
The alternative is to search for an unlock code on a dedicated phone unlocking service, such as giffgaff's comprehensive 'unlockapedia'.
While this sounds straightforward, the fact that networks can often to do this for you means that should always be your first port of call, especially if you struggle with technology.
Am I allowed to unlock a mobile phone?
There's nothing illegal about unlocking your phone. It's yours and you're well within your rights to use it on any network you want.
However, there is a good chance that unlocking your phone will end your warranty, so it may be best to wait until you've reached the end of your contract and you're ready to leave your provider.
How much does it cost to unlock a mobile phone?
Some networks won't charge you for unlocking assistance while others can charge up to £20. It is also worth bearing in mind that each network has different policies relating to how long you've had your monthly or SIM-only contract for and how to gain your code. Most networks have online forms, but some will require you to call their helplines.
How long it will take to unlock your phone again varies widely between each provider. O2 for example will unlock an iPhone in three days, although with older devices that can take up to 10 days. Virgin Mobile states it can take up to 30 calendar days to unlock pay-as-you-go handsets.
Can I unlock my iPhone?
Yes, you can unlock your iPhone, although most modern versions of Apple's smartphone are sold unlocked. If yours is locked, Apple makes it clear on its website that it cannot perform the unlock and that it must be done by your network.
However, some services now offer easy online unlocking options, which allow you to free up your handset. This involves entering your IMEI number and email address, with the unlock taking just 15 minutes. Some, like Mobile Unlocks, are sanctioned by Apple too, meaning you can rest assured that all is above board.
How to find the best deal
25GB of 5G data
Unlimited minutes
Unlimited texts
download speed limit
EU roaming included

12 month contract

From O2

120GB of 5G data
Unlimited minutes
Unlimited texts
download speed limit

24 month contract

From Three Mobile

90GB of 5G data
Unlimited minutes
Unlimited texts
download speed limit
Unlimited social media

1 month contract

From VOXI

Exclusive
40GB of 5G data
Unlimited minutes
Unlimited texts
download speed limit
Extra data for 6 months

18 month contract

From giffgaff

120GB of 5G data
Unlimited minutes
Unlimited texts
download speed limit

24 month contract

From Three Mobile

Exclusive
20GB of 5G data
Unlimited minutes
Unlimited texts
download speed limit
Discounted price for 3 months

1 month contract

From Lebara Mobile
Once your phone is unlocked, you're ready to find one of the cheapest mobile packages on the market – a SIM-only deal.
These usually work on a rolling monthly basis, which means you can use the deal for as long as you're happy with your phone and then upgrade when the next model comes out or your handset finally gives up.
MoneySuperMarket's phone comparison page will help you find the best SIM-only deal for you – and the best contract if you decide it's time to get an upgrade. However, if you've changed your mind and would like to instead assess your options for a new phone contract, then our 12-month contract deals is a great place to start.
Is it illegal for phones to be locked?
Mobile networks were banned from locking their devices in December 2021. If you bought your phone after this date, then it will be unlocked, with the ability to switch the SIM to another network whenever you choose.
Prior to this date, many devices were sold unlocked, but locked models were not uncommon. It is not illegal to request this lock to be removed or to attempt to remove the lock yourself. If your contract is up, it's the smartest thing to do if you want to keep your phone but pay less each month.