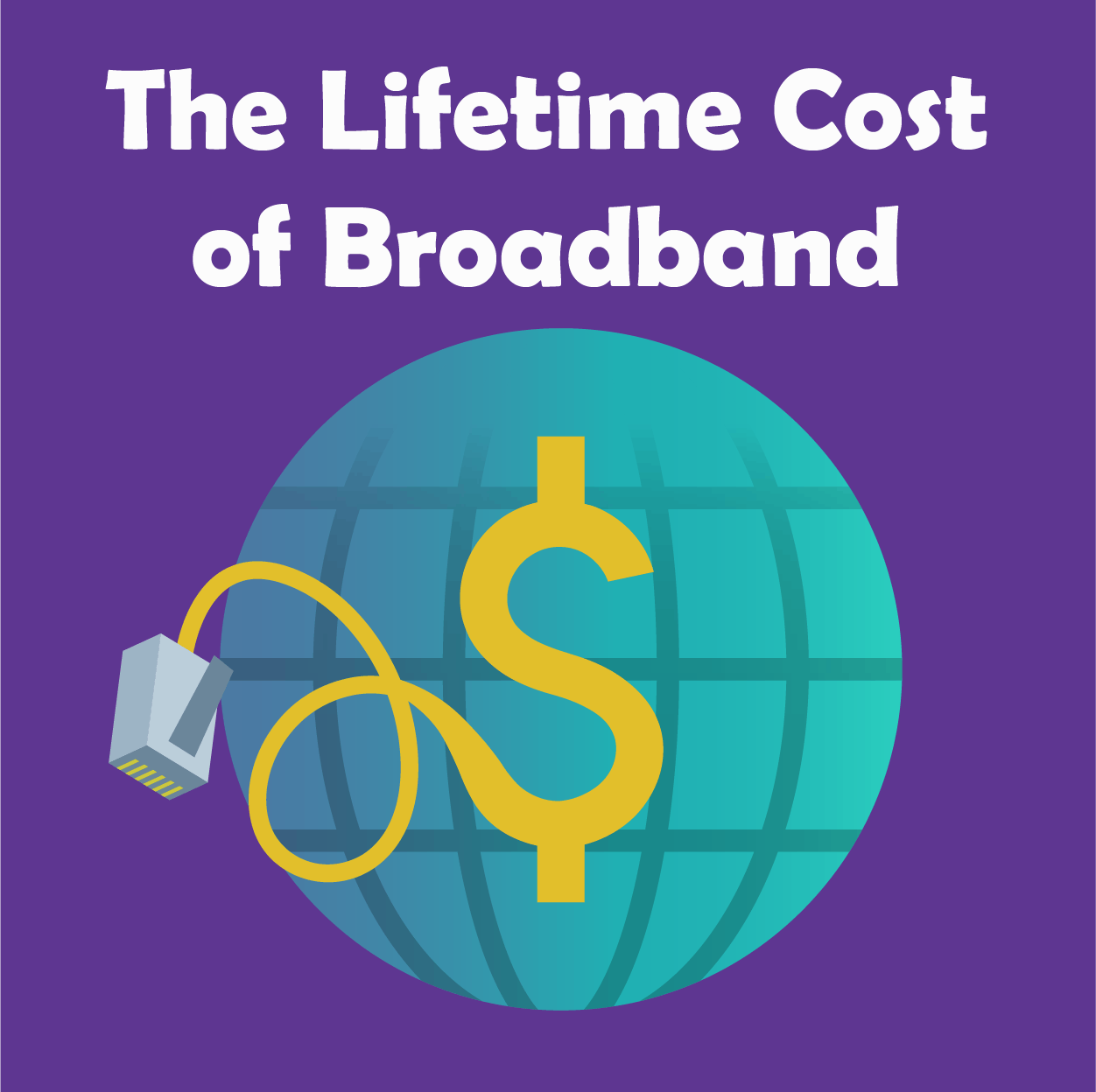 With more than 5 Billion active users worldwide, the internet has become an essential part of our lives. But how much will you pay for the privilege of accessing the internet over the course of your lifetime?
With the amount of time we now spend online, it's hard to imagine life without the internet.
However, the cost of getting online varies significantly by country, with factors like infrastructure and the number of service providers having a direct impact on how much people will pay for their broadband subscription.
But which countries have the most expensive internet and how much will people pay for internet access over the course of their lifetime?
The average lifetime cost of internet around the world
In a study of 135 different countries and territories around the world, MoneySupermarket found that the average cost of internet access over the average global life expectancy of 72 years is $42,951.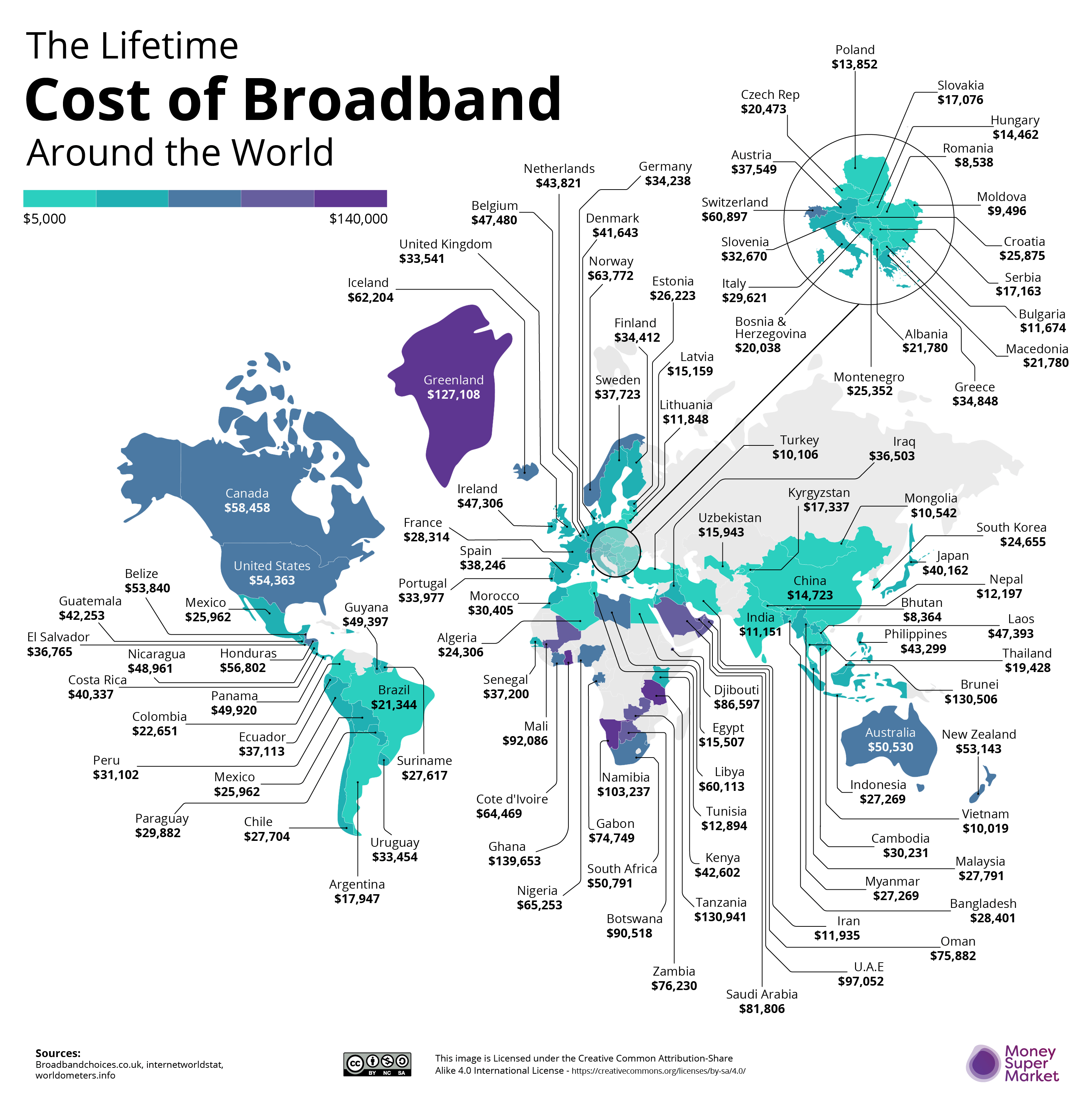 Top 10 countries with the most expensive lifetime internet costs
Ghana - $139,653
At $139,653, Ghana has the world's highest lifetime internet costs.
Despite being among the first African countries to be connected to the internet, uptake has been slow due to high costs and poor infrastructure - and as a result, the majority of people access the internet via their mobile devices rather than fixed-line broadband.
While the average recorded download speed in 2021 was just 4Mbps, it should be noted that Ghana is currently undergoing a significant digitisation drive to address issues of access, cost and participation across the whole of the country.
Tanzania - $130,941
Similar to neighbouring Ghana, issues such as access to electricity, poor road networks and infrastructure, as well as a significant rural population means that the majority of people access the internet via a mobile device - making it difficult for fixed-line broadband providers to charge more affordable prices while still turning a profit.
As Tanzania continues to invest in infrastructure and service providers are able to access more customers, it's likely that costs could become more competitive over time.
Brunei - $130,506
While Brunei has great infrastructure, a lack of competition in the market keeps prices disproportionately high.
While super-fast packages are available, the average recorded speed in 2021 was 7.7Mbps suggesting that people are opting for lower speed but more affordable options.
Top 10 countries with the cheapest lifetime internet costs
Bhutan - $8,364
Having historically remained closed off to the modern world, Internet and Television services only began in Bhutan in 1999 - leaving the country with a lot of ground to recover in terms of infrastructure, which was only made more difficult by its mountainous terrain.
However, the country has undergone a significant digital transformation over the last decade.
While mobile internet is the primary means of access, in 2020 the country's two telecoms companies announced that they would be focusing on increasing access to, and the affordability of broadband services to ease the congestion of Bhutan's mobile network.
Romania - $8,538
As the demand for high-speed internet began to grow, enterprising locals started creating their own local area networks so that neighbours could share music they'd downloaded or play games together.
However, as these neighbourhood networks grew larger, Romanians had unknowingly laid the groundwork for one of the world's best broadband networks.
Moldova - $9,496
Up to 90% of Moldova's population has access to superfast gigabit internet, an achievement bested only by Singapore and South Korea.
Following the breakup of the Soviet Union, Moldova received hundreds of millions of dollars in grants and loans to help develop its economy - and privatising the telecoms industry was a condition of one of these loans.
The creation of this new and competitive market led to rapid growth and resulted in almost 99% of Moldovans being connected to a fiberoptic network in a short period of time.
Save money on your broadband package by comparing the best broadband deals with MoneySupermarket.
Methodology
Prices in $USD
The average annual cost of a fixed-line broadband package by country was multiplied by the average global life expectancy of 72.6 years to calculate the typical cost of a lifetime's worth of internet access at current prices.
Inflation was not accounted for due to the difficulty in accurately estimating inflation in more than 100 countries over a 70 year period.
Countries with an internet penetration rate of less than 33% were excluded.
Countries that have recently experienced internet outages were excluded.
Cost of fixed-line broadband: Internet accessibility index
Internet Penetration: InternetWorldStats
Median Salary: Worldometers