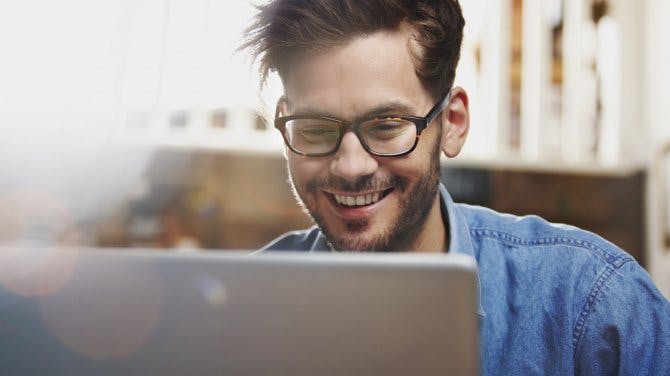 It's never been easier to switch your broadband to a better deal. Read our guide to find out everything you need to know.
How do I switch broadband provider?
Switching broadband provider is easier than you think. It just takes three simple steps.
Step 1: Check you're out of contract
Make sure you're no longer within the minimum terms of the contract with your current broadband provider. You can find out by looking at your original contract or confirmation email, or by contacting their customer service.
You can switch broadband at any point, but if you're still within contract, you may face hefty cancellation fees.
2. Enter your postcode
Type your postcode into our comparison tool, and we'll show you all the deals we have available for your location. Use the filters to find the perfect broadband package for you, and compare your options.
3. Choose a deal and sign up.
You can pick a date for your new broadband to go live, and arrange an engineer visit if necessary.
In most cases, your new provider will handle the whole switch, including serving notice to your current provider. They'll also send you a brand-new router in the post.
Should I switch my broadband provider?
Fast internet and a good connection is essential in today's world and with both constantly improving, you may want to switch broadband provider to ensure you're getting a good deal for a good price.
Many providers will give you great rates for an introductory period of a year or two, but once that's over you could be paying way over the odds for broadband. By switching providers, you could save money and get a better connection too.
There are plenty of reasons to switch broadband provider:
Save money - As faster broadband becomes more common, prices are tumbling too. You may find you can get a better speed for less money
Your connection is slow - What was once fast may now be slow, especially if you live somewhere with full fibre broadband that you can upgrade to
Moving home - Sometimes your existing provider might not offer the same package in your new home, which is all the more reason to switch
Use our broadband speed test to find out if you get the speed you're paying for, and compare broadband deals if you think you could be doing better.
Can I switch broadband mid-contract?
You can cancel early, but in almost all cases you'll have to pay an early termination fee. This is usually equivalent to the total cost of the remaining monthly bills on your contract.
So if you're cancelling a £20-per-month deal, and it's three months before the contract is up, you'd need to pay a fee of £60.
There's one exception to this. Ofcom rules that exit fees may not apply if you're leaving because you aren't getting the speed you were promised. This only applies to a handful of providers – including BT, Sky, and Virgin Media – and only if the problem is provably with the provider's network.
You'll need to contact your provider directly through their system, and work with them to diagnose the problem so they can improve your speed. If that doesn't work, you may qualify for penalty-free early termination.
You can also cancel your contract at any point within 14 days of your go-live date. This is the 'cooling off' period and there's no charge for terminating.
How long do I need to wait before I can switch?
You need to wait until the end of your broadband contact before you can switch. If you can't remember when your deal expires, call your existing provider or log into your account to find the date. Once you know, mark that date down and be sure to compare deals to see whether you can get a cheaper plan or a faster connection with a different provider.
If you choose to switch before your contract ends, remember you will likely end up having to pay an early cancellation fee, often the entire amount owed before your deal expires. This may not be the best course of action if you're looking to save money.
Is changing broadband easy?
Changing broadband has become a lot easier in recent years. The process is now straightforward, with the ability to compare deals and choose the plan you want before your new provider contacts your old one to complete the process.
Gone are the days of you having to spend hours on hold trying to arrange the switch, meaning that if your contract has come to an end, you can rest assured that your provider will take care of business on your behalf or at least make it as smooth as possible.
Do I need to cancel my broadband before switching?
Probably not.
In most cases, your new broadband provider will handle the whole switch for you. That includes contacting your current provider on your behalf and ending your contract with them. As long as you're no longer within the minimum terms of that contract, you won't have to lift a finger.
However, there are some exceptions to this. You'll still need to contact your current provider to cancel with them if they operate on a different network – such as Virgin Media, Hyperoptic, and most independent FTTP broadband providers.
You can do this by contacting their usual customer service lines, either by phone or online.
Tell them that you're cancelling your broadband (and home phone and TV, if relevant) contract with them, and tell them the go-live date with your new provider.
How much does switching cost?
The cost of your tariff is just one part of your broadband package, so as well as early exit fees, connection charges and line rental, you should also consider:
Set-up fees
New router charge
Technical support costs
Upfront fees for things like set-top boxes or Wi-Fi boosters if required
Each provider will have their own fees and charges, so check before you commit to a new package.
When you find a deal you like here at MoneySuperMarket, we make it clear what fees there are. You'll see immediately whether there are any setup fees and the price per month.
Click 'More Details' and the costs tab will show you the total cost of any contract, as well as the average monthly cost including any discounts or additional fees.
What happens when you change broadband provider?
When you sign up to your new broadband, you can choose an installation date. Depending on the provider, the connection type, and your home, this might involve an engineer visit, so you'll need to book a slot for that.
If that's the case, the engineer will come at the agreed-upon time, and will need access to the main internet port in your home. They'll get your connection live, and help set up your router. It shouldn't take more than an hour at most.
With some providers – particularly full-fibre FTTP ones – the installation might be more involved. For instance, they may need to run new cables into your home.
If no engineer visit is required, on the other hand, setup is very straightforward. You'll get a router delivered in the post, and on the day your broadband goes live you can set it up yourself. Most routers these days are very easy to use, and setting yours up may only take a few minutes.
On the day your new broadband gets connected, you may be without internet for 30 minutes or so. It may then be a little up and down for the rest of the day while the new connection tests and stabilises itself.
Do I need to tell my current provider I'm switching?
In most cases you don't need to tell your current provider that you're switching, as your new provider is meant to contact them to arrange the move.
However, in some cases you may need to call and make it clear you're leaving. If your current provider operates on a different network – such as Virgin Media, Hyperoptic, and most independent FTTP broadband providers – then you need to give them a call so they know what's happening.
Do I need a MAC code to change broadband provider?
No, you don't. Providers used to need to know your MAC (Migration Authorisation Code) to switch your broadband, but it's no longer necessary.
The process is much more simplified now. It's as easy as signing up with your street address – the providers can figure out the rest on their own.
Do I need to change internet provider if moving home?
No, you don't need to change internet provider if you're moving home. In most cases, you just need to contact your existing provider and let them know you're moving. If they provide the same service at your new address, then you should be able to get the same deal in your new property.
However, if they can't offer the same speed or service, then your existing provider may offer you a new deal. You might also be able to get out of your contract early and change provider, although you'll need to ask them directly before signing up for a new deal.
What if your new broadband provider can't arrange the switch?
It's easy to arrange the switch yourself if you need to. You'll need to do the following:
Call your new broadband provider and ask them when they can transfer you over to the new contract
Book the date for the transfer
Contact your old provider to confirm that you want to cancel on the day your new service starts
Will I lose internet during the switch?
In most cases, you will be able to switch with little or no service interruption. Your new provider should let you know when the switch is going to happen and if you're likely to experience any loss of service.
Can I keep my landline phone number if I change broadband providers?
Yes, your current home broadband provider should let you keep your landline number when you move to a new provider, as per Ofcom regulations. Your new provider doesn't have to accept your request to transfer over your number, so make sure you ask before committing to switching.
Can I keep my email address when I switch broadband?
If you have an email address from your current broadband provider (e.g. a '@btinternet.com' email address, rather than '@gmail.com' or '@outlook.com', for instance), you may or may not be able to keep it, depending on the provider.
BT
You can still access your BT email address for free for 60 days. After that, you'll need to subscribe to BT's Premium Mail service to keep using it, which costs £7.50 per month. Those who choose not to will be switched automatically to its pared back, Basic email, which doesn't offer as many features.
Sky
You can keep Sky email addresses indefinitely, but make sure you log in regularly – Sky shuts down inactive accounts.
Virgin Media
You can still use your Virgin Media email address for 90 days after you switch. After then, the account is deleted.
TalkTalk
TalkTalk will let you keep your email address for £5 per month or £50 upfront for a year. Otherwise, it'll delete your account.
Plusnet
Plusnet will let you keep your email address and use it for free. However, you'll need to tell them you want to keep using it. If not, it'll be deleted when your broadband deal ends.
How long does it take to switch broadband?
This is dependent on the provider and how simple your switch is but typically, it takes between two and four weeks. This is the case for most Openreach-based providers, such as BT.
If you need any installation or engineering work done, it might take a little longer – but your internet should still work during this time. You can talk to your new provider to find out how long your switch should take.
Can you have two broadband providers for one property?
Yes, you can have two broadband providers for one property. However, you'll need to pay to have another line installed in order to get more than one broadband connection. This is costly and the benefits of having a second line don't often outweigh the expense.
In some cases, it may be appropriate if you need business broadband.
Where can I get the best deal on broadband?
The best broadband package is what works best for you, so think about your usage habits and budget when assessing what's on offer.
You can compare broadband deals with MoneySuperMarket. All you need to do is input your postcode and we'll show you all the broadband deals available in your area. You can filter by speed or contract length, as well as viewing deals that include a TV package or landline phone calls.
Sources and methodology
*Based on average monthly bill of £32.69 from nationally representative sample (1000) vs cheapest monthly cost for superfast broadband (>55Mbps), Vodafone £22/m. Annual saving £128.28.