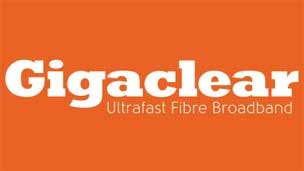 Gigaclear broadband was launched in 2010 with the aim to provide high quality, super-fast and reliable broadband to the UK's more rural areas.
Knowing that internet connectivity can be lacking in less built-up parts of the country, Gigaclear looks to solve that issue by supplying ultra-fast broadband to parts of Britain that other providers may have neglected.
If you live in rural areas of Berkshire, Devon, Essex, Gloucestershire, Herefordshire, Northamptonshire, Somerset or Wiltshire, you might want to consider Gigaclear as your new provider. The company are constantly expanding, so it's always worth checking if they are developing a new project in your area.
What does Gigaclear broadband offer?
Gigaclear offer a range of broadband packages with unlimited data allowance and a 15 month contract. The difference in packages is the download and upload speed, which can range from 50Mbps up to 1Gbps.
Although Gigaclear may not be the cheapest broadband option in your area, there is a chance that the speed and reliability could be superior to other fast broadband providers and standard fibre broadband packages, depending on which area of Britain you live in.
You can check your postcode to see if there is good Gigaclear broadband in your area.
How can you switch broadband?
It's important to check your postcode to see if you can receive Gigaclear ultra-fast broadband. Once you've done that, it's simply a case of choosing the package that's right for you and getting started.
When your home broadband contract is coming to an end, it's the right time to compare broadband deals to see what's out there. Once you compare what's available, you can be safe in the knowledge that you are getting a great deal on your home broadband. Looking for a different broadband and phone or broadband, phone and TV package. Get started by comparing broadband packages in your area with MoneySuperMarket.