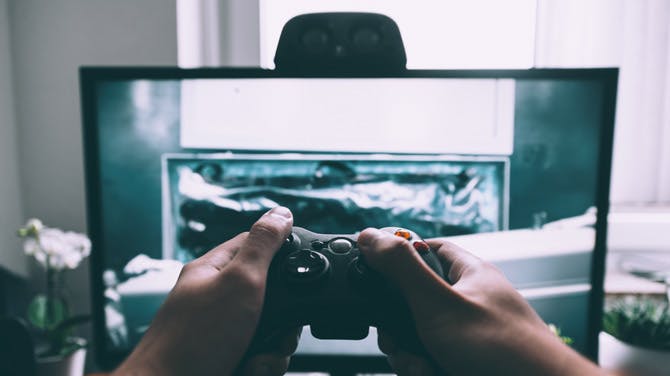 If you're a keen gamer then you'll need a reliable and fast broadband connection to enjoy your hobby. Our guide explains what to look for, so you can enjoy your gaming experience to the max.
Can I get broadband deals for gaming?
Absolutely. Having a strong internet connection is critical for gamers, whether you're playing on your PC, console or even your smartphone.
The good news is that more of us can get better quality broadband as companies such as BT and Virgin Media roll out their infrastructure to more homes.
Why do I need gaming broadband?
Whether you're downloading games, installing updates or streaming live games where you compete against thousands from all around the world, a fast and reliable service makes things better, smoother and faster. As games and software becomes more advanced, this becomes ever more important.
The general rule for gamers is the faster your broadband the better your gameplay experience. Ultrafast broadband deals can provide download speeds of more than 100Mbps, which will handle even the most demanding games. But most gamers can probably get by with an entry-level fibre package.
What should I consider when looking at broadband for gaming?
As a gamer, there are a number of things to consider before signing up for a broadband package. These include:
Speed Ensure you have the bandwidth you need to stream or download gaming content with a connection of at least 50Mbps. The gameplay will not only be faster, but if anyone else in the household starts using the internet at the same time, you shouldn't experience a loss in quality. Do a speed test on your line to make sure you can actually achieve the promised speed from any broadband package offered. A provider might advertise an ultrafast deal at over 100Mbps, but your home's location may mean you won't get anything even close to this.
Download limits: Most packages now offer unlimited downloads. If not, and you're a heavy gamer, you should probably avoid. But look for Truly Unlimited broadband if you want a deal where your provider won't apply either a fair usage policy or traffic management that can slow the connection during peak periods.
Customer service: Look up reviews on the company in case you need to contact them. It can be very frustrating if you're having a problem with your broadband and can't contact anyone for help. Watchdog Ofcom releases an annual report on internet service providers' customer service that will give you more insight into which firms treat customers the best.
Type of connection: Generally speaking, fast fibre optic connections are best for gaming. This is because they don't rely on ageing copper wires to deliver the broadband to your home. If you can get them in your area, look for providers that offer FTTP (Fibre to the Premises) to ensure you're connected to the network end-to-end with fibre. Many fibre broadband providers only use fibre to the exchange and still rely on copper wires for the final yards into your home.
Which providers offer broadband deals for gaming?
Believe it or not, your broadband doesn't have to be super fast in order to play games.
In fact, you'll only need around 5Mbps to play most online games, though it's better to go for extra speed if you can – especially if you live in a busy household. To that end, a fibre optic package is well worth a look.
Here's just some of the providers who offer fibre deals:
Virgin Media – offers speeds as high as 326Mbps, making it one of the fastest providers in the UK. Indeed, for gamers it's a no brainer, though you should be prepared to pay a little more overall l, as Virgin Media isn't the cheapest.
BT – Go with BT and you can expect packages with ample speeds for gaming. And if you're worried about not being able to get a sturdy connection in every room of your house, BT Complete WiFi offers wall-to-wall coverage in every room of your home.
TalkTalk – With TalkTalk, you'll get affordable fibre packages with average speeds of 67Mbps – plenty fast enough for online gaming. Other perks include one of the cheapest TV packages around and a top notch customer service team.
Sky – Sky broadband offers truly unlimited fibre packages, so you can download as much as you want. Moreover, it also boasts one of the UK's most impressive TV offerings, with channels like Sky Atlantic showing some of the most popular TV shows.
Plusnet – Like TalkTalk, Plusnet offers affordable and simple broadband packages. It's not got much in the way of extras, but its packages are easy to understand and you'll get decent bang for your buck.
How can I speed up my broadband?
If you're unhappy with your broadband's current performance for gaming, you have a few options.
Switch to a faster service: While this is likely to be slightly more expensive, it may give you a better streaming experience.
Use a wired connection: Switch from Wi-Fi to an ethernet cable. While it's less convenient than Wi-Fi, wired connections can be more stable and are less affected by interference from other devices. Almost all Wi-Fi enabled devices can cause interference, as can electrical items such as a microwave. Wi-Fi also doesn't travel well through solid walls.
Change your router: Most routers that come with a broadband package are of a good standard, but aren't always designed for the heavy usage gamers give them. If your router isn't giving you the performance you need, perhaps it's time to think about a replacement. Check with your provider first to see how you can upgrade.
Turn off other web-connected devices: The more devices you connect, the more demands you're making of your the connection. When disconnecting, disable Wi-Fi completely. Don't just turn it off.
Do some online games use more broadband?
While gaming is booming, it's a misconception that gamers hog all the bandwidth.
The exact amount depends on the game, but Fortnite and Minecraft both reportedly use about 100MB of data per hour, with other games coming in a bit higher.
In contrast, a virtual Zoom meeting can consume about 810MB per hour, while streaming Netflix in HD uses up to 3,000MB per hour – or 30 times more data than gaming.
Does the connection speed make a difference to the gameplay?
Yes, but given most games do not use as much data as people might think, a good quality home broadband package should suffice.
Does it matter at what time of day I play games online?
If your broadband contract is one of the very few that are subject to 'traffic management' restrictions then it's preferable to avoid streaming or downloading games at peak hours – typically after school and work.
But these days broadband packages generally have no traffic management, meaning there is no impact on performance whatever time you play.
What are the pros and cons of broadband for gamers?
When it comes to gaming broadband, there's a few things you need to consider:
Pros
Faster internet for you and anyone else you live with
A gamer-friendly service with less 'ping' gives you an advantage over your opponents
Cons
You'll end up paying more for faster speeds.
Compare broadband
If you're looking for a cheaper broadband deal, MoneySuperMarket can help.
We'll search broadband providers available in your area to help find the best value options available depending on your choice of contract length, required speed and extras. You can also choose to bundle your broadband with home phone and/or TV channels as well.
We'll then show you the average monthly contract cost and total contract cost before you make your final decision.
Sources and methodology
*Based on average monthly bill of £32.69 from nationally representative sample (1000) vs cheapest monthly cost for superfast broadband (>55Mbs), Vodafone £22/m. Annual saving £128.28.
Frequently asked questions
Can I play games using 4G?
You can play games on 4G and the better your 4G signal, the better the experience will be.
However, while gaming is not as data-heavy as many people think, playing for hours will eat through your data allowance.
This won't be a problem if you have unlimited data but if you have a set quota then it will disappear quickly.
For example, if you've got 250Gb a month, you could burn through one-fifth by downloading a single game.
Can I use my mobile hotspot for gaming?
Yes, you can tether from your mobile hotspot.
You might find the connection is not as good as fixed-line, home broadband, but you can look to increase the speed by refreshing your settings, closing down background apps and switching from 2.4GHz to 5GHz (each handset will have a different way of doing this).
If you're looking for a cheaper broadband deal, MoneySuperMarket can help.
We'll search broadband providers in your area to help find the best value options available depending on your choice of contract length, required speed and extras such as TV channels.
We'll then show you the average monthly contract cost and total contract cost before you make your final decision.
How fast does my internet have to be for online gaming?
With most console or PC games, around 5Mbps is fast enough to play them properly. However, the games themselves may require huge downloads to work properly – so it's worth getting a fast package with unlimited data if possible.
Can I play games online through mobile broadband?
Technically, yes. But although you can play games online using mobile broadband, you'll need to think carefully about the amount of data you'll need.
You see, most mobile data plans come with strict data allowances that just aren't practical for online gaming. Chances are you'll soon run out of data, so it's best to stick with fixed line broadband if you can help it.