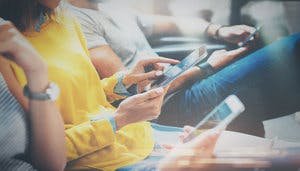 Mobile internet has come a long way in the last few years, and more data is available to customers than ever. Here's how much you'll need and how find the right phone tariff
Do I need mobile data?
Whether you use your phone for work, browsing social media or streaming content, you'll need a connection to the internet to do so. When you're at home or in the office you might have access to wi-fi, but it's not always available when you're out and about – which is where mobile data comes in.
Most mobile networks provide a data service that lets you access the internet when you're on the go – but the amount of data you get and the quality of your connection depends on your provider, tariff and location.

Data sourced by Lightspeed and Mintel October 2018, accurate as of February 2019
How does mobile data work?
When you take out a mobile phone deal the data package that comes with your tariff is an inevitable factor. Data is usually measured in bits and bytes – bits measures your connection speed while bytes measures the amount of data.
Data allowances
Your monthly data allowance will be listed in megabytes or gigabytes – for example, you might get a mobile phone tariff that offers unlimited minutes and texts as well as four GB of mobile data per month. This will be your monthly data allowance; if you use more you'll probably have to pay for it.
Download speeds
Download speeds vary depending on a number of factors, many of which will be beyond your control. The type of network offered by your provider is probably the single most important influence on your connection speed. You'll normally be able to choose from 3G, 4G or 5G, which are the most recent generations of mobile networks.
5G is the latest technology, and offers much faster download speeds than 4G, but it isn't widely available yet, so your current network provider will more than likely offer 4G as standard.
How much mobile data do I need?
The amount of data you'll need each month will depend on how much and how often you'll use it. For example:
If you use your phone mostly for browsing news or Facebook and you don't really download much media, you're a low data user. You'll probably be suited to a monthly data allowance of one to two gigabytes
If you spend more time viewing emails, browsing the web or Instagram, and you occasionally download photos, music or video to your phone, you're probably a medium data user. You might benefit from a slightly bigger data allowance – aim for a minimum of around three to five gigabytes
If you're on your phone a lot and you often stream videos and live sport, listen to music, or frequently communicate with friends, family and colleagues, you might be a high data user. You might be better off with a larger data allowance of around six to nine gigabytes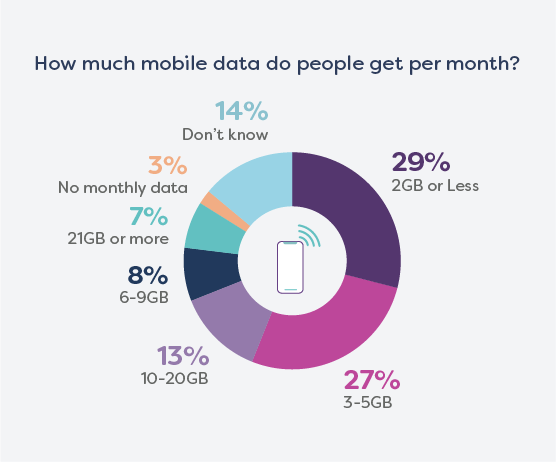 Data sourced by Lightspeed and Mintel October 2018, accurate as of February 2019
How much mobile data do I use?
The amount of data you use changes every day, so it's not always easy to estimate what you'll need. Here's a rough idea of how much mobile data you might go through depending on how you use your phone:
Emails: Checking emails doesn't use a lot of data in itself, but if you're sending or receiving attachments then your usage will go up. A few megabytes a day is a safe bet
News apps: News apps are similarly light on data usage but some do include images, audio and video, so be careful as they use up more of your allowance than just articles
Web browsing: Likewise, depending on what you're browsing this isn't likely to add up to much – around 50 to 100 megabytes an hour
Messaging apps: Sending messages over Whatsapp or Facebook Messenger alone won't be too data-heavy, but when you add up images and gifs, videos and audio recordings, this can climb to one or two gigabytes a month – more if you're an especially frequent chatter
Social media: Social media, especially image-based platforms like Instagram, can bring your data usage up to hundreds of megabytes an hour
Video calling: Video calls through Skype or FaceTime might not always be the highest quality, but if you stay connected for a while it adds up to around one or two hundred megabytes an hour
Music streaming: Music streaming through Spotify or Apple Music can eat through a hundred megabytes an hour
Video streaming: Streaming video in standard definition is already likely to use up around a gigabyte an hour, but HD and 4K videos can easily bring this up to two or three gigabytes
What happens if go over my data allowance?
If you go over your monthly data allowance, you'll have to pay for however much excess data you've used. Network providers often charge a flat rate, which can be quite expensive – sometimes in the region of £5 to £10 per 200MB.
You might also have the option to purchase more data, either just for the month or added to your regular plan. This is often cheaper than the rate you'll be charged if you exceed your data limit without alerting your provider.
Some networks also offer data caps which stop you from browsing using mobile data once you reach your limit. These can be useful if you're a frequent user.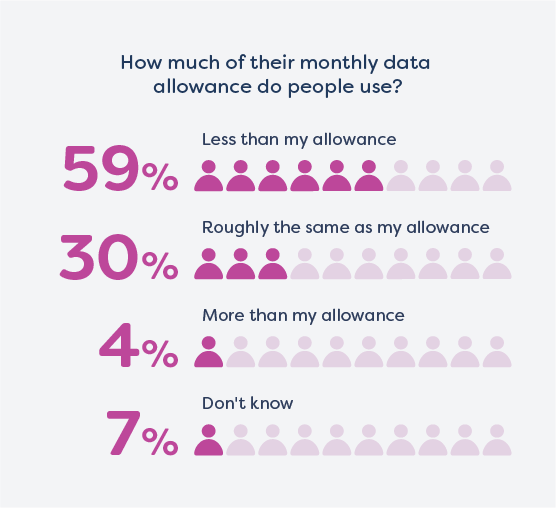 Data sourced by Lightspeed and Mintel October 2018, accurate as of February 2019
Can I use data abroad?
Since 2017, when the EU scrapped additional roaming charges on smartphones, UK mobile phone users have been able to text, call and use data within the EU without any extra cost. However, the final outcome of Brexit may change this.
How can I save on money and mobile data?
If you think you're in danger of hitting your data cap, there are some things you can try to reduce the amount you use on a daily basis, such as:
Using wi-fi where possible: If there's a free wi-fi network available you'll be better off using it so long as it's private – so at home, school, work or university, among other places. Public wi-fi connections are more susceptible to cyber criminals, so you should exercise caution before logging on, especially for sensitive online activity like online banking
Restricting apps which use heavy data: You should have the option on your smartphone to deny apps' access to mobile data – go through the list and untick any apps you don't really need to use
Disabling background apps: Similar to the above, there may be some apps you do need but not all the time. Instead of restricting their access to the network, you might be able to stop them from running in the background and siphoning data from your allowance
Downloading your media at home: If you're downloading media through platforms such as Netflix, Spotify or Apple Music to stream offline, you'll be able to watch them whenever you want without using data. Just be sure to download them over wi-fi or you'll still be romping through your allowance
Setting a data cap: Most network providers will set a data usage cap if you ask, so you won't be able to use any data once you hit your limit
Using your phone's data saving capabilities: Depending on your smartphone, you might be able to optimise it to use less data where possible – if you aren't sure, you can always check the manufacturer's website
Compare mobile phone deals
If you're coming to the end of your contract and looking for a tariff that offers more data, comparing phones on MoneySuperMarket is the easiest way to find a better deal. Choose the type of tariff you want, whether it's pay monthly, handset only or SIM only, and we'll show you a list of deals from a range of providers.
You'll be able to filter and compare the results by the type of phone, how much you want to pay up front, the amount of data, minutes and texts you'd like, and more. Once you've found the deal that offers everything you need at the best possible price, click through to the provider to finalise your purchase.