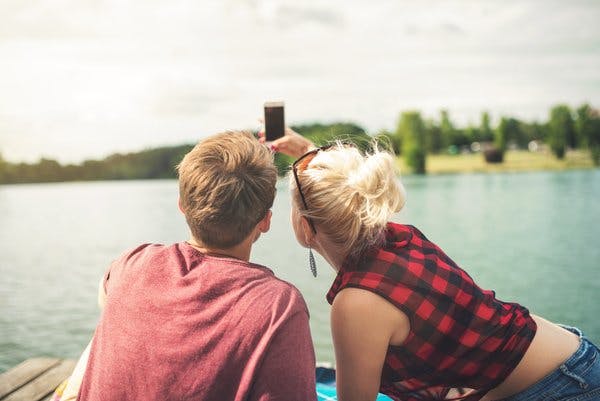 Whether it's looking up places to eat, checking flight information or booking a taxi, you'll likely need to use your phone on holiday. While it's easy to get caught out by roaming charges, there are ways to keep costs down. Read our tips on how to use your phone abroad without racking up an unexpected bill.
What are roaming charges?
The term 'roaming charges' refers to the higher prices that mobile networks typically charge for using your phone overseas.
Depending on the country you're visiting and your network's roaming policy, you may have to pay more to make calls, send texts and use mobile data.
Roaming charges can add up, particularly if you're going to a more far-flung destination or your network no longer offers free EU roaming.
By being careful and sticking to some simple rules, you can avoid an unexpectedly high bill at the end of your trip. We've compiled some useful tips below – read on to find out how to best keep your roaming costs down.
Check your network's roaming rules before you leave
It never hurts to thoroughly check your network's policies ahead of your trip. See whether you can get inclusive roaming as part of your plan – and, if not, whether you'll need to buy an add-on or pay standard pay-as-you-go rates.
This is particularly important if you're travelling in the EU. Networks are still updating their policies for EU roaming, and different rules may apply depending on your plan and the date you signed up for it.
Even if you know you can get inclusive roaming, it's good to be aware of any fair usage policies in place, so you can take care to avoid going over the limit.
Visit our page for more on each network's roaming rules.
Check your destination abides by EU roaming rules
Even if you're visiting a European destination, it might not be covered by your network's EU roaming rules.
For example, many travellers have assumed that Turkey and Northern Cyprus are in the EU and follow EU roaming rules. However, they're not in the EU, so you'll need to pay higher international rates to use your phone.
Download media and files at home
Streaming or downloading media on the go will eat through your data allowance very quickly.
Prepare ahead of your trip by downloading shows, films, music and podcasts while you're still in the UK, so you can enjoy entertainment even when offline.
Additionally, it's a good idea to download maps and important documents, such as boarding passes, before you leave. For example, Google Maps allows you to download and store maps for offline use.
Don't opt out of data roaming spend caps
Household-name networks typically impose a spend cap of £45 a month while you're overseas. This spending limit helps ensure that you won't end up with a massive bill.
Data roaming spend caps are 'on' by default. However, if you want to opt out –perhaps on the grounds that you think you'll need to use more data while you're away – you can do so by getting in touch with your network.
That said, we'd strongly recommend you don't opt out. Without any safeguards in place, it's all too easy to rack up high charges without realising.
Look into local SIMs
If your phone is unlocked, you can insert a local network's SIM in your phone to benefit from much cheaper rates for data, calls and texts.
Not sure if it's unlocked? The best way to find out is to try another UK network's SIM in your phone before you leave – you can borrow one from a friend of family member.
If it accepts the SIM and you've got a service, your phone is unlocked.
Getting hold of a local SIM is a particularly good idea if you're travelling to a destination outside the EU, because worldwide roaming can be expensive. Or if you're going to be abroad for a while, as many networks don't allow roaming for long periods of time.
Take particular care on cruises
Cruise ships aren't typically covered by networks' roaming schemes – especially when it comes to data usage.
When you're at sea, there's a risk that you could inadvertently connect to a 'maritime network', which are satellite-based services that charge eye-wateringly high rates.
It's also easy to accidentally connect to network in a neighbouring country, which may be classed as outside Europe and therefore come with much higher charges.
We'd recommend you use any free Wi-Fi options where possible – or, if this isn't available on your cruise, pay for a pass to use onboard Wi-Fi.
You could also consider only using your phone for internet on the days you're on dry land. But before you set sail, check your network's roaming rules for the countries you'll be visiting.
Keep an eye out for free Wi-Fi
It's very common for hotels, hostels and cafes to offer Wi-Fi free of charge. Always keep a lookout for places where you can connect to the internet for free – it's likely you'll be able to get it somewhere in your accommodation.
However, make sure you take note of the areas where Wi-Fi is available. It's unlikely that its range will extend outdoors, for example, and it might only be available in your room or the lobby.
Use calling apps to ring home
Messaging apps such as WhatsApp, Skype and Facebook Messenger let you make calls over Wi-Fi too. If you're calling iPhone to iPhone, you can also use FaceTime.
This way, you can avoid using any of your call allowance. Just make sure you're connected to free Wi-Fi before using a calling app, to avoid using up your data allowance too.
Turn off roaming if you're really worried
If you're concerned about high roaming charges, the easiest way to avoid this is to turn roaming off. Simply head to Settings on your phone and turn off data roaming.
It may be a drastic option, but it'll give you peace of mind that you won't be charged for apps updating and running in the background.
Frequently asked questions
How will I know if my network is scrapping inclusive EU roaming?
The law stipulates that mobile networks must give customers at least a month's notice of changes to their contract, which includes updated roaming policies.
You'll most likely receive notification of any alterations by text.
How do I get in touch with my network to check roaming charges?
You'll find contact details for all the major UK mobile phone networks in our one-stop guide.
In general, you should be able to get in touch with your network via a helpline, online live chat or by logging into your account.
Should I leave data roaming switched on in the UK?
Yes. As all networks have 4G coverage across most of the UK, you'll only ever connect to your own mobile network. As a result, leaving your data roaming switched on when you're in the UK means you can access 4G and 5G when you're out and about.