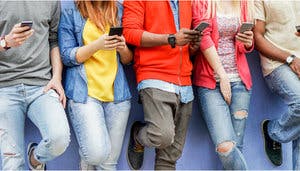 Did you know that you could grab yourself a free gift with your next mobile phone contract? At MoneySuperMarket.com, we compare the best phone deals with free gifts, from iPods and tablets to TVs and consoles.
How do free gifts with a contract work?
If you get a phone contract with a free gift, you'll get it bundled with your phone deal for no extra cost.
There's no extra work you need to do to claim your gift – simply select and pay for the phone contract you want.
If your free gift is a gadget, it should be sent out along with your new phone. Meanwhile, if the gift is a voucher, cashback or subscription service, you'll either get it automatically, or have to activate it to begin using it.
What free gifts can I get with a phone contract?
From the latest bits of tech to vouchers and cashback, there's a variety of free gifts you can get when shopping around for a new mobile deal.
Tech lovers will have their pick of cameras, consoles, headphones, speakers, wearables, and tablets to choose from. Gamers can get their hands on some of the latest consoles, including the Nintendo Switch and Playstation 4.
If you're after a new pair of headphones or a wearable to complement your new smartphone, you can get Bluetooth wireless earphones from the likes of Apple, Beats, Bose and Sony, or an Apple Watch or Fitbit.
Alternatively, you could get a GoPro for action shots, or a tablet like the Apple iPad or Samsung Tab.
Not interested in getting a gadget? There are plenty of other free gifts to be had, including vouchers, gift cards, cashback and subscriptions to streaming services.
What's the catch?
There's no catch, per se – but bear in mind that there's no such thing as a free lunch.
Mobile contracts offer free gifts to entice you to sign up. However, the cost of these "free" gifts are usually included as part of the contract price.
When looking at mobile phone contracts with free gifts, don't be swayed by the excitement of a shiny new device. Instead, think about how much this gift would cost if you bought it outright: does it work out cheaper than getting it with a mobile contract?
All in all, be smart – do your research, weigh up the cost of a mobile contract with a free gift versus one without, and make sure you're not paying more than you need to.
Are free gifts worth it?
That depends. If you had your eyes on a particular gadget in the first place, getting it as part of a mobile phone contract is a handy way of spreading out the cost over fixed monthly payments. And if it's something pricey, it means you won't have to pay on a credit card or loan, and you can avoid having to pay interest.
On the flip side, phones with free gifts are pricier than ones without. If the gift isn't a must-have for you, it might not be worth the higher contract price.
Can I get a free gift with a SIM only contract?
Yes, some networks offer SIM only contracts that come with a free subscription to the likes of YouTube Premium, Prime Video, Spotify, Apple Music or Disney+.
Free gifts are usually only available with 12 or 24-month contracts, however – you'll rarely see free gifts included with monthly rolling SIM-only deals.
Are phones with free gifts more expensive?
Well, as the cost of the "free" gift is usually calculated into the mobile phone contract, you'll find that phones with free gifts do run more expensive than those without.
To that end, it's important to consider whether it's cheaper to get a phone contract with a gift or to simply buy it separately.