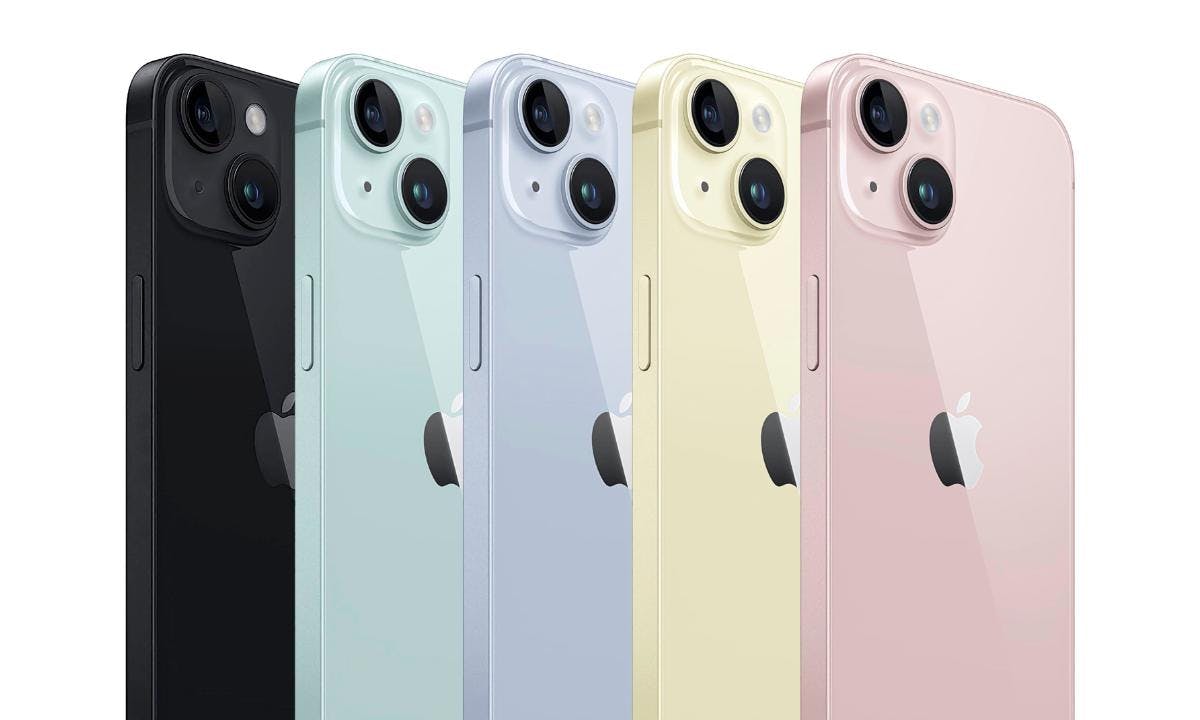 The standard model of the iPhone 15 line-up, it's a failsafe option for anyone looking for a solid Apple handset. We go through what to expect with Apple's 2023 flagship.
Compare iPhone 15 contracts
Looking for a pay-monthly contract for the iPhone 15? With MoneySuperMarket, you can easily compare deals from a range of UK networks.
You'll be able to filter and sort by your preferences, such as data allowances, monthly prices, and any upfront costs. That way, you can find a phone plan that best suits you.
Features and specs
Dimensions: 147.6 x 71.6 x 7.8mm
Weight: 171g
6.1-inch OLED screen with 1170 x 2532 pixel resolution
Dual rear camera: 48MP main, 12MP ultra-wide
12MP front camera
A16 Bionic chip
6GB of RAM
Storage: 128GB, 256GB, 512GB
3,877mAh battery capacity
Ships with iOS 17
Though the iPhone 15 seems like a rehash of the previous year's iPhone 14 on paper, in practice there are several significant upgrades to shout about.
Its camera sensor has had a major jump in megapixels: now 48MP, up from 12MP. Apple's Dynamic Island feature makes an appearance here, too – it's no longer reserved exclusively for the Pro models. Finally, in a hotly anticipated move, the iPhone 15 has ditched Lightning charging in favour of the much more universal USB-C.
Availability and price
Apple unveiled the iPhone 15 at its launch event on 12th September 2023. It was announced alongside three other variants: iPhone 15 Plus, iPhone 15 Pro and iPhone 15 Pro Max.
Pre-orders were available from 15th September, with the phone going on sale in the UK on 22nd September.
Prices at launch were £799 for the 128GB model, £899 for 256GB, and £1,099 for 512GB. Surprisingly, that's actually a decrease of £60-£80 from the iPhone 14 in 2022.
How good is the iPhone 15's design and display?
At first glance, Apple hasn't made any major design changes to the iPhone 15. It largely follows the same blueprint as the previous year's iPhone 14, with a 6.1-inch Ceramic Shield screen, glass body and aluminium sides (now with new contoured edges).
However, this time round, Apple added some new features that present a tangible quality of life update.
For starters, the iPhone 15 has ditched the tired notch at the top of the screen, replacing it with Apple's clever Dynamic Island feature. Previously introduced in the iPhone 14 Pro and iPhone 14 Pro Max, this pill-shaped cut-out is now present across the entire iPhone 15 range. Looks-wise, it's much more streamlined than the large notch.
It's not just aesthetics, either – in fact, the strength of this feature lies in its functionality. The Dynamic Island acts as home to Face ID, as well as offering dynamic notifications and revealing key information such as music playback details and battery status.
However, the display is still stuck on a maximum 60Hz refresh rate. In a time where most flagship phones feature 120Hz refresh rates (including both 15 Pro models), it's odd that Apple insists on keeping the same old 60Hz panels for its non-Pro phones. Still, the screen is now almost twice as bright, at 2,000 nits – useful if you're looking at your phone in bright sunlight.
In a first for Apple, the iPhone 15 finally has the highly coveted USB-C port. Thanks to a European Union law requiring all phone manufacturers to use a common charging connection by December 2024, all iPhone 15 handsets have ditched Apple's proprietary Lightning connector in favour of USB-C (a charging cable is included in the box).
This makes life easier for connecting the iPhone 15 to other devices, but would also represent a headache for the millions of iPhone owners who have Lightning chargers.
The iPhone 15 comes in five colours, four of which are pastel-hued: black, blue, pink, yellow and green.
How good is the iPhone 15's camera?
The iPhone 15 received some significant improvements in camera specs. It shares the same camera set-up as the iPhone 15 Plus: a dual rear camera system with a 48MP main lens with f/1.6 aperture and 12MP ultra-wide, as well as a 12MP front camera.
This is a notable bump up from the iPhone 14's 12MP main camera – and this improved main camera sensor will help produce even higher quality shots. It shoots up to 4x resolution, so you'll be able to capture landscapes and scenes in stunning detail.
Portrait mode has also been given a welcome boost. The new 2x telephoto option means you can produce those pleasing portraits with beautifully blurred bokeh. Furthermore, new software tech means you can change the focus between subjects in one simple tap, even after you've taken the shot. No more having to switch to portrait mode first – you'll be able to quickly snap a photo and turn it into a portrait retrospectively.
Is the iPhone 15 good for video?
iPhones have long reigned supreme when it comes to shooting video – and the iPhone 15 continues that market-leading reputation.
It can shoot video up to 4K quality at up to 60fps. There aren't any new video processing features this time round. But you'll still be able to enjoy Apple's excellent Cinematic mode, which provides shallow depth of field and seamless focus transitions with a cinema-grade finish, and Action mode, for smooth footage in the shakiest of situations.
What are the key differences between the iPhone 15 and the iPhone 14?
Though the iPhone 15 and its predecessor, the iPhone 14, don't look too different side-by-side, there's a few key hardware and software improvements to note:
Better camera specs – The main camera lens is now 48MP, a hearty step up from the iPhone 14's 12MP affair. Portrait mode has also been given an upgrade, thanks to the 2x telephoto option and powerful photo processing
Dynamic Island – Previously only found on the Pro models, all variants in the iPhone 15 range now sport Apple's fantastic feature
USB-C charging port – In a step away from Apple's lightning port, the iPhone 15 is the first ever iPhone to have USB-C. This cuts down on the number of cables you need to carry around (many electronics also use USB-C) – though charging is no faster than before, at 20W
How does the iPhone 15 compare to flagship handsets in the UK?
While all iPhone 15 models across the board get the Dynamic Island feature this year, the iPhone 15 does miss out on some of the snazzier upgrades that are reserved for the Pro models: namely a new titanium build, the latest A17 Bionic chip, and periscope lens technology for better optical zoom (this one is only featured in the 15 Pro Max).
As for the iPhone 15 Plus, the main discernible difference is the size. So, it really depends on whether you want a phone that's pocketable and easy to use with one hand, or if you prefer to get as much screen real estate as possible.
As for its other rivals on the market, it's most comparable with Samsung's 2023 base flagship: the Galaxy S23. With both phones offering their own strengths, it mainly comes down to your preference between iOS or Android.
MoneySuperMarket's expert rating
Our rating: 4.5/5
Truthfully, you can't really go wrong with a base model iPhone if you're looking for an excellent all-rounder that ticks every box. It boasts an excellent camera, all-day battery life, and a powerful processor for handling everyday tasks with speed and ease – all packaged in a tried-and-tested design.
This makes the iPhone 15 a perfect choice for anyone and everyone who prefers iOS, but don't need all the higher-end features of the Pro variants.
It's also great to see that the iPhone 15 presents some noteworthy upgrades from the iPhone 14 – even if some of these improvements aren't new or unseen, by any means.
First, the camera has been given a substantial megapixel boost. It sports a 48MP main lens, up from 12MP; this will allow you to capture higher quality, more detailed shots.
While the Dynamic Island isn't new, it's great that this useful feature is now available across all iPhone 15 models, not just the Pro ones.
Most significantly, the iPhone 15 finally marks the end of Apple's proprietary Lightning cable and the adoption of the USB-C port, which is rather revolutionary – by Apple's standards, anyway.
USB-C is a much more universal system, used by all Android devices and many other electronics – including most Apple products these days, such as the latest iPads. This means you'll only need one cable to charge all your devices, which should save you money and cut e-waste.
Though it does raise the question: what to do with all those old Lightning cables?
Contract options
Looking to spread the cost of an iPhone 15 with a pay-monthly contract? We have loads of options here at MoneySuperMarket.
Can I get the iPhone 15 with no upfront cost?
Potentially, yes. While you usually need to pay an upfront cost for flagship phone contract, some networks do have no upfront cost phone deals.
Deals with no upfront cost can change quite frequently. So, you should shop around and compare deals to find the best one with nothing to pay upfront.
Just set the slider in the filters above to only show deals with no upfront costs.
Can I get the iPhone 15 with unlimited data?
Absolutely – plenty of networks offer the iPhone 15 with unlimited data.
You can find an unlimited data deal on the iPhone 15 with our comparison table at the top of the page. Just move the slider above to unlimited (or very high) data to see the options available.
What's the cheapest way to get the iPhone 15?
In general, the cheapest way of getting any phone is to buy it outright and off-contract, then get a SIM-only deal with a monthly allowance of data, minutes and texts.
However, buying a phone outright is a lot of cash to splash in one go. If you'd prefer to spread the cost over the course of several months, it's worth considering a pay-monthly phone contract instead.
Use our comparison table at the top of this page to find and compare pay-monthly iPhone 15 deals.
Can I get the iPhone 15 with poor credit?
Possibly, though it might be difficult. Networks typically run credit checks before accepting you for a mobile contract.
As the iPhone 15 is a pricey flagship phone, it's unlikely that you'll be accepted for a contract if you have a bad credit rating. If that's the case, our bad credit phones guide can help.
Frequently asked questions
Is now a good time to buy the iPhone 15?
If you're hanging on to an old phone and desperately want to upgrade, now is a great time to buy the iPhone 15.
It's set to get at least six years of software updates – as is the case with most Apple handsets – so there's plenty of longevity with this device.
But if you're hesitant about the high price tag, it may be worth considering the previous year's model instead.
If you have your heart set on the Dynamic Island feature, both the iPhone 14 Pro and iPhone 14 Pro Max have this – and these handsets should now be slightly cheaper than at launch. Otherwise, if you can live without the island, the base iPhone 14 offers largely the same features and functionality as the iPhone 15.
Will the iPhone 15 drop in price?
Phones usually drop in price when newer models are released. In the case of iPhones, Apple tends to launch its latest iteration every September. So, if you want to get your hands on the iPhone 15, it's worth waiting until then.
You might also find special offers during certain times of the year, such as Black Friday.
iPhone 15 specs
General

| | |
| --- | --- |
| Manufacturer | Apple |
| Operating System | iOS |
| Sim Card Type | Nano |
Sensors

| | |
| --- | --- |
| Accelerometer | No |
| Proximity | No |
| Compass | No |
| Barometer | No |
| Gyroscope | No |
| GPS | Yes |
Size & Weight

| | |
| --- | --- |
| Form Factor | Candy Bar |
| Thickness | 7.8 mm |
| Size | 71.6mm x 7.8mm x 147.6mm |
| Weight | 171 g |
Battery

| | |
| --- | --- |
| Battery Type | Lithium Ion |
| Capacity | mah |
| Standby | hours |
| Talktime | hours |
Display

| | |
| --- | --- |
| Display Size | 6.1 inches |
| Screen Type | AMOLED |
| Resolution | 1179 x 2556 inches |
| Pixels Per Inch | 460 ppi |
| Touch Screen Type | |
Processing power

| | |
| --- | --- |
| CPU | 9620 mhz |
| Processor Cores | 6 Cores Cores |
| Memory | 6000 MB |
Storage

| | |
| --- | --- |
| Internal Storage | 128, 256, 512 |
| External Storage | No |
Camera & Video

| | |
| --- | --- |
| Primary Camera | 48 MP |
| Flash | Yes |
| LED Flash | |
| GEO Tagging | No |
| Auto Focus | Yes |
| Fixed Focus | No |
| Touch Focus | |
| Face Detection | No |
| Smile Detection | |
| Image Stabilisation | No |
| Video Quality | 1080 |
| 2nd Camera | 12 MP |
Data

| | |
| --- | --- |
| Generation | 5G |
| Frequency | Dual-band |
| NFC | No |
| Wi-Fi | Yes |
| Wi-Fi Hotspot | Yes |
| Wi-Fi Direct | No |
| Bluetooth | Yes |
| USB | No |