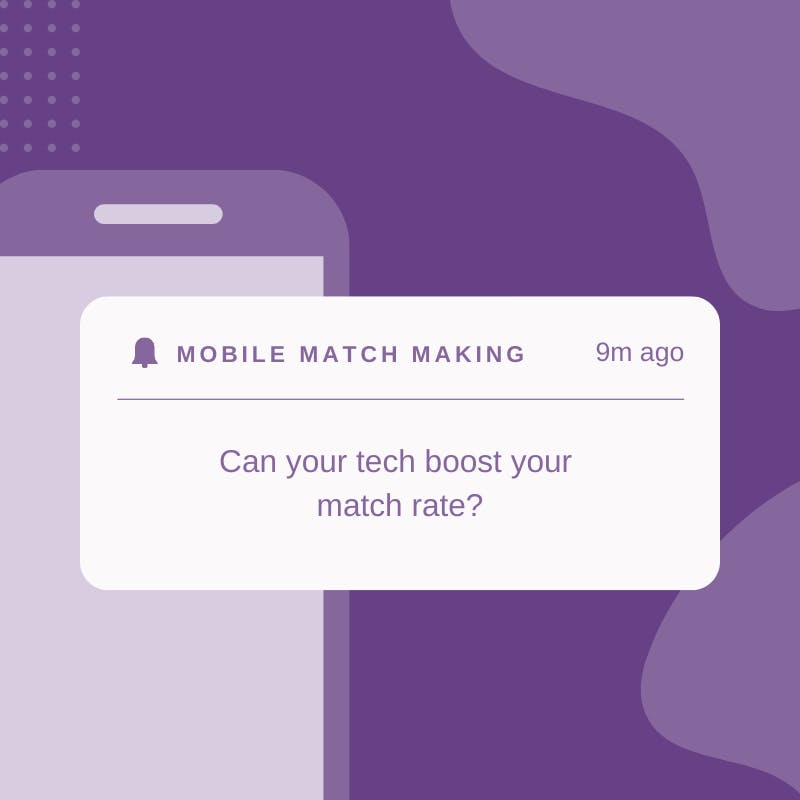 After years spent under lockdown and dating app swipes reaching more than 1 billion swipers per day during the height of the pandemic, 2022 is the year of the great dating reset, with research from dating sites finding people who are looking for love are becoming more upfront than ever with potential partners, with stricter criteria for matches.
Could your mobile phone affect your love life?
Whether it's 'virtual date', 'dry date' or a good old fashioned 'dinner date', 2022 is shaping up to be the summer of love as singles get to mingle again.
But competition in the dating arena is fiercer than ever, and studies have found that men could expect a match rate of just 7% on dating apps, with women having a higher, but still relatively low ratio of 54% per 5,000 swipes. What's more, we found that 71% of time-strapped singletons were more likely to agree to a virtual first date before deciding whether to even meet their match.
With technology more important than ever in the dating world and tech brands like Apple, Tesla or Beats becoming increasingly desirable, does the tech you rep have an impact on your chances of love? Our MoneySuperMarket Mobile Match Maker study, aimed to find out.
What we did
Between March and June 2022, we created identical profiles across a variety of dating sites in major cities across the world. In each case, the only variable between profiles were the tech brands featured or, in our selfie test, the camera used to take the photo.
Analysing a range of top tech brands, we compared match rate results across ten countries to see which brands carry the biggest potential boosts to their owner's profile vs not flashing any tech whatsoever.
Our study looked across all genders, non-binary profiles and swiped indiscriminately across a range of swipe based dating apps. As such we have collated all the data gathered to give one average result, as opposed to gender or app splits.
Thousands of swipes later, here's what we found.
Could your phone help you find love?
Our study found that your tech could have a direct impact on your match rate on dating profiles, with the right brands boosting match rates by up to 82%.
Where tech brands featured in profiles had a positive impact, we saw an average uplift of 38% on the number of matches received by our test profile. However, flashing the wrong brand could have consequences, with the average negative impact sitting at around -30%.
Hottest mobile tech brands of 2022
Our test found that Apple users are more desirable than android users, with profiles featuring Apple devices, such as iPhones, AirPods or Apple Watches, enjoying a 74% uplift in match rates, higher than any other tech brand.
Apple subsidiary, Beats by Dre, also saw an uplift, with profiles featuring the brand enjoying a 16% increase in matches, compared to a negligible difference with other headphone brands.
Samsung (S22 Ultra) and Google (Pixel 6 Pro) owners also enjoyed an uplift in their match rates, though still lagged behind Apple by a significant margin.
However, on the opposite end of the table, our study found that choosing an 'off-piste' or cheaper brand meant some of our test profiles were less datable, with their tech actually hurting their chances of being matched. For instance, while once a must have status symbol for workers, those touting a Blackberry in 2022 could see their match rate drop by more than three quarters (78%). Likewise, while Huawei owners might be more concerned about receiving security updates, their phone could also be impacting their love life, so it might be worth them considering a phone case.
The Selfie Test
While flashing an Apple logo might improve your dating prospects, if you want to have the best possible profile photo, our study found that you'd be better off using an android device to take the shot.
In 2022, the smartphone camera competition is fierce with the likes of the Google Pixel 6 Pro, Samsung Galaxy S22 Ultra and the Apple iPhone 13 Pro all producing incredible photo and video, each with their own tiny advantages. But which one provides the best shots for shooting your shot on your dating profile?
Our selfie test had four models take three selfies, each with the same pose and backdrop, with each shot using a different 2021/2022 flagship phone from Google, Samsung and Apple.
We then asked a panel of over 1,000 people to choose their favourite shot from each model, based on which photo would most make them swipe right or that they generally found made our model look most attractive.
The result? A clear win for Android, with the Google Pixel 6 Pro selfie camera favoured by just under (44%) of our panel, with the Samsung S22 Ultra coming in second place with nearly a third of the vote (32%) and the iPhone 13 Pro taking the bronze medal with 24%.
Interestingly, our panel's rankings agreed with the Dxomark 'selfie score' which also ranked the Google Pixel 6 Pro as the best selfie camera on the market today, albeit by a smaller margin.
Tech savvy cities
Our study also looked at the cities where your tech could have the biggest impact on your love life, based on the average match uplift when technology was featured in the profile photos vs no tech being present at all.
Top 10 most tech savvy cities
Based on the average overall increase where tech had a positive impact on match rates, San Francisco came out on top as the most tech savvy city, where using the right device increased dating chances by 59% vs the overall average across all cities which was just 38%.
The single most popular piece of tech among San Franciscans was the Apple Watch, with profiles featuring the wearable benefiting from a massive 97% increase in matches, almost double the amount of our techless profile.
Other cities where tech and mobile brands carried clout were New York, London, Vancouver, Los Angeles and Portland.
Final thoughts
So, there you have it, while getting a match on a dating app might be an uphill battle, according to our Mobile Match Making study, owning a high-end smartphone or wearable could boost a person's chances at finding love, but having the wrong device could be hurting their chances.
That means if you're looking for a new partner and happen to be in the market for the latest handset this summer, our research shows it might be worth comparing the best deals on the newest iPhone.
Happy with your current handset but not your monthly bill? Remember, there are more ways to save by switching to a new SIM-only deal, including MoneySuperMarket exclusive offers