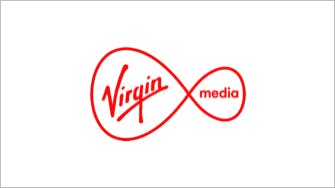 Virgin Media TV bundles pair fast fibre broadband with a highly rated set top box and a huge range of channels and add-ons. Read on as we take a closer look…
Our best Virgin Media TV and broadband deals this week








*Average speeds are based on the download speeds of at least 50% of customers at peak time(8pm to 10pm). Speed can be affected by a range of technical and environmental factors. The speed you receive where you live may be lower than that listed above. You can check the estimated speed to your property prior to purchasing.
What packages can I get with Virgin Media TV?
Virgin Media TV and broadband bundles pair impressively fast fibre with a very extensive range of sport, movies and lifestyle channels, as well as the high spec Virgin TV 360 set top box.
One huge draw is the fact that Virgin Media is the fastest widely available broadband provider in the UK. Depending on your needs and availability at your address, you can get speeds of anywhere between 54Mbps all the way to an astonishing 1130Mbps.
Another big plus point is that you don't need a satellite dish to get Virgin TV. Instead, Virgin streams TV through your home broadband connection – and with Virgin Media, you'll be getting the fastest broadband speeds.
While other providers offer multiple services that you pick and choose, Virgin Media's core TV and broadband packages – called Big bundles and Bigger bundles – come with all channels and services already pre-selected for you.
So, rather than building your own bundle, you simply pick the package that best suits you, whether that's a more basic bundle or a comprehensive plan that includes Virgin Media's full range of channels.
All broadband and TV bundles come with the high-tech Virgin TV 360 box, which stores all your channels, apps and streaming services in one easy-to-access place. It has plenty of smart functions, such as voice search and control and personalised recommendations, as well as 1TB of storage for recordings.
For multi-room viewing, there's the option to add up to two Mini boxes for an extra charge. This allows you to stream TV on multiple screens around the home, and pause shows and continue watching them in another room seamlessly.
All Big bundles and Bigger bundles are available with or without a landline. If you opt for a landline, you'll get Virgin's Talk Weekends plan, which gives you inclusive weekend calls to UK landlines and Virgin Mobile numbers.
To take your Virgin Media package to the next level, you can sign up for one of its Volt bundles. Although more expensive, these are "supercharged" plans that get you faster data and broadband speeds, a double data mobile SIM plan from O2, a Wi-Fi guarantee and exclusive O2 tech discounts.
See the next section on what you can get in each bundle.
What channels can I get with Virgin Media TV?
With more than 230 channels, Virgin Media is one of the biggest TV providers in the UK – second only to Sky.
It doesn't actually offer any TV channels of its own, though. Instead, it combines freeview, Sky channels, BT Sport and Netflix in its pre-made bundles.
What channels you can get depends on the bundle you pick. The entry level Big bundle comes with 100+ channels, while at the other end of the spectrum is the Ultimate Bolt bundle, boasting 230+ channels including BT Sport and all Sky channels (such as Sky Cinema and Sky Sports).
There's a wide range of bundles, including (but not limited to):
Big bundle – 100+ free-to-air channels and players, including BBC, ITV, Channel 4 and Channel 5
Broadband + TV – includes 190+ channels, with Sky One, Fox and Universal TV among the highlights, plus BT Sport. You'll also get average download speeds of either 108Mbps, 213Mbps or 362Mbps - your choice
Big bundle + Drama & Docs – 145+ TV channels, including entertainment, documentaries, and drama channels. Average broadband speeds of 213Mbps, and a landline with a Talk Weekends plan
Bigger bundle + Movies – 200+ TV channels, including BT Sport and Sky channels. Average download speeds of 108Mbps and a landline with Talk Weekends
Bigger Volt bundle – 190+ channels, including BT Sport and Sky channels, with broadband download speeds averaging 516Mbps
Biggest TV bundle – 210+ channels, including BT Sport and Sky channels, plus a standard Netflix subscription. Average download speeds of 108Mbps and a landline with Talk Weekends
Ultimate Volt bundle – Virgin Media's top of the range plan, with 230+ channels including BT Sport and Sky channels, plus a standard Netflix subscription. Landline comes with a Talk More Anytime plan, which gets you inclusive anytime calls to UK landlines and mobiles, and you get an O2 mobile SIM with unlimited monthly data. Best of all, Gig1 broadband has average speeds of 1130Mbps
You can see Virgin Media TV's full range of channels on its website.
What are the alternatives to Virgin Media TV?
You can get TV and broadband bundles from other household-name providers, such as Sky, BT and Now Broadband. But how do they compare?
If you want premium TV, Sky TV is your best bet. With the base Sky TV plan offering 300+ channels and box sets, it has the broadest range of content on the market. Moreover, you don't have to be a Sky broadband customer to get Sky TV.
Sky's highly rated Sky Q box edges out the competition, too. However, unless you opt for Sky's new Sky Glass TV, you'll need a satellite dish installed outside your property to use Sky Q.
BT TV is another strong contender. It's slightly cheaper than Sky and Virgin Media, though its selection isn't quite as comprehensive, while its YouView box isn't as advanced. Like Virgin Media, it doesn't require a satellite dish, as it streams video via your home broadband. You can only get BT TV if you take broadband from BT, however.
Looking for something cheaper? Now Broadband's TV Memberships are an affordable and flexible way of getting Sky channels. They work like a subscription service – you don't need a set top box or Now Broadband to stream TV, and all memberships operate on a monthly rolling basis, meaning you're free to cancel whenever you like. But there's nowhere near the same breadth of channels as Virgin Media TV.
Virgin Media Multi-Room
With Virgin Media Multi-Room, you can enjoy entertainment in different areas of your home – super handy if you live in a household where multiple people watch TV.
You can have up to two additional TV 360 mini boxes. Each box comes with separate channels and settings, allowing you to watch different shows in different rooms at the same time.
And they're 4K UHD and HDR-ready, too, which makes Virgin Media the only provider to offer a 4K multi-room experience.
How much does multiroom cost?
Whether you're a new or existing customer, you can upgrade your package to Virgin Multi-Room.
It costs £10 per month for the first 360 mini box, then £5 per month for any further boxes.
If you've been with Virgin Media for a while and still have the TiVo or V6 box, you can still get extra 360 mini boxes for a multi-room experience (although you won't be able to use the Smart features of the 360 box).
If you're signed up to the Ultimate Volt bundle, it comes with two extra 360 mini boxes as part of the package.
Virgin TV Go app
Available for free to all Virgin TV customers, the Virgin TV Go app is a useful addition to your smartphone, tablet or computer. As well as access to more than 100 live TV channels on the go, you can use the app to manage and stream your recordings on the Virgin TV 360 box.
You can register on up to five devices, and watch on two devices at the same time.
What are the pros and cons of Virgin Media TV?
There's a lot to recommend Virgin Media TV. But that doesn't necessarily mean it's the right broadband and TV provider for you. We take a look at all the good and bad below:
Pros
Virgin TV 360 box is one of the best set top boxes on the market, with plenty of smart functionality
Broadband speeds are also the fastest among household-name providers
Seamless multi-room viewing thanks to the Virgin TV 360 mini boxes – and all in 4K
Lots of excellent content and plenty of choice
Combines BT Sport and Sky channels to give you the best of both worlds
Cons
It's not cheap – but you're paying for a premium service and set top box
You can't get Virgin Media TV unless you take Virgin Media broadband too
Virgin Media broadband is less widely available than the likes of BT and Sky
Broadband and TV bundles are on 18-month contracts – nothing shorter-term
Fairly steep price hikes after your contract's minimum term is up
Frequently asked questions
How do I switch to Virgin Media?
Switching to Virgin Media is a bit more complicated than the process for most switches between the likes of BT, Sky or TalkTalk. But it's still pretty straightforward. You just need to follow these steps..
Choose a Virgin Media package and sign up for it through MoneySuperMarket
Contact your current provider to tell them you'd like to cancel and nominate a day you'd like them to turn off your services
Contact Virgin Media and arrange for your service to start the same day. That way you'll get a seamless switchover and you won't be without a broadband connection at any time.
Can I watch Netflix on Virgin Media?
Yes, you can. You can choose to add a Netflix subscription with all bundles, and the app comes installed and easily accessible on the Virgin TV 360 box.
You'll pay for Netflix as part of your Virgin Media bill, so it's more convenient and easier to keep track of your outgoings.
Not to mention, some of the more expensive bundles also include a standard Netflix subscription as part of your plan.
Can I get BT Sport on Virgin Media?
Yes – the majority of Virgin Media's broadband and TV packages come with BT Sport included.
Can I record TV and movies on Virgin?
Absolutely – the Virgin TV 360 box and the mini boxes all allow you to record and store video.
Can I get Sky Cinema and Sky Sports?
Sure – Virgin Media's Big bundles, Bigger bundles and Volt bundles all come with Sky channels, including the highly coveted Sky Cinema and Sky Sports.