The most 'hackable' IKEA furniture revealed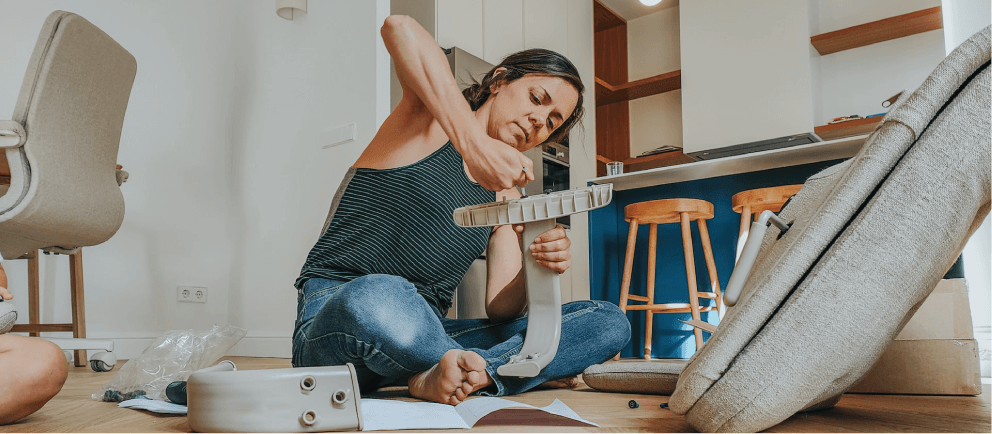 Whether you're looking to give new life to an old piece of furniture or renovate your home on a budget, modifying IKEA items has become a popular way of creating a luxury look without breaking the bank - but which pieces are the most adaptable?
Known for its stylish, affordable and functional furniture, IKEA is one of the world's most loved homeware companies.
Whether you're shopping for student house essentials or furnishing your dream property, chances are that at least one item from the Swedish furniture giant will make its way into your home. 
However, after a while, that TV unit or bookcase that was once a cornerstone piece of a room can start to look a little tired, or redecorating can cause old furniture to clash with your new aesthetic.
Rather than replacing a perfectly good piece of furniture, an online community of 'IKEA Hackers' has been documenting and sharing the various ways that they've adapted and upcycled some IKEA classics in order to give their well-loved homeware a new lease of life.
But which flat-pack pieces are the most adaptable to their surroundings? 
The most hackable furniture
At MoneySuperMarket, we've analysed 1,000 recently shared hacks in order to find and rank the most 'hackable' homeware items.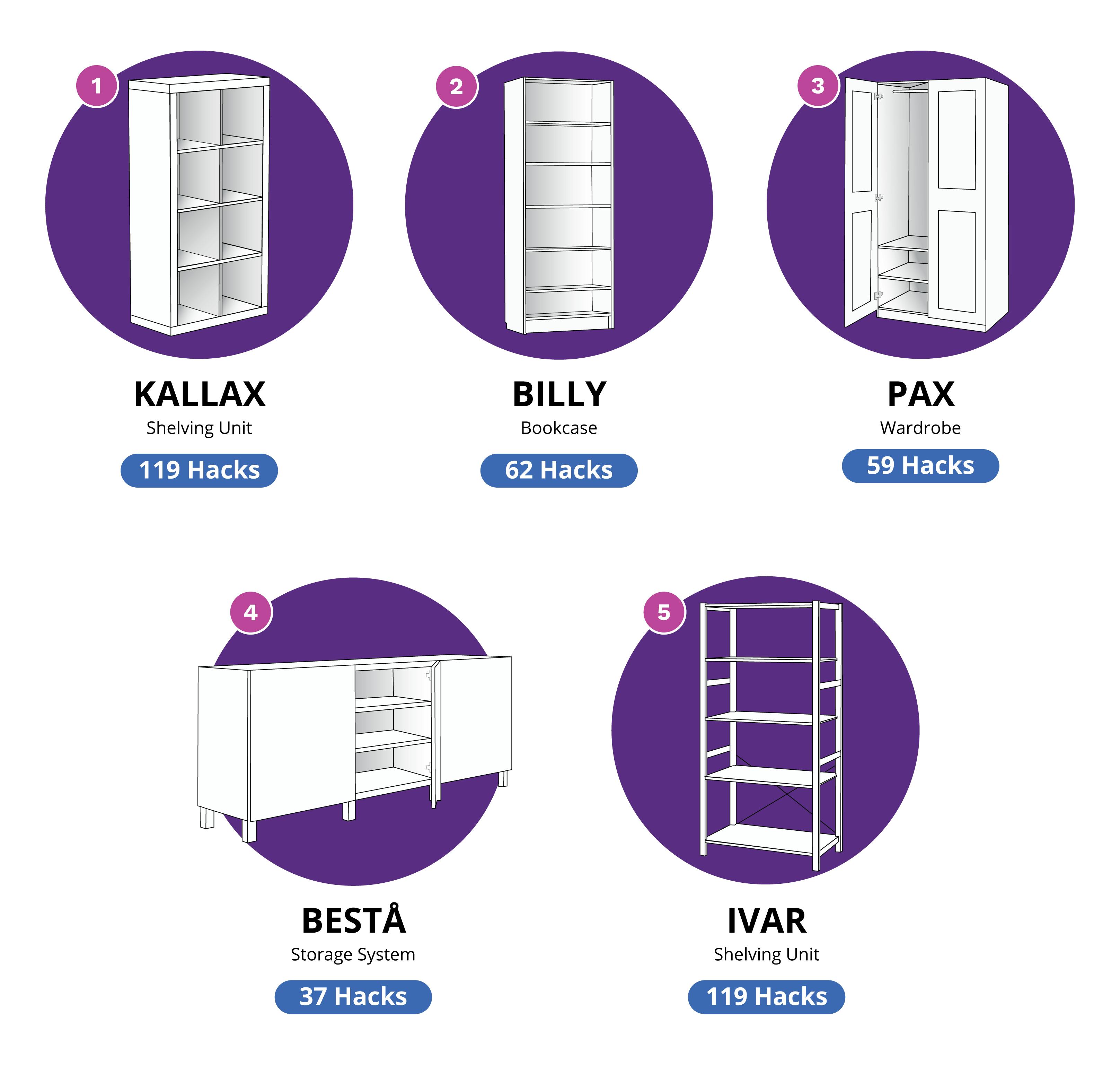 Simple, affordable and highly customisable thanks to its modular options, the KALLAX shelving unit is the most adaptable item with 119 possible hacks.
Whether you need a media console or a kitchen island, the KALLAX really is the most versatile piece of furniture - it's even been converted into a bed.
In second place, the BILLY bookcase has been an IKEA stalwart for decades and is so popular there's even a book about it.
The BILLY bookcase has become particularly popular with IKEA hackers thanks to its ability to be easily modified into built-in shelving.
Much like the BILLY, the PAX wardrobe system is also popular for its ability to mimic professionally built-in wardrobes at a reasonable price. Its modular interior also adds to its diversity, evidenced by the 59 possible hacks we found during our study.
Top 25 most hackable items of IKEA furniture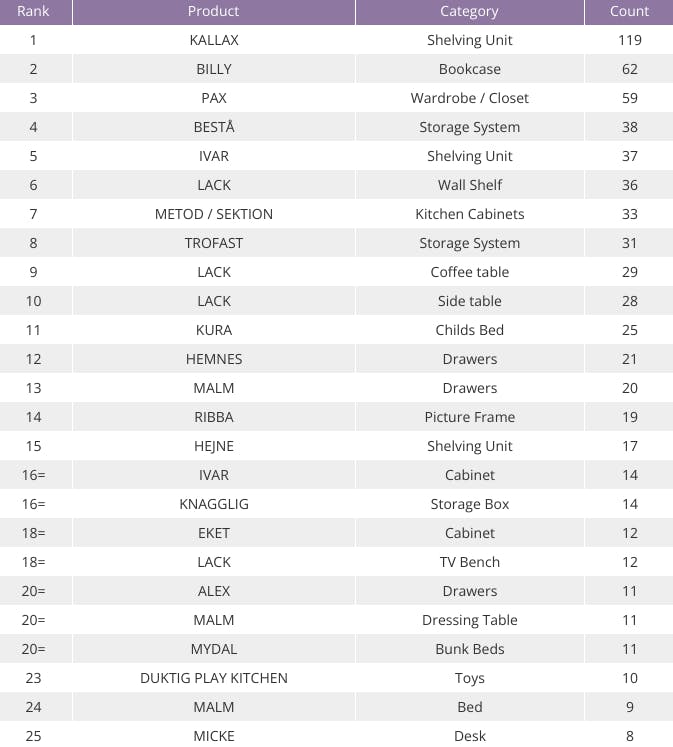 The most hackable discontinued furniture
While hall-of-fame pieces like the BILLY bookcase and LACK table feel like they've been around forever, changing trends mean that dozens of items have been tweaked and rebranded over the years, or discontinued altogether.
Below, we've highlighted some of the most hackable discontinued products that you may already have in your home.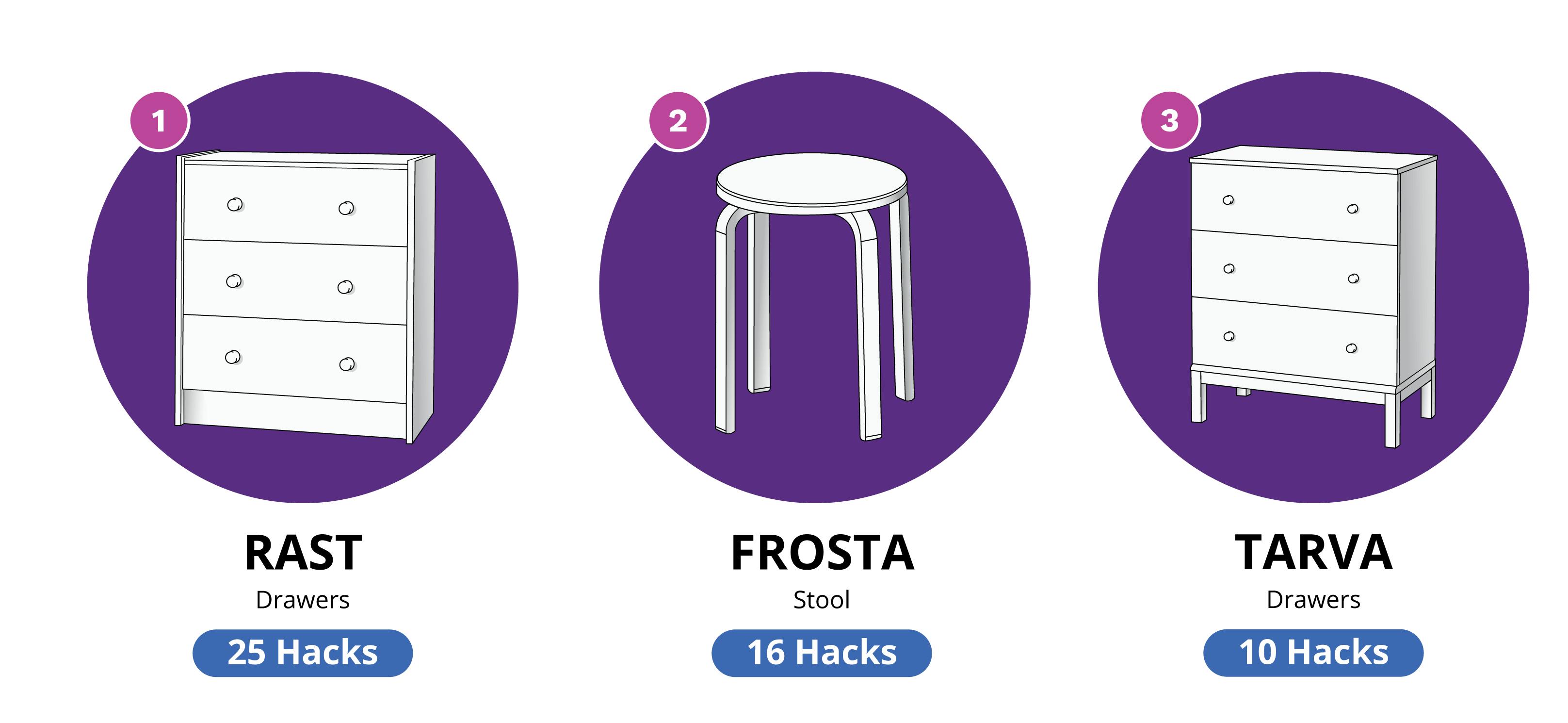 Ashton Berkhauer from MoneySuperMarket.com said: "Even with the instructions to hand, assembling flat-pack furniture can be a stressful experience, so modifying your homeware to create something completely new might be a little daunting.
"However, upcycling your furniture could be a great way of saving money when redecorating or moving home if you have the courage to do so.
"Like any DIY project, it's a good idea to take a moment to consider the job at hand before getting started, and make sure you have the right tools, safety equipment and skills needed for the job or if you'd be better off contacting a professional to do the work for you.
Methodology
MoneySuperMarket analysed the 1,000 most recent posts from ikeahackers.net to find both the product range and type used in each hack in order to find the items of furniture with the most potential configurations.