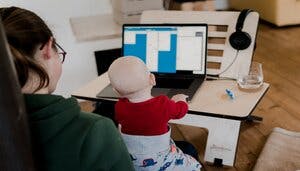 Working from home can put pressure on your internet connection – especially if there's more than one remote worker in your household. Find out how to upgrade your broadband with MoneySuperMarket
Whether you're working from home due to Covid-19 or you always work remotely, there's little more frustrating than a slow or unreliable internet connection.
Upgrading your home broadband package will allow you to be more productive – and could help to cut your stress levels too.
Find out more about how to get the broadband connection you need to work remotely with our short guide to broadband for home working.
What's the difference between business internet and home internet?
Business broadband packages typically offer faster upload speeds and better security than home broadband deals. Many also offer enhanced customer service, as well as a 'static' or unchanging IP address – the number that allows your computer to communicate with other devices – meaning you can use it to run a server, for example.
They are generally more expensive than home broadband plans, but can be a good choice if you run a business from your home.
Can I use my home broadband for business?
Most people can use a home broadband package to work from home – especially if the situation is only temporary. However, for an easy working life, a plan that offers a faster connection is probably the best bet. If several members of your household work from home or use the internet for school work or gaming, it may also prove sensible to install a separate connection for your home office.
This way, you minimise the risk of a family member's actions compromising the security or speed of your connection. It also means you have a back up if one connection fails (especially if you choose plans from two different providers).
Can I use a hotspot to work from home?
Using the wireless data plan on your mobile phone to create a hotspot is one way to access the internet in your home. However, mobile broadband for working from home can prove a less reliable service than a home broadband connection. As the limits on data are generally relatively low, you may also find the charges you pay for exceeding your limits are more expensive than a home broadband package.
What's the minimum broadband speed for working from home?
If you're upgrading your broadband package to work from home, it's best to choose a deal with an upload speed of 5Mbps or more. You may be able to manage with a lower speed if you are the only one using the connection and your workload mainly involves sending emails and downloading the occasional word or excel file. But video calls require a minimum speed of 1.2Mbps, and the extra speed will come in handy if you work with large files or if other people log on at the same time.
The best type of broadband for speed is currently fibre (or 5G – see below), but you can only get that if it's available in the area where you live. Whatever type of connection you get, you should also look for a package that includes unlimited data, as broadband plans with monthly data usage caps can become very expensive if you go over the limit.
How does 5G home internet work?
The 5G network can support high upload speeds of 10 Gbps, meaning it's as fast or faster than most home broadband packages. It also works independently of your landline, meaning that if you move house you can simply take your 5G router with you and turn it on again at your new address.
However, like fibre broadband, 5G home internet is not yet available everywhere in the country. And if your wireless connection is poor, you're probably better off sticking with a fixed-line broadband service for now.
How do I find the best broadband for working from home?
To find the best broadband package for your working from home requirements, you first need to think about how you and the people you live with use the internet. If your family watches a lot of television, for example, a broadband and TV bundle, or a broadband, TV, and phone bundle, may be the best choice.
When it comes to speed, the general rule is that the more people who will be using the internet at the same time, the faster the upload speeds you'll need. You can check your current upload speed using our free Broadband Speed Test, which will also show you whether or not you're getting the speed you've been promised. Most home broadband routers can support up to 250 connected devices, but the overall speed will be divided between the devices, which could include electrical appliances and cameras as well as computers and smartphones.
When choosing broadband for working from home, you should also consider the installation costs, as well as how long you expect to need the service. If, for example, you're only working at home due to Covid-19, a shorter contract may be a sensible option as there's no point paying for higher speed broadband if you no longer need in a few months' time.
Compare broadband offers
It's easy to find the right package when you compare broadband deals with MoneySuperMarket.
All you need to do is enter your postcode and you'll be given a list of all the deals available in your area. You can compare tariffs and providers by connection speed, download limits, and the overall monthly cost, as well as how much each package costs to set up. Then just click on the deal you want to finalise your purchase.