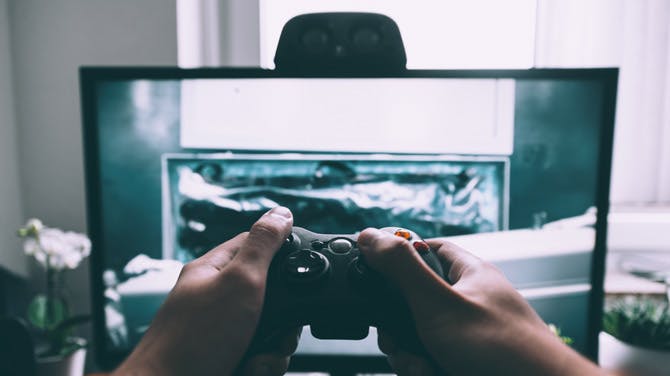 Lag and poor responsiveness can really ruin an online gaming session. Make sure you've got a broadband package that's fast enough for the job with our one-stop guide.
You're in the middle of playing your favourite game when disaster strikes… your internet slows to a crawl and brings your session to a screeching halt.
It's an issue for those with internet-connected consoles, tablets and phones, especially when playing with others online.
So, what broadband speed do you need for gaming? And what can you do to ensure your existing internet can handle your latest gaming obsession?
Read on and we'll walk you through it...
What internet speed is good for gaming?
While you can play games online using basic ADSL broadband with internet speeds of as low as 11Mbps, for a good gaming experience on the best consoles with 4K, it's advisable to have speeds above 25Mbps.
That means you'll require a fibre broadband connection, either one that comes into the home via your street cabinet or a top-end, full-fibre offering.
For an even better experience, it's advisable to opt for 50Mbps or above.
Such speeds are available on standard, fibre-to-the-cabinet (FTTC) plans and you can go even faster with fibre-to-the-premises (FTTP) if you have such technology installed in your area.
Remember that you'll need to consider what else the internet is being used for in your home.
Smaller households may wish to go for a slower plan, while homes with people using lots of connected devices at the same time should go for something faster, so that all needs can be met simultaneously, whether gaming, streaming or browsing the web.
What kind of broadband should I get for gaming?
It is advisable to get fibre broadband for gaming, as slower ADSL may cause lagging and slowness when playing on top-end consoles.
You can get standard fibre, with speeds ranging from 30Mbps to 67Mbps, or opt for full fibre, with speeds up to 900Mbps.
Full-fibre is only available in areas where fibre-to-the-premises (FTTP) broadband has been installed.
Use our postcode checker to see what kind of broadband you can get where you live.
Does internet speed affect gameplay or graphics?
While internet speed is important to consider when it comes to gaming, perhaps the key factor is lag.
Also known as ping rate, this is measured in milliseconds. A slower ping rate means that the time between you pressing a button on your controller to your action showing on your screen will be longer.
This could be the difference between winning in a shoot out or scoring a winning goal in a key match on FC24.
A faster 100Mbps full-fibre package can ensure faster speeds, lower lag and therefore a smoother gaming experience.
It will also mean there's ample bandwidth for others in the home to get online, without impacting your gameplay.
What could be causing connectivity issues aside from internet speed?
You may find that speed alone is not the main culprit when it comes to poor connectivity during gaming.
Try using a wired rather than wireless connection when gaming, as this will offer a faster, more stable speed. This can be especially helpful when playing on a console or PC.
Your router may also be the source of the problem. Try restarting it or placing it away from other electronic devices and in a high position so that its connection is as powerful as possible.
You may find that you have an old router that is not capable of handling the latest console tech.
If this is the case, ask your provider for a new one or look into changing to a new provider all together.