Compare travel insurance for Tunisia
Your next trip to Tunisia should be remembered for the right reasons, so it's important you get travel insurance to protect you
Why do I need travel insurance for Tunisia?
Travel insurance to Tunisia should be a vital part of your holiday checklist. It will protect you against the unexpected during a time meant for relaxation.
Travel insurance can help cover the costs if the worst happens while you're away and you need some support. From lost luggage or a stolen passport to medical treatment and emergency repatriation, travel insurance serves as a safety net when you need it most.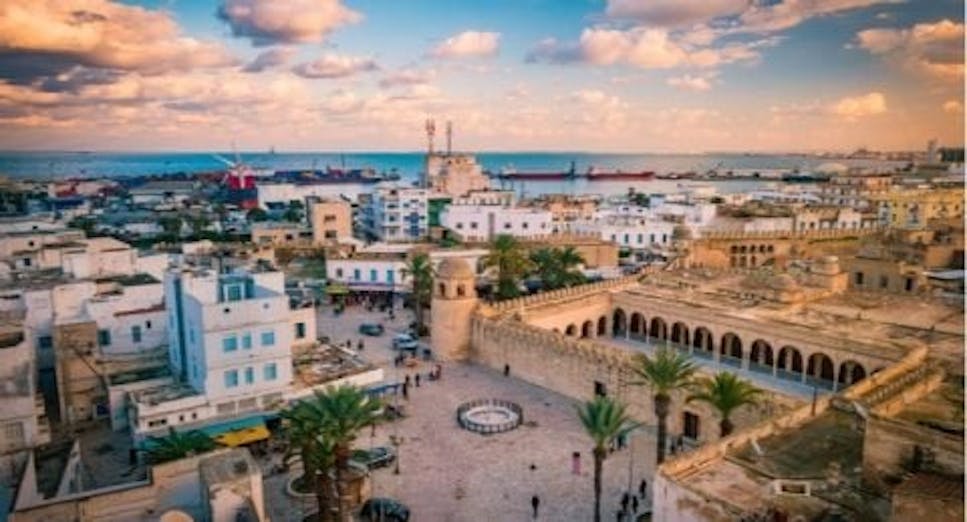 What type of travel insurance do I need for Tunisia?
While Tunisia is an African country, some travel insurance providers class Tunisia under Europe for travel insurance based on its level of risk. For this reason, you might only need to buy European travel insurance instead of worldwide cover. However, you should check with your provider beforehand to ensure you have the right policy.
Just going to Tunisia? A single-trip travel insurance policy may be the right option for you. Single-trip cover is designed for a one-off trip. It will protect you from when you take out your cover to when you return home.
If you're going on multiple holidays throughout the year, including Tunisia, an annual multi-trip policy may suit you best. Annual travel insurance policies are designed for regular travellers, covering you for multiple trips throughout the year.
If you're backpacking across the globe and stopping off in Tunisia, backpacker travel insurance may be the right option for your needs. You can be covered for one trip to multiple destinations over an extended period of time.
What should my travel insurance policy for Tunisia include?
Your travel insurance to Tunisia is designed to cover you against unexpected mishaps while you're on your travels.
Your travel insurance policy for Tunisia should include:
Medical cover: Cover for medical treatment, usually up to a limit of £5m. Some travel insurers may raise this for an additional premium, which is even more important if you live with a pre-existing medical condition. It's important that you let your travel insurance provider know if you live with a pre-existing medical condition, so you're covered if you need medical assistance while you're away.

Repatriation: Covers you if you need to be brought home to the UK, usually by air ambulance as a medical emergency.

Cancellation: Covers you if you need to cancel your trip unexpectedly or if you cut your holiday short (known as 'curtailment') because of an emergency.

Travel delays and missed departures: If you miss your flight due to an event beyond your control, such as your car breaking down or a family emergency.

Baggage cover: If your belongings are lost or stolen during your trip. You may need to cover high-value items you're taking with you separately, like your camera or jewellery.

Cash cover: If your money is lost or stolen while you're away. Most insurers will only cover you up to a specific amount, usually £300 as standard.

Gadget cover: To cover you if items, such as your mobile phone or laptop, are stolen or damaged while you're on holiday.

Travel abandonment: For unusual circumstances where the journey becomes unfeasible.

Passport cover: provides protection should your passport be lost or stolen, as a replacement while you're abroad can be expensive.

Personal liability: Covers you in case you inflict injury to someone else by accident while you're away. It will also cover you for the loss or damage of their possessions.

Terrorism: In recent years, Tunisia has seen incidents of terrorism. Terrorism cover can give you peace of mind while you're away. It isn't covered as standard with travel insurance policies and is offered as a bolt-on to your cover for an additional premium.
What exclusions do I need to look out for?
If you're looking to personalise your travel insurance to suit what you'll be doing on your trip, you'll need to look out for extras you can add to your policy. This is because some cover options won't usually be covered as standard. This means you may need to pay extra money to cover yourself and your trip, depending on your situation and holiday plans.
These extras can be added to your travel insurance. Things to watch out for include:
Pre-existing condition travel insurance
If you live with a pre-existing medical condition, or have had one in recent years (different insurers' rules may vary) that you've received treatment for, it's important you let your insurer know. This is because, while you're away, you may only be covered for medical treatment for that condition if you've disclosed it to your insurer and it's covered by your policy.
If you live with a medical condition, you may have to pay more for your travel insurance. This is because your policy will be tailored to you and your level of risk. It's important to let your insurer know of any pre-existing medical conditions you have, or have had, so your policy can protect you should the unexpected happen.
FCDO advice 
It's important to always check the FCDO travel advice for Tunisia before you go on holiday. Some insurers will make your policy invalid if you travel against government advice. Worried about COVID-19 affecting your travel plans? Take a look at our guide on coronavirus and travel insurance.
Sports and activities 
If you're planning on participating in higher-risk activities while you're in Tunisia, you may choose to take out adventure cover. Activities such as scuba diving have limits on what exactly is covered. Hence, it is important to make sure you check with your insurer that your holiday plans are covered before you go.
Is healthcare free in Tunisia?
Medical treatment isn't free for foreign travellers in Tunisia. This means all doctors' fees, medication, and hospital treatment in private clinics must be paid for. Ultimately, this can be quite expensive. With this in mind, travel insurance to Tunisia is important to avoid large medical bills should you need medical treatment while you're away.
While Tunisia is often listed under Europe for travel insurance, Tunisia isn't covered by the new the Global Health Insurance Card (GHIC), or the previous European Health Insurance Card (EHIC) which is being phased out. So travel insurance is even more important in protecting you should the unexpected happen and you need medical assistance.
Top tips for travelling to Tunisia
From historical sites to the Mediterranean coastline, Tunisia has something for everyone. Into your history? The first Roman colony outside of Italy was in Tunisia. Looking to unwind? Opt for a thalassotherapy treatment in a luxury spa.
Here are just a few of our things to note when travelling in Tunisia:
When to visit: It's said that the best time to visit Tunisia is in the spring, from March to June. Alternatively, September and October are good months too. This is to avoid the heavy rainfall between October and March.

Getting around: Taxis are very cheap in Tunisia compared to our usual standards, so take advantage of the inexpensive transport.

Don't walk, doolesha: You don't walk in Tunisia, you 'doolesha'. This is a Tunisian word roughly translated as 'strolling at a slow pace for pleasure'. This is considered the only way to explore the old 'medina' (city).

Two types of café: There are two types of café in Tunis (the capital city), those for men and those for women. For men, an all-male 'maqhwa' can be a great place to relax, but Tunisian women tend to avoid these places.

France's influence: France colonized Tunisia in 1881, so French influence still exists in the countryThis means you'll still be able to get by with French phrases.

Shopping etiquette: Souks – sets of shops and boutiques in the city of Tunis – are very busy places. They can feel overwhelming if you're not used to them! Looking to get a bargain? Haggling rules apply. A good approach is to divide the price you're told in half (and maybe half again!). It's recommended not to buy gold or silver that hasn't been weighed.
Get the best price on travel insurance to Tunisia
Are you planning your next trip to Tunis or Carthage? Tunisia is rich in beautiful landscapes, sandy beaches, and ancient history. Why not take out travel insurance to make the most of your holiday? This way, you'll be able to enjoy your stay with well-deserved peace of mind.
MoneySuperMarket is always happy to help keen travellers. All you need to do is provide us with a few details about you and your plans, and we'll take care of the rest. We'll scour our market and find the best deals for your pockets and needs. Once you've chosen the right policy, click through to the provider and finalise your purchase.