Compare travel insurance for Morocco
Enjoy the 'jewel of North Africa' – just make sure you've got your insurance first, so your Moroccan holiday is fully covered.
Although it's only an hour's ferry away from Spain at its northernmost point, Morocco is an exotic and enchanting destination for any holiday.
In Morocco, tradition is still very much alive. You can take a camel trek across the desert, see leather being made with the same techniques craftsmen have used for thousands of years, or visit beautiful towns like Chefchaouen, where every building is painted in stunning blue. The country also has fantastic beaches, awe-inspiring mountains, and one of the world's great cuisines.
Every trip to Morocco is an adventure. However, it's essential to get insured before you go so you can explore with peace of mind. Read on to find out everything you need to know about insurance for your Moroccan holiday and see our travel tips to help make your experience unforgettable.
Do I need travel insurance for Morocco?
If you're planning a holiday to Morocco, you should always make sure you've got travel insurance before you set off. That way, you'll be protected against many common travel problems while on your trip. For instance, travel insurance can cover you against illness, accidents, lost baggage, and theft.
Travel insurance also means you'll be able to reclaim your costs if you have to cancel or cut short your trip in an emergency.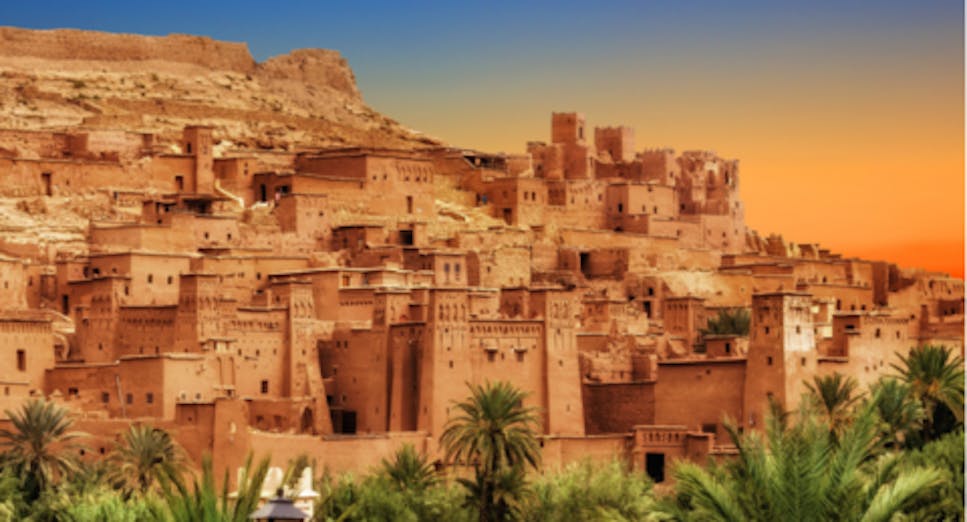 What type of travel insurance do I need for Morocco?
Although Morocco is in Africa, some insurers do include it as part of their European travel insurance packages. Other insurers keep Morocco in their worldwide insurance deals. If you're visiting other African countries alongside Morocco, worldwide travel insurance is best. And if you do choose to buy European travel insurance, make sure Morocco is included in your cover.
There are many different types of insurance that might suit your holiday. When you find the best travel insurance deals through MoneySuperMarket, you'll be able to tailor your insurance to your needs. Some categories to watch out for:
Single-trip insurance
If you only want to cover one trip to Morocco, select single-trip travel insurance and type in 'Morocco' as your destination.
Annual multi-trip insurance
If you take three or more holidays a year, it might save money to buy an insurance policy for the entire year.
Backpackers' insurance
If you're visiting Morocco as part of a backpacking holiday, you can find great deals on backpackers' insurance, which can cover you for longer trips or if you'll be visiting several different countries.
Can I use my EHIC or GHIC in Morocco?
No, your European Health Insurance Card (EHIC) or Global Health Insurance Card (GHIC) won't be valid in Morocco. Some travel insurance policies will include Morocco under a European package, but it's important to remember that the country itself is not in Europe. Any healthcare you access in Morocco will have to be paid for out of your own pockets or by a travel insurance policy.
What should my Morocco travel insurance include?
When you're choosing a travel insurance deal for your holiday to Morocco, look out for these important features your cover should include:
Medical cover
Medical cover will help you cover the cost of any emergency medical treatments you'll need while you're on holiday
Cancellation cover
This cover pays out up to a certain amount if you need to cancel your holiday or cut it short due to an emergency.
Repatriation
If you need to return home, this will cover the cost of bringing you back to the UK.
Baggage cover
This will cover you in case any of your luggage is lost or stolen during your trip. Baggage cover does have a limit for what it will pay for. So, if you're taking any particularly expensive items, such as jewellery, make sure they'll be included in your insurance.
Gadget cover
Receive compensations in case any valuable electronics, such as a mobile phone or a laptop, are lost or stolen.
Passport cover
This cover protects you against extra expenses if your passport is lost or stolen while you're abroad.
What insurance excess do I need?
You should also keep an eye on your policy's excess – that's the amount you'll have to pay yourself towards any claim. A higher excess usually means your premium is cheaper – but make sure it's an amount you'll be able to pay.
The full details of your insurance will be in your policy document, so make sure you read it in full before you choose a travel insurance deal.
What won't be covered by my Morocco travel insurance?
There are some features that may not be included in your insurance for your trip to Morocco. These are known as exclusions. Make sure you know what you can and can't claim before you make your holiday plans.
Adventurous sports and activities
Some insurance policies might not cover you for accidents or injuries you sustain during activities like skiing and snowboarding, or even hiking or kicking around a football on the beach. MoneySuperMarket's insurance comparison tool allows you to quickly find out what activities will and won't be covered in any travel insurance policy. If you plan on enjoying any physical activities on your Moroccan getaway, check that they're included first.
Pre-existing medical conditions
If you have a pre-existing medical condition, or you've had one in the past for which you've received advice or treatment, you may be charged a higher premium. If this is the case, it may help to take out a special policy for pre-existing conditions.
Civil unrest, war, or terrorism
Morocco is a stable and peaceful country – however, keep in mind that you may not be covered for incidents related to civil unrest, war, or terrorism, so exercise caution. It's possible to purchase an additional policy to keep you protected.
Areas against UK Government advice
Your policy will be invalidated if you travel to locations that the Foreign, Commonwealth & Development Office (FCDO) has said British holidaymakers should avoid. While Morocco is safe for travellers, make sure you keep up to date with the FCDO's travel guidelines for Morocco before you plan your trip
Accidents caused by alcohol or drug use
If you suffer an accident or injury that can be linked to you drinking too much or using illegal drugs, insurers are likely to refuse your claim.
Can I travel to Morocco with a pre-existing medical condition?
Some travel insurance policies may not cover your pre-existing medical condition. However, you should be able to add it to your policy. This may make your insurance policy more expensive, but it will cover you if you have an emergency whilst in Morocco.
You must not lie to your insurer about any pre-existing medical conditions that you have, as it may invalidate your insurance should you be required to use it while in Morocco.
When should my Morocco travel insurance policy start?
When you choose an insurance policy, make sure you're covered from the day you book your trip, not the day you actually leave. That way, you'll be covered in case you need to cancel your holiday before you set off.
Top travel tips for Morocco
Morocco is a stunning place – but it can be hard to find your feet amid a very different culture. These Morocco travel tips will help you make the most out of your holiday:
Experience both snow and sun
Morocco is one of the only places in the world where you can ski and surf on the same day. Head up to Oukaïmeden, Africa's highest ski resort, for a morning on the powder before hitting the balmy coast for some late-afternoon waves.
Check that your travel dates do not conflict with national holidays
When planning your holiday, it's a good idea to keep on top of the local calendar. Morocco is a Muslim country, so markets and attractions are often closed on Fridays for prayers. If you're visiting during Ramadan, it may be hard to find a meal outside of tourist areas, as many locals will be fasting during the daytime.
Enjoy the markets
Morocco is justly famous for its fabulous souks and medinas – sprawling market districts where you can find spices, fragrances, local handicrafts, and much more besides. Haggling is part of business here, so give it a go. It's not rude to seek a better deal: vendors will usually start by offering tourists an astronomical price, and you'll be expected to bargain them down. One good rule of thumb is to offer one-third the price you're quoted. If you do change your mind about something, though, remember that pretending to walk away is a common haggling strategy in Morocco – so don't be surprised if your vendor doesn't take no for an answer.
Check if your saffron is genuine
Delicate saffron is used in all manner of Moroccan dishes, and it's a great gift to bring home. Just make sure it's the real thing before you buy. Ask your vendor to put a few strands in some water. If it stains the water yellow, it's real saffron. If it stains the water red, it's been artificially dyed – best to avoid it.
Be careful with your camera
Although Morocco is full of fantastic sights, use good etiquette when taking photos. Many Moroccans – especially women – might not like being photographed, and some street vendors might demand money if you take a snap of their stalls.
Dress considerately
It's important to respect Moroccan culture while you're travelling – especially if you want to venture outside tourist areas. While shorts are acceptable on men, women should keep their knees and shoulders covered.
Keep to cash
The currency of Morocco is the dirham which is also a closed currency, which means you won't be able to change your money until you're in Morocco. It's a good idea to have plenty of cash handy: many businesses won't take cards, and even in big cities, ATMs will sometimes run out of currency.
Some mosques are off-limits
Sadly, if you're not Muslim, you may not be able to go inside many of Morocco's beautiful and ancient mosques. However, there's one that's open to all tourists: the Hassan II Mosque in Casablanca, the world's third-largest mosque, with a stunning minaret 210 metres high.
Parlez-vous Francais?
The official languages of Morocco are Arabic and Berber. You'll be able to get by with English in the bigger cities and popular tourist spots, but a lot of Moroccans also speak French. If you know a few words, it could come in handy breaking the language barrier or deciphering restaurant menus.
Beat the scammers
Especially in tourist cities like Marrakech, you're likely to be approached by a scammer. They may offer to take you on a guided tour or show you to a fantastic out-of-the-way restaurant or shop. It's best to politely refuse: if you want some local knowledge, there are plenty of licensed tour guides available.
Get the best price on travel insurance for Morocco
Travel insurance for Morocco is essential to keep you protected, but not all policies are the same. To find the cheapest Moroccan travel insurance that meets all your needs, it's important to compare before you buy.
MoneySuperMarket's comparison tool asks you a few simple questions about you and your holiday: where you are going, how long for, and what you want your policy to cover. In just a couple of minutes, you can compare prices from a range of leading travel insurers.