Compare travel insurance for Greece
Explore the beauty of Greece, and don't forget to book travel insurance so you can kick back, relax and enjoy your break
From incredibly ancient monuments to the white and blue clifftop villages, Greece is the ultimate postcard location – the gorgeous weather is just a bonus. But, while you can plan an amazing trip, you should always be prepared for any accidents or emergencies that could occur. That's where travel insurance for Greece comes in handy.
Do I need travel insurance to go to Greece?
Greece is a beautiful place and a popular holiday destination for many Brits, but its location in Europe might lead some holidaymakers to believe that travel insurance isn't a necessity.
However, travel insurance is still an important part of your holiday booking and has a lot of benefits that can give you peace of mind while abroad.
A good policy will protect you in case you fall ill, have an accident, lose your belongings, or become the victim of a crime during your Greek holiday.
In addition, travel insurance will cover you if you have to cancel or cut your trip short. This prevents you from losing all the money you've spent on it. Knowing you're protected from all these possibilities will help you fully relax and get excited about your break away.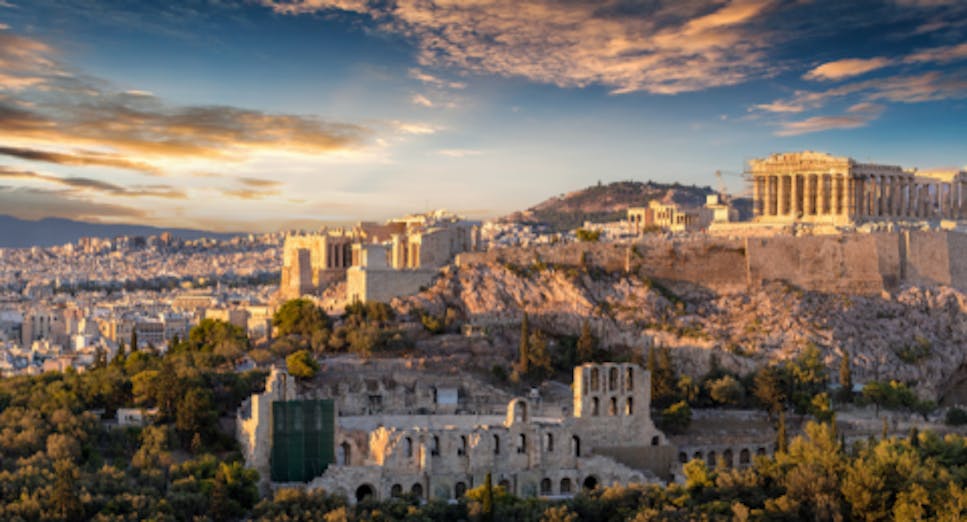 Will an EHIC or GHIC cover me in Greece?
As Greece is part of the EU, an EHIC (European Health Insurance Card) or GHIC (Global Health Insurance Card) holder will be covered in Greece. The EHIC/GHIC schemes provide UK and EU visitors to participating countries access to the same state-run healthcare that citizens of those countries would expect to receive for free or at a subsidised cost.
Britain is still participating in the EHIC scheme even though it is not part of the European Union. EHIC cards issued in the UK will continue to be accepted in the EU until they expire. The new UK GHIC will replace the EHIC, but they will work in the same way in the EU. To can apply for a GHIC through the NHS.
The EHIC and GHIC are useful safety nets, but they're no substitute for good-quality travel insurance. An EHIC/GHIC won't cover repatriation if it's needed, would not cover the cost of airlifting you to hospital in an emergency, and provides no protection in the event of other emergencies, such as repatriation, baggage loss, or the theft of your purse or wallet.
What should my travel insurance policy for Greece include?
A good travel insurance policy for Greece should include the following:
Medical cover for emergency treatments

Cover for repatriation to the UK, should this be necessary

Cover for emergency cancellation or curtailment of your holiday

Delayed and missed departure cover – in case of events out of your control (such as extreme weather) cause you to miss your plane

Travel abandonment cover. An unusual occurrence, travel abandonment is when you give up trying to get to your holiday destination because the journey has become impossible for some reason

Cover for lost and stolen baggage

Cover for the loss or theft of your passport. This may not come as standard, but it's probably worth adding

Personal liability cover. This protects you in case something you do injures a third party, causes the loss of their possessions, or destroys something that belongs to them
Travel insurance for Greece: exclusions and what to watch out for
Travel insurance is a valuable safety net, but as with all forms of insurance, there are certain things it won't cover.
Most travel insurance policies exclude the following:
Cover for an illness or injury that arises from a pre-existing medical condition. This is any condition that's already diagnosed or whose symptoms were discussed with a doctor before taking out the policy. If you're in this situation, you may have to 

Cover for unexpected incidents such as terrorism or war, civil unrest, or natural disasters

Cover for any accident, illness, or injury that arises as a result of intoxication

Cover in any location that the Foreign, Commonwealth & Development Office (FCDO) has advised British tourists not to visit

Cover for accidents or injuries that occur during sporting activities such as skiing, scuba diving, and paragliding. If you plan on taking part in these types of activities, get 
What excess should I choose for my travel insurance?
Make sure you check the excess on your travel insurance policy before you buy it. A higher excess might make your premium cheaper, but this is the sum you will have to fork out before your insurer will pay any claim you make – so it has to be affordable.
What date should I start my travel insurance policy?
Don't delay the beginning of your travel insurance policy until the day you are due to go away. If you do and if for any reason you are forced to cancel the trip you have planned, you won't be covered for the cancellation and could end up seriously out of pocket.
Starting your travel insurance cover from the day that you book your holiday will allow you to make the most of it. This means that if you are injured, plans are cancelled, or another emergency occurs, you may be able to claim back your money.
Do I need extra cover for travel insurance for Greece?
While a Greek retreat to the beach with a book and cold drink in hand is some people's idea of an ideal holiday, it's not everyone's – and it may not be yours. If you're looking for a little more excitement on your holiday to Greece, you may need extra cover for some more adventurous activities. Consider your plans when you visit Greece and ask if you need:
Top travel tips for Greece
Greece is a beautiful country, and these simple tips will help you make the most of your time there.
Carry cash
Many places in Greece won't accept debit or credit cards, so it's best to have a healthy supply of travel money if you plan on spending.
Enjoy the views
When you're travelling around Greece, make sure you stop along the way to enjoy the stunning landscape. It's often the most unassuming and sleepy villages that will deliver the most unexpected views.
Plan ahead if you require accessibility
If you or one of your party has mobility issues, you will need to plan in advance for your trip to Greece. Because so many of the buildings have a rich history, it often means things like ramps are scarce, although investments are being made to improve this aspect.
Watch your valuables
In Athens, as in any large city, it's sensible to keep an eye on your belongings, particularly if you are travelling on the Metro.
Watch out when driving
If you plan on driving when you get to Greece, you should know that it's quite different to the UK. Local drivers will often ignore certain rules of the road. Take extra care and expect the unexpected.
Embrace Greek time
Don't expect things to be punctual in Greece; life is much more relaxed. The best thing to do is chill out and enjoy the slower pace.
Watch out for shop opening hours
The operating hours for shops in Greece are not like the UK. Shops are generally open from 9 am to 3 pm and then from 5 pm to 9 pm on Tuesdays, Thursdays, and Fridays, and from 9 am to 5 pm on Saturdays, Mondays, and Wednesdays.
Support local
If you stick to an all-inclusive holiday, a lot of the money you spend will not stay in Greece. If you eat at independent restaurants and stay at an independent hotel or villa, you'll be supporting the locals and getting a better taste of the culture.
Don't flush toilet paper
A lot of the waste pipes in Greece are very old, narrow, and can become blocked easily. Places that have this issue will generally display a sign asking you not to flush the paper.
Explore the mainland
Like a lot of holiday destinations, certain locations will be teeming with tourists. However, if you venture into the mainland, you'll come across lots of places that are worth visiting that are much less busy. And don't worry if you get lost – it's all part of the fun.
Remember the tourism police
If you run into any issues when you are visiting Greece, the tourism police should be able to help. They speak many languages and can be contacted by calling 171 from anywhere in Greece.
Compare travel insurance policies for Greece
The price of a travel insurance policy varies. Different companies will sell the same level of cover for the same country at completely different prices, so it's important to compare before you buy.
MoneySuperMarket's comparison tool asks you a few simple questions about you and your holiday: where you are going, how long for, and what you want your policy to cover. In just a couple of minutes, you can compare prices from a range of leading travel insurers.