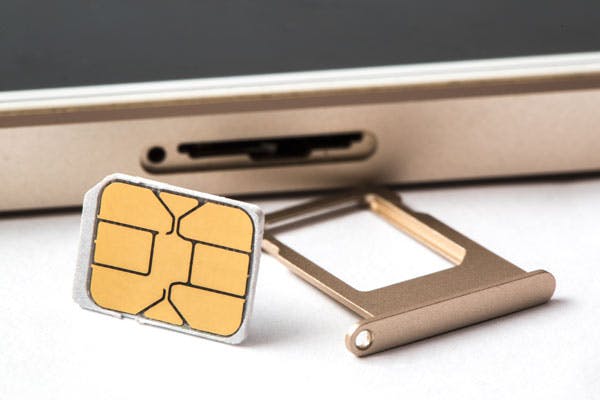 Our page goes through everything you need to know when comparing SIM only deals.
What is a SIM only deal?
A SIM only deal offers a package of minutes, texts and mobile data for a monthly cost, much the same as traditional mobile phone deals. The main difference is that you don't get a new phone included in your contract – you get the SIM, and just the SIM.
Why choose a SIM only deal?
A SIM only deal is a great choice if you're happy with your phone, or want to buy a new one, without signing up to a long-term mobile phone contract.
Most SIM only deals work on a monthly rolling basis, so you're free to change or cancel your plan whenever you like. Plus, there are plenty of affordable plans out there, with monthly costs starting from £5.
Additionally, buying a phone outright and getting a cheap SIM-only deal usually works out cheaper than paying off a mobile phone contract.
What are the benefits of SIM only deals?
Flexibility: Many SIM only deals are available on one-month rolling plans. So, instead of being tied into a 12 to 24-month phone contract, you have the flexibility to change your plan as you please
Cheaper: Deals for new handsets are expensive. As you're not forking out for one with your SIM only contract, you'll drastically cut your monthly payments. The cheapest SIM only plan can be had for as little as £5
Keep your existing phone or buy a new one: As you're just paying for the SIM card, you can keep your existing phone or buy a brand new one – you won't have to wait until you've paid off your mobile phone contract before upgrading
Easier credit check – or no credit check at all: Because mobile phone networks aren't 'lending' you a handset, you likely won't need to pass a credit check when signing up to a SIM-only plan – and if you do, it should be easier to get approved
How does SIM only work?
SIM only deals are simple. All you need to do is sign up to a package of minutes, texts and data that suits your needs.
Once you receive the SIM card, you just need to insert in into your phone – then you're all good to go.
Which mobile phone network is best?
This really depends on what's most important to you. To help you make the most informed decision, here's a snapshot of what the four major network providers have to offer:
All four network providers offer SIM plans on one-month, 12-month, and 24-month contracts.
Which mobile providers are powered by other networks
While the four main networks all offer good SIM only deals, smaller providers tend to be more affordable.
And what's more, they all make use of the big providers' networks, meaning you get the same high-quality coverage at a fraction of the price.
Known as MVNOs or mobile virtual network operators, they're a very viable alternative to the household-names. Smaller networks to consider include:
SMARTY - Owned by Three, it has access to the fastest 5G network in the UK and all its SIM only plans come with 5G support.
iD Mobile - Budget network iD Mobile also uses Three, meaning you get snappy 5G access that doesn't break the bank
Giffgaff – Another budget network that uses O2 and has access to its abundance of WiFi hotspots
Lebara - Lebara uses Vodafone's network, including its 5G and roaming service and 4G calling technology
VOXI - Owned and run by Vodafone, VOXI has cheap deals that include free streaming and social media, preserving your data allowance in the process
TalkHome Mobile - Runs on EE's network and stands out for its affordable, flexible SIM plans
Lycamobile - Powered by EE, Lycamobile pairs great value SIMs with attractive allowances of international-calling minutes
Can I trust smaller, less well known networks? Is the service as good?
Of course – just because a network is less well-known doesn't mean it's any less trustworthy than the major network providers.
To provide their services, they use one of the four major networks. For example, giffgaff uses O2's network, while Smarty piggybacks Three's network. Therefore, they provide the same widespread 4G and 5G coverage as those big names.
What's more, smaller networks typically have much cheaper SIM deals. This is because they have less overheads, and don't offer the extra perks and benefits you'd get with bigger networks. As a result, this translates into big savings on SIM-only contracts.
Customer service tends to be online rather than over the phone, but there's a wide network of users and staff who can troubleshoot any issues.
Another advantage is that many small networks still offer inclusive EU roaming with their SIM plans.
Affordable network providers include Tesco Mobile, SMARTY, iD Mobile, and giffgaff.
How easy is it to switch networks?
Switching networks is quick and straightforward. In fact, thanks to Ofcom's Text to Switch regulations, you can get your PAC code instantly. Just text PAC to 65075 to get your code.
Once you're out of your current contract term, start shopping around for a good deal.
If you want to keep your number, you'll need to contact your current provider to get what's called a Porting Authorisation Code (or PAC code). Once you have the code, give it to your new provider to start the switching process.
For more information, read our guide to switching mobile networks.
What are the pros and cons of a SIM only deal?
Undecided if a SIM only deal is for you? Here's a snapshot of the pros and cons to help you make your mind up:
Pros
Much cheaper than a pay-monthly phone contract. As there's no handset to pay off, you're only paying for a monthly allowance of minutes, texts and data
Widely available on rolling 30-day contracts, making them much more flexible than standard contract handsets
The best option if you have a bad credit rating, as it's easier to pass a credit check – and often there's no credit check at all
Cons
You'll need your own handset and, if it's a few years old, you may need to pay for warranty
If you're buying a new phone outright, this is a huge cost. Pay-monthly phone contracts would help to spread that cost
Should I switch to SIM only?
Switching to SIM only is a great idea if you're happy with your existing phone and have come to the end of a long contract.
It will slash the cost of your monthly bill and give you greater flexibility, as well as a better data allowance, plus roaming in some cases.
However, if you want a new phone, you may find that SIM only isn't always the best bet.
If you have the cash for an up-to-the-minute phone, it might be, but considering the best new phones cost upwards of £900, a phone contract that spreads that cost over 24 months might be easier to afford.
Our guide to phone contracts vs SIM only plans explains it all in greater depth.
What types of SIM only deals are there?
With a SIM only deal, you essentially only pay for a monthly allowance of calls, texts and data. That said, SIM only deals come in many shapes and forms.
You might want to save money and get a simple, cheap SIM-only deal. On the flip side, paying more for an unlimited data SIMs means you can stream as much video and music as you like.
Pay as you go SIMs (PAYG) don't require a credit check or signing up to a contract. Monthly SIMs fall under the umbrella of PAYG, though some network providers still offer traditional PAYG SIMs in which you top up your SIM with credit and pay for every minute, text and MB of data used.
Some networks also offer data-only SIMs, which are ideal if you have a tablet, laptop, or MiFi you'd like to use on the go.
Lastly, SIM only deals come on a variety of contract lengths. Depending on the network you go for, you'll be able to choose between 30-day, 12-month and 24-month contracts.
How much should I pay for a SIM only deal?
This really depends on how much data you're planning on using (as most SIM only plans come with unlimited calls and texts these days).
For example, if you use your phone to watch movies and TV shows on the go, you'll need a large data allowance. You should consider a plan with a generous data allowance – say, anywhere between 60GB to 200GB a month – or even an unlimited data SIM.
These cost more than a SIM deal with a small data allowance. For an unlimited data SIM deal, you can expect to pay an upwards of £20 a month.
On the other hand, if you're not a heavy phone user, or you mainly connect to Wi-Fi when using internet on your phone, you'll be better off paying for a smaller data allowance. An entry-level SIM plan gives you 1-4GB of data per month, and typically costs £5-6.
What contract lengths are available?
SIM only deals are available on a wide variety of contract lengths, including 30-day SIM, 12-month and 24-month contracts.
If you're willing to commit, a longer-term contract will work out cheaper. However, a monthly SIM offers a lot more flexibility – and you can switch to a more affordable monthly plan whenever you want.
How much data do I need?
How much data you'll need depends on how you usually use your phone. For example, if you only use your phone to check your emails occasionally or browse the internet from time to time, 1-2GB will do the job.
But if you like to listen to podcasts, watch video, stream music, or scroll through social media on the go, it may be worth paying more for a bigger data allowance. You could get 10GB, 100GB, or even unlimited data.
Our page, How much mobile data do I need?, goes into more detail.
What incentives and special features do SIM only deals have?
Just like other types of mobile contracts, SIM only deals can come with extra perks and free gifts.
Some of the best come from O2, who offer incentives like priority gig tickets, exclusive discounts and free gifts to its SIM-only mobile customers. Other major network providers offer similar rewards, whether that's discounts on high-street brands or free weekly treats.
However, smaller budget networks rarely offer such freebies with their SIM plans.
Can I get a 5G SIM only plan?
Absolutely. These days, any mobile network worth its salt will offer 5G.
Moreover, SIMs will come 5G-ready at no extra cost. As long as your handset is 5G-enabled, you'll be able to use it straight away.
Where is 5G available in the UK?
At the time of writing, 5G is available in over 100 towns and cities in the UK, including (but not limited to): London, Cardiff, Aberdeen, Birmingham, Belfast, Edinburgh, Manchester, Bath, Bristol, Chelmsford, Coventry, Leicester, Liverpool, Oxford, Plymouth, Glasgow, Hull, Leeds, Lichfield, Lisburn, Salford, Sheffield, Stirling Sunderland, Wakefield, Wolverhampton, Newcastle and Nottingham.
Networks are constantly expanding their 5G coverage, too. So, if you currently live somewhere that doesn't have access to 5G, you may very well get it in the near future.
What SIM card do I need?
There are three sizes of SIM card available:
Standard SIM card (15mm x 25mm)
Micro SIM card (12mm x 15mm)
Nano SIM card (8.8m x 12.3mm)
Each type of SIM card fits different devices. However, standard SIMs and micro SIMs are barely used these days. All smartphones released in the past ten years will use a nano SIM – that's any iPhone released since the iPhone 5 in 2012, for example.
But don't worry if you're not sure what size to go for. Most networks and operators will send a three-in-one SIM card, which lets you pop out the correct SIM size for your device.
It's worth bearing in mind that some phones feature eSIM. This is an inbuilt chip that allows you to switch providers without having to physically remove your old SIM card and get a new one.
It makes switching faster, as networks can immediately set to work on getting you set up, cutting down the time it takes to transfer your number.
However, eSIM is only supported by the biggest networks, EE, O2, Three and Vodafone. And you'll need an iPhone XR or newer (models released since 2018) or Samsung Galaxy S20 or newer (models released since 2020) in order to get one.
Read more in our eSIM guide.
Can I cancel my SIM only contract at any time?
It all depends on the kind of SIM only deal you have. If you have a 30 day, SIM only rolling contract, then yes.
These plans can be cancelled whenever you like, as you're only ever paying for 30 days of access at a time. These are usually more expensive than longer plans, but allow for maximum flexibility.
If you have a 12 or 24 month plan, cancelling it early will be tricky without paying a large fee to cover the cost of the contract.
If you're 30 days from the end of your contract or just 14 days in, you can cancel without charge.
You can also cancel if you have consistently bad signal, but this is harder to prove.
Read our guide to cancelling a phone contract for more help.
Frequently asked questions
How can I tell if my phone is unlocked and will accept another network's SIM?
Simply insert a SIM card from a different network and attempt to make a call. If the call connects, the phone is unlocked.If you don't have access to a SIM from another network, you should be able to check via the settings of your device.Our guide on how to check if your phone is unlocked explains more.
How do I switch to a SIM only tariff?
If you're currently on a contract deal, you may have to wait for it to end to avoid paying a cancellation fee. Once your contact ends, you can shop around and sign up to a SIM-only plan instead.
If you're switching networks, you may need to get your handset unlocked.
Can I keep my mobile number if I change to SIM only?
Absolutely – you can keep your mobile number. All you need to do is ask your old network for a PAC code, which you'll need to provide to your new network within 30 days.
How do I get my PAC code?
Contact your old network for your PAC code – you can usually do this over the phone or online. Alternatively, you can use Ofcom's Text to Switch service – just text PAC to 65075 to get your PAC code sent straight to your phone.
Once you've got your PAC code, you'll need to provide it to your new network so they can transfer your number over.
Read our step-by-step guide on how to transfer your mobile phone number.
How much data will I need on a SIM-only deal?
The amount of data you will need depends entirely on you and your phone usage. If you're often somewhere with a good Wi-Fi connection like home or work, you might not need much data. But if you're usually out and about, or without access to a decent Wi-Fi signal, you may need more data.
Before choosing a new SIM only deal, it's a good idea to have a look at your current plan to see how much data you tend to use each month. This will give you a good estimate to choose how much data you'll need on your new plan.
Can I get a SIM-only deal for a tablet?
If you want to use your tablet while you're out and not connected to Wi-Fi, you can get a data-only SIM. These work like ordinary SIM cards, but they only come with data, not texts or minutes.Before you buy, check that your tablet has a slot for a SIM card because not all do. Also, check the manufacturer's handbook to see what type of SIM you need.
What do I do with my old SIM card?
Your SIM card can contain a lot of personal information, including the names and contact numbers of your friends and family. Therefore, to keep yourself safe, the best thing to do is destroy your old SIM card. Cut the chip in half and recycle the plastic shell.
Will there be a credit check for a SIM only deal?
There might be a credit check, but the criteria you have to meet won't be as stringent as a handset contract deal.
Will a SIM only deal improve my credit rating?
Potentially, yes. If you always pay your monthly bill on time, your credit score could increase. But be aware that if you miss your monthly repayments, your credit score could go down.
You can check your credit score with our free Credit Monitor tool.