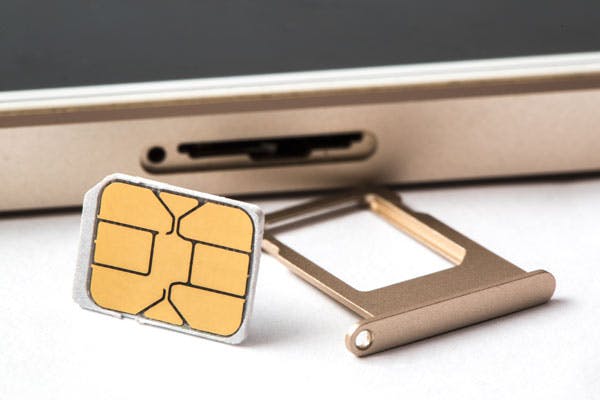 All you need to know when comparing SIM only mobile phone deals
What is a SIM only deal?
A SIM only deal offers a package of minutes, texts and mobile data for a monthly cost, much the same as a traditional mobile phone contract. The difference, however, is that you don't get a new phone included in your contract – you get the SIM, and just the SIM.
Why choose a SIM only deal?
A SIM only deal is a great choice if you're happy with your phone, or want to buy yourself a new one, without signing up to a long mobile phone contract.
What are the benefits of SIM only deals?
Flexibility: You can get a 1-12-month contract instead of being tied into a 12-24-month one, so you have the flexibility to change your deal if you want to
Can be cheaper: New handsets are expensive and as you're not forking out for one with your contract, you might be able to reduce your monthly payments
Keep your existing phone or buy a new one: As you're just paying for the SIM card, you can keep your existing phone or buy a brand new one
Easier credit check: Because mobile phone networks aren't 'lending' you a mobile phone handset, it not only brings down the price of your contract, but it also makes you a lower risk candidate
How does SIM only work?
SIM only deals are simple: select the right package of minutes, texts and data that suits your needs, insert the SIM card into your phone, and you're good to go.
Which mobile phone network is best?
This really depends on what's most important to you. To help you make the most informed decision, here's a snapshot of what some of the major networks have to offer.
Vodafone – one of the most popular mobile networks in the country, Vodafone boasts a decent selection of SIM only plans on 30-day, 12-month or 24-month contracts. You can also get pay as you go bundles too, and Vodafone's Unlimited and Red plans let you access Spotify, YouTube and Amazon Prime.
EE – in terms of coverage, EE is one of the UK's widest ranging networks. It also boasts SIM plans that cover all bases, with data options ranging from 1GB of data to unlimited 5G data. Plus, if you choose one of EE's Smart Benefit plans, you'll get access to premium entertainment platforms such as Apple Music and BT Sport. As you might expect, the more expensive the SIM plan you go for, the more benefits you'll get.
Three – Three offers of comprehensive selection of both pay monthly and pay as you go SIM plans. They come with a range of data options, and are 5G-ready at no extra cost.
O2 – O2 lets you choose from a range of flexible SIM only tariffs, priority extras like tickets to music events before they go on general sale and a host of other extras too.
Can I trust smaller, less well known networks? Is the service as good?
Well, just because a network is less well known doesn't mean it's less trustworthy than the major phone carriers.
Moreover, smaller networks like Tesco Mobile and Id Mobile also have less overheads than well known networks, so will be cheaper overall.
How easy is it to switch networks?
Switching networks is straight forward. In fact, thanks to Text to Switch regulations, you can get your PAC code instantly. Just text PAC to 65075.
Once you're out of your current contract term, start shopping around for a good deal.
If you want to keep your number, you'll need to contact your current provider to get what's called a Porting Authorisation Code – or PAC code. Once you have the code, give it to your new provider to start the switching process.
What are the pros and cons of a SIM only deal?
Undecided if a SIM-only deal is for you? Here's a snapshot of the pros and cons to help you make your mind up.
Pros
Because they don't come handsets, SIM-only deals are cheaper than other mobile contracts. The only thing you'll need to pay for is your minutes, texts and data.
Most SIM-only deals are available on 30-day, rolling contracts – so there are more flexible than standard contract handsets.
Because you don't pay for a handset, it's easier to pass a credit check if you have a bad credit rating.
Cons
You'll need your own handset and, if it's a few years old, you may need to pay for warranty.
Your phone might be locked.
What types of SIM only deals are there?
SIM only deals come in many shapes and forms. Pay as you go SIMs, for example, let you transfer your SIM card from one compatible phone to another. Cheap SIM deals will also save you money, and unlimited data SIMs mean you can stream as much TV and music as you like.
Lastly, you'll be able to get 30-day, 12-month and 24-month contracts depending on what network you go for.
How much should I pay for a SIM only deal?
This really depends on what you're looking for. For example, if you use your phone to watch movies and TV shows on the go you'll need a large data allowance, which costs more than one with little data.
Conversely, if you only use your phone to make calls, a SIM deal with a small data allowance will do the job just fine and won't cost you much money.
What contract lengths are available?
You'll be able to get a SIM-only deal on a 12-month, 18-month and 24-month contracts. Keep in mind that the longer contract option will be cheaper overall. But a 30-day SIM plan offers a lot more flexibility.
How much data do I need?
How much data you'll need depends on how you use your phone right now. For example, if you only use your phone to check your emails occasionally or browse social media from time to time, 1-2GB will do the job.
But if you listen to lots of podcasts, stream music or stream video several times a week, think about getting 10GB, 20GB or an unlimited data package.
What incentives and special features do SIM only deals have?
Just like other types of mobile contracts, SIM-only deals often come with many features and incentives.
Some of the best of which come from O2, who offer incentives like priority gig tickets and free gifts to its SIM-only mobile customers.
Can I get a 5G SIM only plan?
You sure can. Networks offering 5G only plans include EE, Three, O2, BT Mobile, Vodafone, GiffGaff, Virgin Mobile, Voxi, Sky Mobile and Tesco mobile.
Moreover, most 4G SIM-only plans come 5G-ready, so you can start using them right away.
Where is 5G available in the UK?
At the time of writing, 5G is available in over 100 towns and cities in the UK, including: London, Cardiff, Aberdeen, Birmingham, Belfast, Edinburgh, Manchester, Bath, Bristol, Chelmsford, Coventry, Leicester, Liverpool, Oxford, Plymouth, Glasgow, Hull, Leeds, Lichfield, Lisburn, Salford, Sheffield, Stirling Sunderland, Wakefield, Wolverhampton, Newcastle and Nottingham.
What SIM card do I need?
There are three main types and sizes of SIM card available, which fit specific devices. These are:
Standard SIM card (15mm x 25mm)
Micro SIM card (12mm x 15mm)
Nano SIM card (8.8m x 12.3mm)
Standard SIMs are hardly used these days, and even micro SIMs are rare. The latest smartphones will usually work with a nano SIM.
But don't panic if you're not sure what size to go for, as most networks and operators will send a 3-in-1 SIM card, which allows you to select the SIM size that fits your phone or tablet.
Frequently asked questions
How do I switch to a SIM only tariff?
If you're currently on a contract deal, you may have to wait for it to end to avoid paying a cancellation fee. Once your contact ends, you can shop around and sign up to a SIM-only plan instead.
If you're switching networks, you may need to get your handset unlocked.
How can I tell if my phone is unlocked and will accept another network's SIM?
Simply insert a SIM card from a different network and attempt to make a call. If the call connects, the phone is unlocked.
Can I keep my mobile number if I change to SIM only?
Yes, you can keep your mobile number by asking your old network for a PAC code. You must provide this to your new network within 30 days.
How do I get my PAC code?
Contact your old network for your PAC code – you can usually do this over the phone or online. Alternatively, you can use Ofcom's 'text to switch' service – just text 'PAC' to 65075 to get your PAC code delivered straight to your phone.
Once you've got your PAC code, you'll need to provide it to your new network so they can transfer your number over.
How much data will I need on a SIM-only deal?
The amount of data you will need depends entirely on you and your phone usage. If you're often somewhere with a good WiFi connection like home or work, you may not need much data. But if you're usually out and about or without a decent WiFi signal, you may need more data.
Before choosing a new SIM only deal, it's a good idea to have a look at your current plan to see how much data you tend to use each month. This will give you a good estimate to choose how much data you will need on your new plan.
Can I get a SIM-only deal for a tablet?
If you want to use your tablet while you're out and not connected to WiFi, you can get a data-only SIM. These are like ordinary SIM cards, but they only come with data, not texts or minutes.
Before you buy, check that your tablet has a slot for a SIM card because not all do. Also check the manufacturer's handbook to see what type of SIM you need.
What do I do with my old SIM card?
Your SIM card can contain a lot of personal information, including the names and contact numbers of your friends and family. To keep yourself safe therefore, the easiest thing to do is destroy your old SIM card. Cut the chip in half and recycle the plastic shell.
Will there be a credit check for a SIM only deal?
There might be a credit check, but the criteria you have to meet isn't as stringent as a contract deal.
Will a SIM only deal improve my credit rating?
It has potential to. If you always pay your monthly bill on time, your credit score could increase. But be aware that if you miss your monthly repayments, your credit score could go down.