Apple's 2022 set of phones is evolutionary rather than revolutionary – an iteration that improves all the right things. And the flagship of the lot is the iPhone 14.
Compare deals on this excellent handset above, or read on to find out more about what it has to offer.
And don't forget to take a look at its sibling phones too: the iPhone 14 Plus, iPhone 14 Pro, and iPhone 14 Pro Max.
The iPhone 14 key features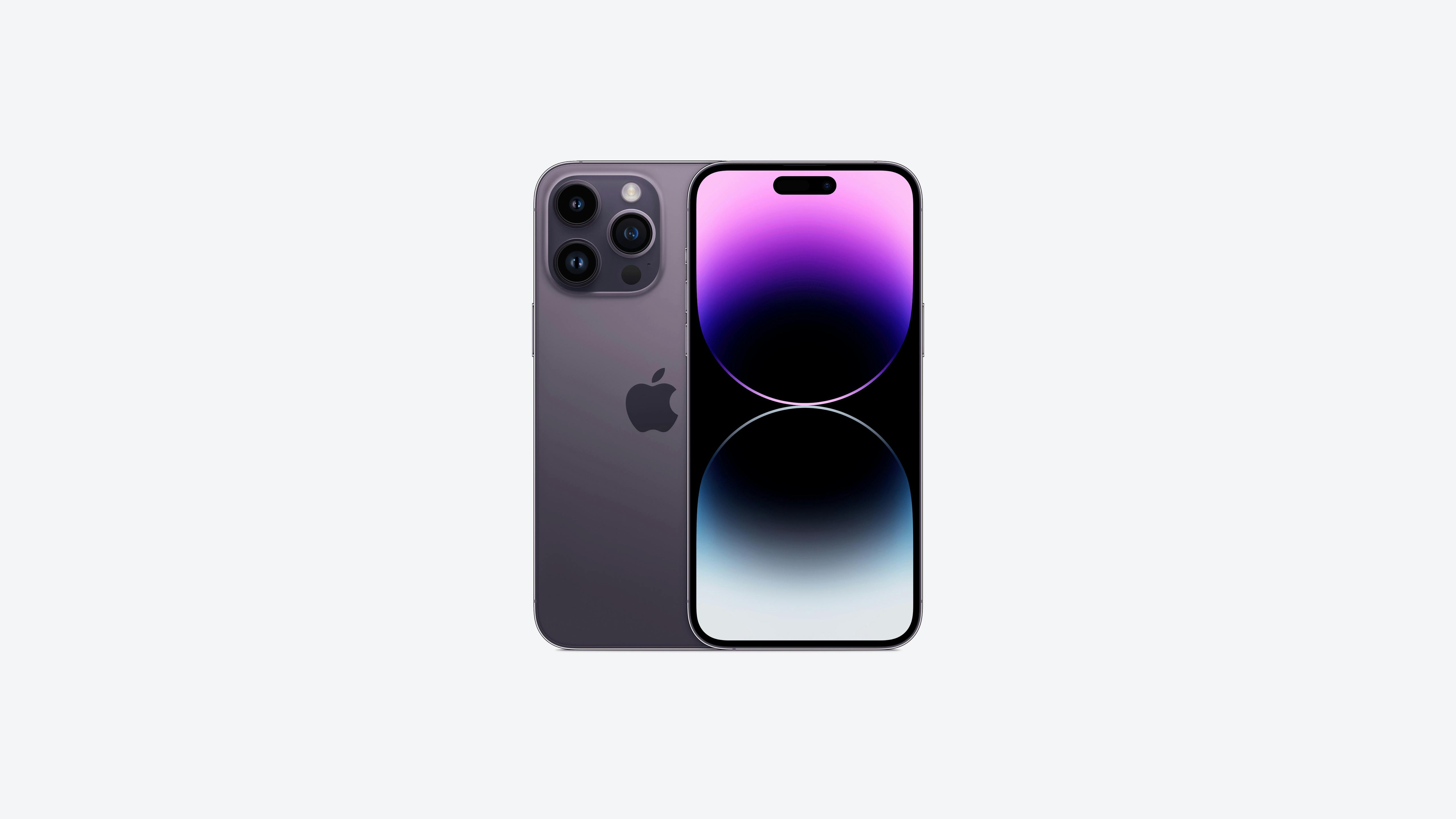 iOS 16 – The iPhone 14 brings a general update of the UI and design of the software. It's more flexible and customisable, with lots of choice over how your lock screen looks, for example. It also adds features like Dynamic Island – the sliver at the top of the screen around the camera notch now houses important info for you.
Cameras – The cameras on the iPhone 14 have a nice little upgrade, particularly for better video recording.
Emergency satellite SOS system – The iPhone 14 can detect when you've been in a crash, and contact emergency services via satellite. Bear in mind that's only a free trial for now – it'll eventually be a paid service.
Battery life – The battery life on the iPhone 14 is excellent. Apple claims that as of 2022 it's the best battery life ever seen on an iPhone.
How good is the iPhone 14 camera?

The camera on the iPhone 14 is very good indeed – among the best you can get on a smartphone.
You get two 12MP lenses on the back – one main lens and one ultrawide – along with a 12MP unit on the front.
The lenses have been upgraded a touch, with a wider aperture and larger pixels than on the iPhone 13. That means better performance in low light, and overall better-looking shots.
It's fantastic for video too. The iPhone 14 can record in up to 4K resolution, and at up to 120fps (in HD resolution). And it's helped along by new video modes, such as Cinematic Mode for professional looking film, and Action Mode, which smooths out video when you're filming on the go.
If you want the absolute best of the best photography from this set of iPhones, however, you'll want to look at the iPhone 14 Pro.
How good is the iPhone 14 design?
Looks-wise, the iPhone 14 is virtually identical to the previous iPhone 13. It's a 6.1-inch phone, with ultra strong glass covering the front and back, and a sleek aluminium band around the sides. The camera lenses sit in a pleasing diagonal formation in the top back corner.
On the front, the screen covers almost the whole front of the display. Of course, there's a round notch on the top to house the selfie camera and sensors, which not everyone loves… but it's now cleverly incorporated into the UI, thanks to iOS 16.
This is where you'll see vital bits of info – like Bluetooth connections, or your step count when you're exercising – in a neat, unintrusive way.
The colours you can pick from include a new purple, along with blue, midnight (black), starlight (white), and red.
How good is the iPhone 14 display?
The display on the iPhone 14 is the same as on the 13 model – but in suitably Apple style, it's a stunner.
Super Retina OLED technology, with a resolution of 1170 x 2532, means it's incredibly crisp and pleasing to the eye. It also has dynamic lighting, so it always looks perfectly clear no matter what environment you're in.
At 6.1 inches, it's on the small side, as flagship smartphones go, but you can always get more screen space by upgrading to the iPhone 14 Plus.
How good is the iPhone 14 battery life?
Prepare to re-examine your relationship with your charging cable, because the battery life on the iPhone 14 is pretty darn good.
Apple claims it's the best we've ever seen on a (standard) iPhone. The company reckons the battery can handle up to 20 hours of video playback, which amounts to pretty much a full day of regular use.
If you use your phone a lot, or use it for heavy tasks, you'll still want to pack a cable if you're out for the day. But rest assured you won't even need to think about topping the battery up until long after lunchtime.
What are the key differences between the iPhone 14 and iPhone 13?
The cameras have been improved a little, especially for video
The battery life is better – it lasts a fair bit longer on the iPhone 14
There's an emergency SOS satellite system and crash detection
It comes with iOS 16 straight out of the box, with some handy UI changes
What we like
Swish design, as is typical of Apple
Gorgeous, high res display
Smooth user interface and software
Great cameras, whether you prefer photography or filmmaking
Good battery life
Emergency satellite system could save your life
What we don't like
It's expensive
It isn't a whole lot different from the iPhone 13
SOS satellite system will be a paid service soon
Not much difference between the iPhone 14, 14 Plus, 14 Pro, and 14 Pro Max
How does the iPhone 14 compare to other handsets on the UK market?
Apple's closest rival in the smartphone space is Samsung. The equivalent 2022 model to rival the iPhone 14 is the Samsung Galaxy S22 – a similarly-sized smartphone that offers closely comparable tech to Apple. Ultimately, there's very little difference in the quality of the iPhone 14 and the S22. It comes down to whether you prefer iOS or Android.
The same goes for Google smartphones. The equivalent offering is the Google Pixel 6 – and again, there isn't much difference in the quality of tech.
One area where you will notice a big difference when comparing the iPhone 14 to other phones, however, is price. iPhones are typically much more expensive than other manufacturer's flagships, including those from Google, OnePlus, and Xiaomi.
MoneySuperMarket's expert rating: 4.5/5
The iPhone 14 is, simply, one of the best smartphones to come out of 2022.
It loses half a point, however, because it isn't the best on the market – in fact, it isn't even the best in Apple's 2022 cohort. That crown goes to the iPhone 14 Pro and 14 Pro Max, which have bumped-up, ultimate specs.
iPhone 14 contract options
Since it's one of the most popular smartphones on the market, there are plenty of contract options for the iPhone 14.
Long-term contracts are available from almost every network that offers them, including EE, O2, Three, and Vodafone. And whatever you need from your mobile plan, it's almost certainly an option – whether that's a deal with no upfront cost, unlimited data, or as cheap as you can get.
Frequently asked questions
Is the iPhone 14 worth buying in 2022?
The iPhone 14 is a great phone, built to last. Since it came out in September 2022, it should continue to be an excellent handset for several years to come.
Is now a good time to buy the iPhone 14?
Most times are a good time to buy an iPhone 14, if you spot a deal that looks good to you.
New sets of iPhones usually come out in the autumn, around September or October. If that time is shortly coming up, you may be better off waiting for the new cohort to arrive. It means previous models will likely drop in price, for one thing.
You may also be able to snag a limited-time deal around special sale times – such as Black Friday or the January sales.
Will the iPhone 14 drop in price?
Generally, iPhones drop in price when new models come out. For Apple, that's usually in the autumn. Other than that, you're unlikely to see any price drops, unless there's a limited time offer to take advantage of.
Should I upgrade or wait for the 2022 model?
If the iPhone 14 has everything you need in a smartphone – and if we aren't expecting a new iPhone to come out just yet – it's worth snagging right now.
iPhone 14 specs
General

| | |
| --- | --- |
| Manufacturer | Apple |
| Operating System | iOS |
| Sim Card Type | Nano |
Sensors

| | |
| --- | --- |
| Accelerometer | No |
| Proximity | No |
| Compass | No |
| Barometer | No |
| Gyroscope | No |
| GPS | No |
Size & Weight

| | |
| --- | --- |
| Form Factor | Candy Bar |
| Thickness | 7.8 mm |
| Size | 71.5mm x 7.8mm x 146.7mm |
| Weight | 172 g |
Battery

| | |
| --- | --- |
| Battery Type | |
| Capacity | mah |
| Standby | hours |
| Talktime | hours |
Display

| | |
| --- | --- |
| Display Size | 6.1 inches |
| Screen Type | |
| Resolution | 1170 x 2532 inches |
| Pixels Per Inch | 460 ppi |
| Touch Screen Type | Capacitive |
Processing power

| | |
| --- | --- |
| CPU | 0 mhz |
| Processor Cores | Octa Core Cores |
| Memory | 0 MB |
Storage

| | |
| --- | --- |
| Internal Storage | 128, 256, 512 |
| External Storage | No |
Camera & Video

| | |
| --- | --- |
| Primary Camera | 12 MP |
| Flash | Yes |
| LED Flash | |
| GEO Tagging | Yes |
| Auto Focus | Yes |
| Fixed Focus | Yes |
| Touch Focus | |
| Face Detection | Yes |
| Smile Detection | |
| Image Stabilisation | Yes |
| Video Quality | 1080 |
| 2nd Camera | 12 MP |
Data

| | |
| --- | --- |
| Generation | 5G |
| Frequency | Dual-band |
| NFC | No |
| Wi-Fi | No |
| Wi-Fi Hotspot | No |
| Wi-Fi Direct | No |
| Bluetooth | No |
| USB | No |