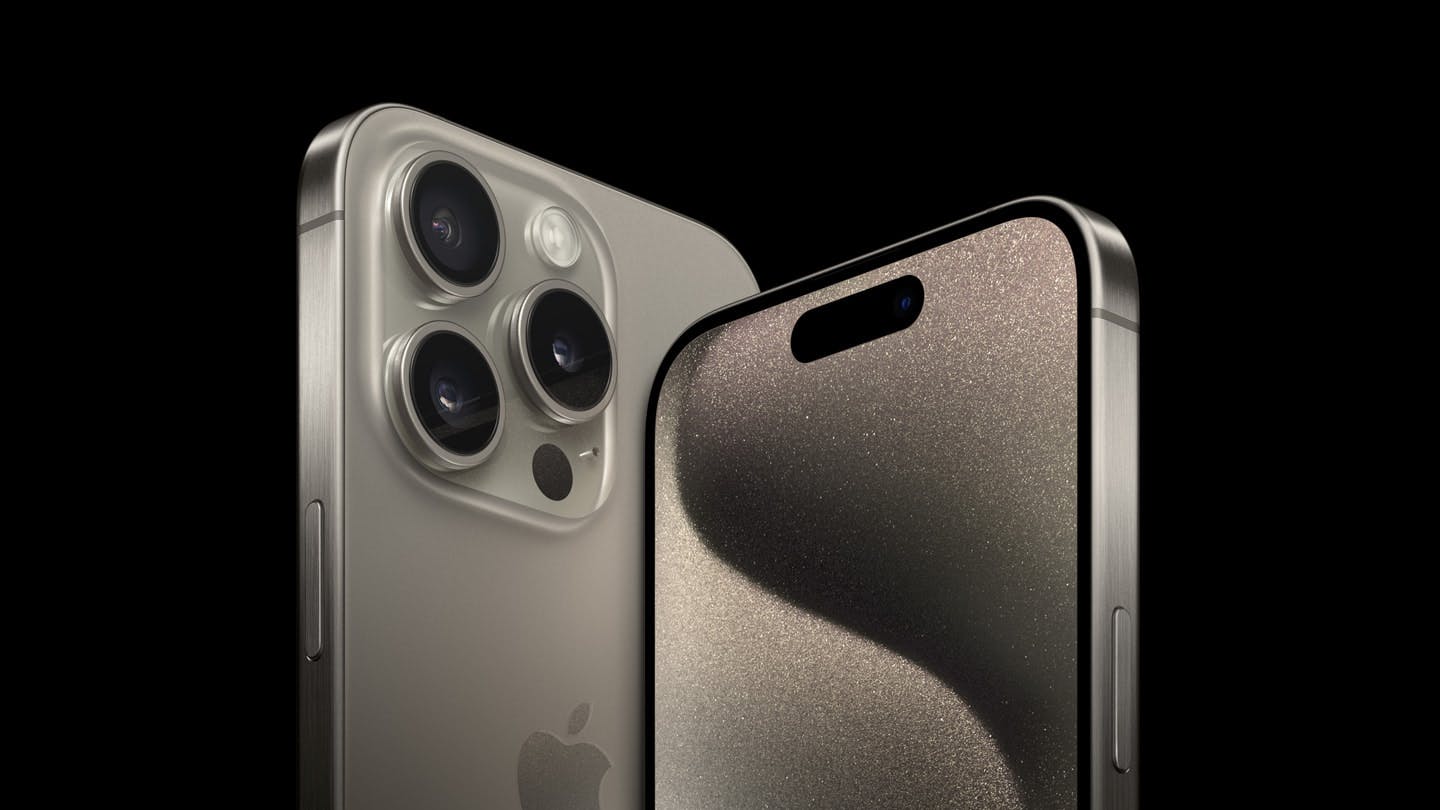 Big, bold and better than ever – the iPhone 15 Pro Max marks an exciting departure from Apple's familiar blueprint. We go through what Apple's top handset of 2023 has to offer.
Compare iPhone 15 Pro Max contracts
Looking for a pay-monthly contract for the iPhone 15 Pro Max? With MoneySuperMarket, you can easily compare deals from a range of UK networks.
You'll be able to filter and sort by your preferences, such as data allowances, monthly prices, and any upfront costs. That way, you can find a phone plan that best suits you.
Features and specs
Dimensions: 159.9 x 76.7 x 8.25mm
Weight: 221g
6.7-inch OLED screen with 1290 x 2796 pixel resolution
Triple rear camera: 48MP main, 12MP ultra-wide
12MP front camera
A17 Pro chip
8GB of RAM
Storage: 256GB, 512GB, 1TB
4,852mAh battery capacity
Ships with iOS 17
In a time where we're used to small, iterative improvements with every new phone release, it's refreshing to see that 2023's iPhone 15 Pro Max reveals a host of exciting new upgrades. In fact, Apple has overhauled the Pro Max as we know it to create a more refined, higher-tech device: one that's well worth upgrading to if your budget allows it.
Availability and price
Apple unveiled the iPhone 15 Pro Max at its 'Wonderlust' launch event on 12th September 2023. It was announced alongside three other variants: iPhone 15, iPhone 15 Plus and iPhone 15 Pro.
Pre-orders were available from 15th September, with the phone going on sale in the UK on 22nd September.
At launch, prices were £1,199 for 256GB of storage, £1,399 for 512GB and £1,599 for 1TB.
How good is the iPhone 15 Pro Max's design and display?
Apple has made some noteworthy improvements to the iPhone 15 Pro Max's design. The bezels are now much thinner and more curved, and you can immediately see the difference in size when comparing it side-by-side with the iPhone 14 Pro Max (bezels now measure 1.55mm, down from 2.17mm).
As a result, the 15 Pro Max feels lighter and more streamlined in the hand – which is a welcome improvement, as it's always been Apple's heftiest variant. In fact, the handset 'breaks the record' for the thinnest bezels in a smartphone.
Replacing the stainless steel chassis, the new titanium frame offers a lighter and stronger build quality. While Pro Max models have historically been bulky, the use of titanium means the 15 Pro Max is the lightest Pro Max to date. And according to Apple, it's the same alloy that spacecrafts use for missions to Mars; if it's good enough for NASA, it's good enough for us.
Looks-wise, titanium also has a different finish – rather than the shine of stainless steel, it has a matte, burnished texture that's less of a fingerprint magnet.
In another radical move, the mute switch – a feature on every iPhone since the very first model in 2007 – has been replaced by an 'Action button'. You'll still be able to use it to quickly mute your phone, but you can also use it as a shortcut for many functions – for example, to activate the camera, toggle on Silent Mode, turn on the flashlight, and more.
As for the display, its 6.7-inch OLED Super Retina XDR screen offers plenty of real estate. The Adaptive 1-120Hz refresh rate makes for smoother scrolling and animations when browsing, and this feature (exclusive to the Pro models) puts it in line with other Android competitors on the market.
Finally, in a first for Apple, all iPhone 15 models have ditched the Lightning port in favour of USB-C. Since it's a much more universal system, this switch to USB-C should mean that you'll only need one cable to power most electronics, including Android devices and the latest iPads and AirPods.
The iPhone 15 Pro Max is available in four colours: Natural Titanium, Blue Titanium, White Titanium and Black Titanium (we sense a theme, here).
How good is the iPhone 15 Pro Max's camera?
It uses the same 48MP main camera with an f/1.78 aperture as the iPhone 14 Pro Max, though the ultra-wide camera has been upgraded to 13.4MP with an f/2.2 aperture.
However, software tweaks means you'll be able to capture super-high-resolution shots with an improved level of detail, colour and clarity. Plus, you can now easily swap between 24mm, 28mm or 35mm as your default Main camera lens – which certainly beats having to lug around extra lenses.
Both iPhone 15 Pro models feature telephoto lens technology. But the iPhone 15 Pro Max takes it a step further, incorporating a new 5x telephoto 120mm lens that allows for 5x to 6x optical zoom. This feature is exclusive to the 15 Pro Max, and it presents a great upgrade from the 3x zoom found on the previous year's iPhone 14 Pro models. And it helps Apple catch up with Samsung, whose smartphone cameras are noted for their amazing zoom capabilities.
Portrait mode across all iPhone 15 models has been upgraded, too. You no longer have to switch to portrait mode first, which can sometimes mean missing a shot. Instead, nifty computational photography features will automatically capture any depth of field data in your photos, allowing you to instantly see your photo as a portrait. Otherwise, you can retrospectively apply portrait mode in the Photos app.
Is the iPhone 15 Pro Max good for video?
Apple has always been the leader of the pack when it comes to shooting video. So, it's little surprise that the iPhone 15 Pro Max is a stellar performer in this area.
It can shoot video up to 4K quality at up to 60fps. Budding directors and video editors will be keen to make use of the improved ProRes capabilities, which allows for more range and flexibility when it comes to editing in post.
Furthermore, Apple bills its Pro models as the first smartphones to support Academy Color Encoding System (ACES) – that's a global colour standard for major film productions.
Of course, you'll still be able to enjoy Apple's excellent Cinematic mode, which provides shallow depth of field and seamless focus transitions with a cinema-grade finish, and Action mode, for smooth footage in the shakiest of situations.
Apple also promises 'Spatial video capture' later down the line, likely with a future software update. This will let you shoot 3D videos using the main and ultra-wide cameras, so you can relive the moment on Apple Vision Pro.
What are the key differences between the iPhone 15 Pro Max and the iPhone 14 Pro Max?
The iPhone 15 Pro Max presents a number of upgrades from its predecessor, the iPhone 14 Pro Max. Here are some of the biggest improvements worth noting:
Thinner, lighter and sleeker design – Thanks to the use of titanium for the frame, the iPhone 15 Pro Max has slimmed down the heft of the Pro Max handsets, without compromising on strength and durability
New A17 Pro chip – Apple's new A17 Pro chip, a 3-nanometer powerhouse, can be found in both 15 Pro and 15 Pro Max, promising greater speed and efficiency. Couple this with 8GB of RAM (up from 6GB) for blisteringly powerful performance – great for gamers
USB-C charging port – In a step away from Apple's lightning port, the iPhone 15 Pro Max is among the first ever iPhones to have USB-C. As well as cutting down on the number of cables you need to carry around, the Pro models feature an upgraded USB-C port that supports faster USB 3.2 or Thunderbolt 3 transfer speeds. That's up to 20x faster file transfers
How does the iPhone 15 Pro Max compare to flagship handsets in the UK?
The iPhone 15 Pro Max was released alongside the rest of the iPhone 15 variants: the iPhone 15, iPhone 15 Plus and iPhone 15 Pro.
While it's great to see all iPhone 15 models across the board get the Dynamic Island feature this year, the Pro models do get some exclusive upgrades, namely the latest A17 Bionic chip and a new titanium design.
Furthermore, Apple has reserved some of the top features for the iPhone 15 Pro Max alone. The new periscope lens bumps up its zoom photography capabilities by a considerable amount, though it is yet to reach the dizzying heights of the Samsung Galaxy S23 Ultra's zoom.
MoneySuperMarket's expert rating
Our rating: 5/5
Though it's rare to see a phone manufacturer reinvent the wheel, Apple has done a good job in making the iPhone 15 Pro Max feel fresh, new and exciting.
There are plenty of upgrades to highlight: the all-powerful A17 Pro chip, the new Action button for extra functionality at your fingertips, the refined titanium build, and a stellar camera system with improved optical zoom. Not to mention, the 15 Pro Max finally gets the long-awaited USB-C port (and a charging cable in the box, too), along with the rest of the iPhone 15 line-up.
All this is to say that the iPhone 15 Pro Max is a device that's worth the upgrade, particularly if you have an older handset. Of course, there's no getting around the fact that the iPhone 15 Pro Max is seriously expensive. But if you're willing to splash the cash, you'll be getting the best of the best.
Plus, you can compare pay-monthly contract options in our table above. That way, you'll be able to pay off a new iPhone 15 Pro Max over monthly payments – more on that below.
Contract options
Looking to spread the cost of an iPhone 15 Pro Max with a pay-monthly contract? We have loads of options here at MoneySuperMarket.
Can I get the iPhone 15 Pro Max with no upfront cost?
Potentially, yes. While you usually need to pay an upfront cost for flagship phone contract, some networks do have no upfront cost phone deals.
Deals with no upfront cost can change quite frequently. So, you should shop around and compare deals to find the best one with nothing to pay upfront.
Just set the slider in the filters above to only show deals with no upfront costs.
Can I get the iPhone 15 Pro Max with unlimited data?
Absolutely – plenty of networks offer the iPhone 15 Pro Max with unlimited data.
You can find an unlimited data deal on the iPhone 15 Pro Max with our comparison table at the top of the page. Just move the slider above to unlimited (or very high) data to see the options available.
What's the cheapest way to get the iPhone 15 Pro Max?
In general, the cheapest way of getting any phone is to buy it outright and off-contract, then get a SIM-only deal with a monthly allowance of data, minutes and texts.
However, buying a phone outright is a lot of cash to splash in one go – particularly when it's Apple's most expensive high-end handset. If you'd prefer to spread the cost over the course of several months, it's worth considering a pay-monthly phone contract instead.
Use our comparison table at the top of this page to find and compare pay-monthly iPhone 15 Pro Max deals.
Can I get the iPhone 15 Pro Max with poor credit?
Possibly, though it might be difficult. Networks typically run credit checks before accepting you for a mobile contract.
As the iPhone 15 Pro Max is a pricey flagship phone, it's unlikely you'll be accepted for a contract if you have a bad credit rating. If that's the case, our bad credit phones guide can help.
Frequently asked questions
Is now a good time to buy the iPhone 15 Pro Max?
If you want to get your hands on a top-end iPhone, now is a great time to buy the iPhone 15 Pro Max. At the time of writing, it's one of the most powerful phones on the market.
As is typical with Apple handsets, it's scheduled to get at least six years of software updates. That means even if you buy the iPhone 15 Pro Max a year or two after launch, there's still a good amount of longevity left.
If you're hesitant about the high price tag, however, it may be worth considering the previous year's model instead. The iPhone 14 Pro Maxis still a brilliant device, after all, even if it lacks the big upgrades of its successor.
Will the iPhone 15 Pro Max drop in price?
Phones usually drop in price when newer models are released. In the case of iPhones, Apple tends to launch its latest iteration every September. So, if you want to get your hands on the iPhone 15 Pro Max, it's worth waiting until then.
You might also find special offers during certain times of the year, such as Black Friday.
iPhone 15 Pro Max specs
General

| | |
| --- | --- |
| Manufacturer | Apple |
| Operating System | iOS |
| Sim Card Type | Nano |
Sensors

| | |
| --- | --- |
| Accelerometer | Yes |
| Proximity | Yes |
| Compass | Yes |
| Barometer | Yes |
| Gyroscope | Yes |
| GPS | Yes |
Size & Weight

| | |
| --- | --- |
| Form Factor | Candy Bar |
| Thickness | 8.25 mm |
| Size | 76.7mm x 8.25mm x 159.9mm |
| Weight | 221 g |
Battery

| | |
| --- | --- |
| Battery Type | Lithium Ion |
| Capacity | mah |
| Standby | hours |
| Talktime | hours |
Display

| | |
| --- | --- |
| Display Size | 6.7 inches |
| Screen Type | AMOLED |
| Resolution | 1290 x 2796 inches |
| Pixels Per Inch | 460 ppi |
| Touch Screen Type | Capacitive |
Processing power

| | |
| --- | --- |
| CPU | 0 mhz |
| Processor Cores | 6 Cores Cores |
| Memory | 8000 MB |
Storage

| | |
| --- | --- |
| Internal Storage | 128, 256, 512, 1000 |
| External Storage | No |
Camera & Video

| | |
| --- | --- |
| Primary Camera | 48 MP |
| Flash | Yes |
| LED Flash | |
| GEO Tagging | No |
| Auto Focus | Yes |
| Fixed Focus | No |
| Touch Focus | |
| Face Detection | No |
| Smile Detection | |
| Image Stabilisation | No |
| Video Quality | 1080 |
| 2nd Camera | 12 MP |
Data

| | |
| --- | --- |
| Generation | 5G |
| Frequency | Dual-band |
| NFC | No |
| Wi-Fi | Yes |
| Wi-Fi Hotspot | Yes |
| Wi-Fi Direct | No |
| Bluetooth | Yes |
| USB | No |