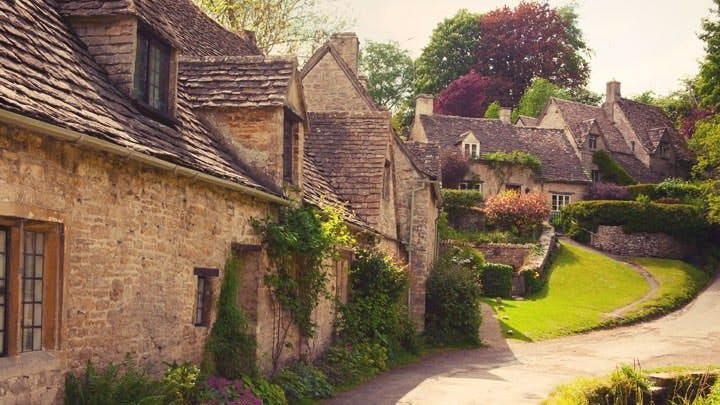 There's much to be said for country living. But far too often those who do live in rural areas are let down by slow broadband. How is the situation changing? And how can you get better broadband if you live in a remote part of the country? Read our rural broadband guide to find out now.
Why is rural broadband so slow?
The rural broadband situation is improving, thanks in large part to the rollout of fast full fibre services. However, there are still far too many places outside of major towns and cities which struggle to get a decent internet connection.
The biggest reason for this is the fact that ADSL broadband and standard fibre broadband both use older, copper phone wiring to complete the journey into the home from the nearest street cabinet or exchange.
In rural areas, especially isolated hamlets and solo dwellings, the distance from the cabinet can be so far that speeds aren't good enough once they reach your front door. Even if you can get a fibre deal, if it only runs to the street cabinet, you may find you can't get close to advertised speeds.
What broadband can I typically get in rural areas?
To see what you can get where you live, make sure you use MoneySuperMarket's postcode checker.
You may find the following types of broadband…
ADSL broadband
Also known as standard broadband, ADSL is a basic service that uses copper phone lines to deliver the internet to your property. Speeds reach around 11Mbps.
If you live a long way from the nearest street cabinet, once this reaches your home it may not be fast enough for anything but simple tasks like checking email.
Fibre optic broadband
A lot of providers offer standard fibre broadband in rural areas. This means that they use fibre optic cables to bring the internet as far as your closest street cabinet, before completing the final leg over older, copper phone lines.
In towns and cities, this usually means speeds of between 30Mbps and 75Mbps, depending on the package you buy. However, because street cabinets are so few and far between in certain rural areas, speeds may be no better than ADSL broadband once they reach your front door.
Full fibre broadband
An increasing number of providers, including some area-specific companies like Gigaclear and Trooli, are now offering 'full fibre' or fibre-to-the-premises (FTTP) broadband in rural areas.
This is a huge boon for rural communities, as it means fibre runs straight into your home, delivering speeds of up to 1Gbps.
However, at the time of writing, only around a third of the UK has access to full fibre. While there are plans to roll out full fibre to 85% of the country by 2025, you may be waiting a while to enjoy the best speeds around.
Getting fibre broadband in rural areas
If you want fibre broadband and you live in a rural area, you'll need to consider a number of factors. Regular fibre broadband, which uses fibre-to-the-cabinet tech, may not deliver the speeds you need, so find out where your nearest street cabinet is before signing up.
If you want full fibre broadband, check with Openreach or your local council to see when the required infrastructure is being installed. In some areas, local providers are taking matters into their own hands and creating their own networks.
Mobile broadband for rural locations
Mobile broadband can provide a convenient alternative to regular broadband if you can't get connected where you live.
These are home broadband routers that get you online via mobile networks rather than fixed lines. Mobile broadband can also be provided via a data only-SIM for a compatible tablet, a portable MiFi device, a dongle, or even your smartphone, which can be 'tethered' and take the place of your Wi-Fi.
You'll need to ensure that you can get at least 4G where you live in order to get a decent connection for basic tasks such as browsing the web. However, you may find that you need 5G to be able to stream and connect lots of devices like smart speakers. As mobile coverage in rural areas can sometimes be patchy, be sure to do your research before signing up.
When will I get fibre in my area?
Openreach is in the process of rolling out full fibre broadband across the UK either itself or through its Fibre Community Partnerships. Virgin is also in the process of widening its own fibre network. You can use Openreach's fibre broadband checker to see when you'll be getting full fibre internet where you live.
While government targets suggest a large majority will have full fibre by 2025, if you live rurally it can help to engage with local businesses and politicians to put pressure on providers to bring their services to your area.
What about satellite broadband?
Satellite broadband certainly gets around the issue of slow copper wires. Everyone can get it, with the internet coming into your home via a dedicated satellite dish.
There are numerous issues to consider, though. Firstly, it costs a lot more than fibre broadband. Then there's the fact that speeds average around 75Mbps, a bit below the snappier 100Mbps and higher full fibre offerings. And unlike most broadband providers, satellite services come with download limits.
Services such as Starlink are worth exploring if you cannot get home broadband where you live. And remember, you can't get satellite broadband via a Sky dish – you'll need a special new one installed.
Is the internet more expensive in rural areas?
No, ADSL and fibre broadband services are not more expensive in rural areas.
However, as these often don't work, aren't available, or simply don't reach fast enough speeds, residents may find they need to shell out for more expensive options. Satellite broadband is notably pricier than fibre, for instance. Options such as a fixed wireless service, which uses a transmitter for the entire community or bonded broadband, which brings an extra line into the home to boost speeds, are also very costly.
You may also have the option of getting a fibre line installed up to your property – but again, footing the bill for that can be pretty expensive.
Which providers offer rural broadband?
A lot of providers offer rural broadband via the Openreach network, including BT, Sky, TalkTalk, and more.
While some of the big names are available in the sticks, often it's local upstarts that are leading the way in delivering fast, high-quality rural broadband.
Gigaclear for instance is committed to rural broadband, with services in south east England and the Midlands, covering a total of 22 counties.
See what's available in your rural area with our postcode checker.
What can I do to speed up my internet?
Sometimes you can boost your own internet speeds without having to change providers. Check out our guide on how to improve your internet speed for more.