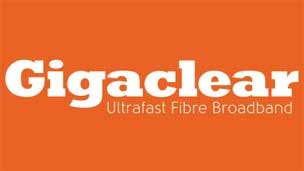 What router do you get with Gigaclear? Our page goes through the features you can expect, the extra nodes you can add, and how to get help setting up your router.
How to get a Gigaclear router
Gigaclear specialises in supplying fibre-to-the-premises (FTTP) broadband to rural areas of the UK. So, if you want to get a Gigaclear router, you'll need to check if Gigaclear broadband is available at your address.
Whether you pick its superfast, ultrafast or hyperfast package, you'll be able to access some of the top speeds on the market.
Which is the latest Gigaclear router?
Gigaclear's latest router is the Linksys Velop router. It's a high-tech piece of kit, built to handle the lightning-fast speeds of a full fibre connection.
What's more, you can enable Smart Wi-Fi by adding extra nodes to your package. These use Smart Wi-Fi Mesh technology to create a 'mesh' of coverage throughout your home, ensuring a strong and reliable connection across all your rooms.
Router specs
Every Gigaclear package comes with a Linksys Velop Wi-Fi router. It's powerful on its own, but you can choose to add extra nodes for an even stronger connection (some of the faster plans include an additional node for free). We go more into specs and features below.
Linksys Velop Wi-Fi router
The Gigaclear powered by Linksys router comes bundled with every Gigaclear broadband plan. To handle fast fibre speeds, it boasts some impressive specs, such as simultaneous tri-band performance and Intelligent Mesh technology. It supports both 2.4GHz and the faster 5GHz Wi-Fi.
Plus, you can download the Linksys app and manage your home Wi-Fi network from your smartphone or tablet.
Gigaclear says its Wi-Fi router provides enough coverage for a typical two-bedroom home. Nevertheless, if you have a bigger house and want to make sure there's a strong signal in all rooms, you can make use of the router's Mesh Wi-Fi network support.
This enables it to seamlessly work with other Wi-Fi nodes to provide stronger and more reliable coverage across your home. To fully unlock this capability, you can sign up to Gigaclear's Smart Wi-Fi plan – read on for more.
Smart Wi-Fi
Gigaclear's Smart Wi-Fi package gets you an additional node, which will help extend coverage across a three-bedroom home.
Smart Wi-Fi Plus
For larger households, you could consider bumping up your plan to the Smart Wi-Fi Plus package. It comes with two extra nodes, which provide further coverage for a standard four-bedroom house.
Setting up a Gigaclear router
While Gigaclear's broadband installation isn't the simplest, setting up the Linksys router should still be a straightforward process.
If you don't have an existing router from Gigaclear, it should simply be a case of plugging your new Linksys router into the mains, connecting the supplied ethernet cable, and setting up the Linksys app on your phone.
However, if you already have a wall-mounted Gigaclear router, you'll need to call their Customer Operations team to request them to 'bridge' your service. This should only take between five to thirty minutes, and you won't be required to do anything in particular – the agent should be able to advise you through the process on the phone.
Gigaclear's website has a step-by-step guide on how to set up your router and activate your connection, so it's best to visit their website if you need more information.
If you have a Smart Wi-Fi plan, you'll also need to plug in any extra Wi-Fi nodes.
Does Gigaclear replace old routers for free?
No. While Gigaclear will replace faulty routers for free, it won't replace old or damaged routers. Instead, you'll have to pay for any repairs, or if you have an old router that needs to be replaced.
Legacy Gigaclear routers
Genexis DRG 700/7000
Gigaclear used to offer a Genexis DRG 700/7000 router a few years back. This is no longer available, having been replaced with the more recent and much more powerful Linksys Velop router.
Frequently asked questions
How do I know which router I have?
Right now, Gigaclear only offers one router – the Linksys Velop router – with its broadband packages.
How do I upgrade my router as an existing customer?
As mentioned above, Gigaclear only offers one router. However, you can upgrade its functionality by getting the Smart Wi-Fi or Smart Wi-Fi Plus packages.
For an extra charge, you get one or two extra Wi-Fi nodes. These use mesh technology to work with your Linksys router and boost your broadband connection.
Do all new customers get the latest router?
Yes – all new customers get the Linksys Velop router bundled with their broadband.
Furthermore, if you've signed up to the Ultrafast 500 or Hyperfast 900 package, you'll also receive an extra Wi-Fi node, free of charge.
Can I use a different brand of router with Gigaclear broadband?
Gigaclear's website doesn't make it clear whether you can use your own router or not. Nevertheless, as with most providers, Gigaclear can provide more help if you're setting up the router that's supplied with their broadband packages.
Plus, the Linksys router is well-suited for handling Gigaclear's speedy full fibre connections. And if you have a Smart Wi-Fi plan, the router is designed to work seamlessly with the Wi-Fi nodes – so you'll likely want to stick with Gigaclear's own router.