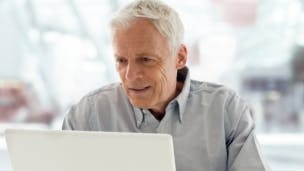 The internet is for all, and as an older person you have a few options to enjoy it at a lower cost. Whether you're choosing a new provider, helping a relative get online, or just seeing what you can cadge as an over-65, here's all you need to know.
What's the best broadband package for pensioners?
As with all types of households and internet users, the answer to this depends entirely on the pensioner.
You may be looking for a simple connection for browsing the internet. Or perhaps you'd like a big bundle with a landline and lots of TV channels, or a full-fibre connection for speedy downloads.
Before we talk about how to pick your broadband, let's take a look at some of the options specifically available to the elderly, over-65s, and people claiming pension credit.
BT Basic
If you're claiming certain benefits, including pension credit, and only need a simple internet connection, BT Basic may cover your needs. It gives you:
Heavily discounted line rental and ADSL (standard) broadband
Broadband with average download speeds of 10Mbps and unlimited downloads
Monthly call allowance
Free access to public BT Wi-Fi hotspots
BT Basic used to have a usage cap of 15GB per month, but this was lifted at the start of the COVID-19 pandemic. Usage is now unlimited.
Virgin Media Talk Protected
Virgin Media has a special line rental-only package available to vulnerable customers. If you're over the age of 65, you qualify. It gives you:
Frozen line rental cost (if you get home phone only – costs will rise if you go for broadband, TV, and/or mobile as well)
Free evening and weekend calls
Discounts on other Virgin Phone plans
Accessible payment and billing options, such as paper bills or non-direct debit
You can take out Virgin Media broadband and TV on top of Talk Protected, but your line rental cost won't stay frozen.
Other options
There are currently no other special deals for the elderly – but there are plenty of options for low cost, simple internet packages. Try providers such as Plusnet, TalkTalk, Now, and EE.
Once you know what you're looking for, enter your postcode into our comparison tool and compare suitable broadband deals.
Compare broadband deals in your area It's also good to note that almost all major landline and broadband providers (including BT, Virgin Media, Sky) offer extra accessibility for vulnerable customers, such as:
Allowing a third party to manage your account
Access to new-customer prices when your initial contract runs out
Priority fault repair
Bills in accessible formats, such as braille or large-print
Text and video relay services
Free calls to Directory Enquiries
Picking a broadband package
What do you need from your broadband package as an elderly person? Here are the main things to consider. For more info, read our full guide to broadband.
Speed
If you're only using the internet for browsing, email, mobile apps, and a few video calls, you won't need much of this. A standard ADSL service (around 10Mbps) will be fine. We'd recommend it for an older person who just needs a no-frills connection for using the internet and Zoom.
ADSL broadband is available from providers including Plusnet, EE, TalkTalk, Now TV, Shell Energy, and John Lewis.
If you go online a lot, however, or use online streaming services like iPlayer, go for a fibre optic package. A small household of 1-2 people shouldn't need speeds faster than 36Mbps, unless you're particularly heavy users.
Cost
For the lowest price, look for providers that offer basic, no-frills broadband with fewer features, such as Plusnet.
Better yet – use our comparison tool find the cheapest deals that fit what you need. Remember to consider both monthly costs and setup costs.
Bundling
Do you want pay-TV as well? Compare broadband, phone, and TV bundle deals to get the lot in one package. This is also a cost-effective way to get Sky Sports and BT Sport on your telly.
Sky and Virgin Media offer hundreds of extra channels. Or, providers like BT, TalkTalk, EE, and Now give you a Freeview box with extra features – such as the ability to pause live TV, and access to streaming apps like iPlayer and Netflix.
Choosing a home phone (landline)
Nearly every provider offers broadband and landline services in one simple package. For your home phone, you can usually choose between the following:
Pay-as-you-go calls (not recommended if you use the phone a lot)
Inclusive evening and weekend calls
Inclusive anytime calls
Extra minutes or discounts to international numbers (available to add on top of any of the above)
Read our full guide to home phone packages for more information.
And don't worry – even when you switch provider or sign up to broadband, you can still keep your phone number.
Once you've chosen your broadband and landline options, you're ready to proceed. Sign up, and you'll be sent your router – if an engineer needs to visit to get you connected, you'll have the chance to book it in.