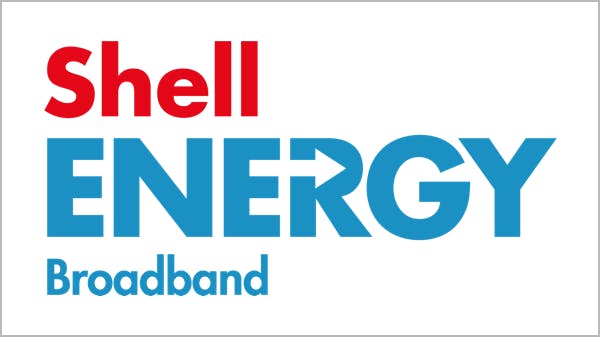 Aside from supplying British homes with gas and electricity, Shell Energy offers easy to understand broadband packages, too. Here's everything you need to know…
You might not necessarily put 'Shell Energy' and 'broadband' together. After all, Shell is synonymous with gas and electricity deals.
But in recent years, it's entered into the broadband market and, we have to say, we're suitably impressed with the comprehensive, mid-priced internet and phone packages it has to offer.
On this page, we'll show you what's available, delve into the pros and cons, and show you how to get the best deals for you and your family.
Let's take a look…
Why choose Shell Energy broadband?
If you're looking for simple, easy to understand broadband pages, Shell Energy is well worth a look.
Standout features include a decent selection of ADSL, fibre optic and Ultrafast broadband packages. All are priced in-line with other major providers.
And all packages come with unlimited usage – so you can download as much as you want without worrying about unwanted charges or slowing your connection.
Our best Shell Energy broadband deals this week
*Average speeds are based on the download speeds of at least 50% of customers at peak time(8pm to 10pm). Speed can be affected by a range of technical and environmental factors. The speed you receive where you live may be lower than that listed above. You can check the estimated speed to your property prior to purchasing.
What broadband packages can I get from Shell Energy broadband?
Each of Shell Energy's five broadband packages come with an 18-month contract and unlimited downloads. Plus, you'll get a Wi-Fi router at no extra cost.
There's three base packages to choose from:
Fast Broadband: With average speeds of 11Mbps and unlimited downloads, Fast Broadband is perhaps best suited to smaller households. We're talking one or two people. Any more and you may find the connection lags
Superfast Fibre: Offers average speeds of 38Mbps, and comes with unlimited downloads. Unlike the packages above, it's fibre optic, which means a quicker and more reliable connection. Ideal for larger households
Superfast Fibre Plus: Gives you 67Mbps fibre optic broadband speeds – in-line with most other UK fibre optic broadband offerings. It's a good option if you live in a large household, with several different devices in use at once
If you're after an even faster connection, check out Shell Energy's Ultrafast broadband options:
Ultrafast Fibre: 140Mbps average download speeds
Ultrafast Fibre Plus: 290Mbps average download speeds
Shell Energy also now offers full fibre broadband deals, with speeds reaching a blisteringly fast 944Mbps. They're not as widely available as the other plans, though.
Each package comes with pay-as-you-go calls as standard (except for full fibre plans, which don't require a landline). But there's a decent range of call packages available for landline users:
Evening & Weekend: Unlimited evening and weekend calls to UK landlines, UK mobiles and 0845/0870 numbers
Anytime: Unlimited calls to UK landlines, UK mobiles and 0845/0870 number, 24/7
Anytime Plus: Unlimited 24/7 calls to UK landlines, UK mobiles and 0845/0870 numbers, as well as landlines in 54 International destinations
International: Unlimited calls to landlines in 54 international destinations, discounted calls to mobiles in those 54 destinations, plus a 50% discount on calls to all other international destinations (landlines and mobiles)
Can I get Shell Energy broadband deals in my area?
Like most of the UK's biggest broadband providers, Shell Energy piggybacks on the Openreach network to deliver broadband to the home.
As such, it's broadly available across the country – though you'll need to enter your postcode below to find out for sure if you can get it in your area.
Compare broadband deals in your area What's good about Shell Energy broadband?
Decent selection of broadband packages available
Line rental included (excluding full fibre packages)
Unlimited downloads
Exclusive discounts for Shell energy customers
What's bad about Shell Energy broadband?
Not as widely available as other major providers
No TV packages available
Shell Energy broadband setup
Generally, Shell Energy broadband won't charge you for setup. However, if your property doesn't currently have a phone line installed, you may need to pay £60 for an engineer to come and install one.
Is there a Shell Energy broadband installation fee?
As we say, Shell Energy broadband usually doesn't charge for installation. The only exception is if you need a new phone line installed. In this case, be prepared to pay around £60 for engineer visit.
There's also a one-off £9.95 postage fee for the router.
Shell Energy broadband customer service
From online reviews and customer feedback, Shell Energy generally scores positive reviews for its customer service.
If you have any problems with your Shell Energy broadband service, you can get in touch with a member of its customer service team on 0330 094 5801. At the time of writing, lines are open from 8am to 8pm Monday to Saturday, and 9am to 6pm on Sunday.
Frequently asked questions
Can I get Shell Energy broadband without a landline?
Yes, you can – Shell Energy broadband's full fibre packages do not include or require landlines.
For all other packages, though, you'll need an active landline to use Shell Energy broadband. This is because it shares the Openreach network with providers such as BT and Sky.
If you don't have a line already, Shell Energy will need to put one in for you. This will likely cost around £60.
What Shell Energy broadband speeds can I get?
Shell Energy broadband offers speeds that range from 11Mbps right up to a whopping 944Mbps.
To find out if Shell Energy is available in your area, and what speeds you can get, enter your postcode into our postcode checker.
How much is Shell Energy broadband?
Shell Energy offers competitively priced broadband packages, broadly in line with the likes of NOW Broadband, Plusnet and TalkTalk.
If you're signing up as a new customer, you'll be able to take advantage of these discounted monthly rates. However, these low prices only last the duration of your contract. Once the minimum term is up, there's a fairly steep price hike (as is the norm with most providers).